KISS Backup Problems Goodbye. Hello LiteOn!
by Marcie Thorton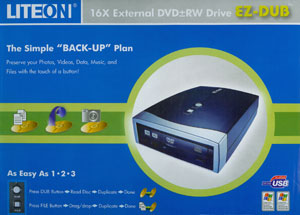 Oh, how often have we shot ourselves in our collective, backup foot? And I'm with you – backing up just isn't a high priority with me. It's a hassle. But, I think I've found a very creative solution. It's called the external 1673SU DVD burner by LiteOn. And…tah, dah…it's virtually automatic. Can you beat that, almost backs itself up! This is in addition to the regular stuff like burning CD/DVD's and making duplicate disks! That's a lot for a handsome case trimmed in anodized aluminum with a USB2 connection and a 16X burner.
Look at the picture. See the square and round buttons on top? That's it. All you do is press the File button and the cleverest looking round "menu" appears. Press the smaller round button on this on-screen menu for a lot more options. First thing I do is name the disk (CD or DVD) then to backup all I do is drag whatever files I want to back up to this menu icon and when I'm ready, I press the File button again. That's it. Just "tell" the icon which files to backup and it's done. I love elegant simplicity.
Ditto goes for the creating duplicate disks. Press the square DUB button and you're about done. Now, just swap the blank disk for the original source disk. Don't you just love easy things? Let see if this drive continues this creative trend and keeps up with the competition, especially from NEC and Plextor.
The included software bundle is excellent and includes NERO 6.6 for all the burning functions and what I think is one of the two best DVD software players - PowerDVD 5 from Cyberlink. Then there's the "magic" CD where LiteOn introduces its new, patented EZ-DUB feature, making copying easier and more hassle-free. Since it's an external drive, no IDE or audio cables are required.
Here's a quick run down of selected features:
It supports double layer DVD+9 recording
It automatically adjusts for best burning quality or buffer under run using "Smart-Burn"
Its "Smart-X" adjusts data extraction for fastest allowable speed.
2 MB Buffer (although I would prefer at least a 4 or 6 MB buffer)
Some basic read/write/burn tests:
Average CD Read speed was 38.9X – better than average.
Average DVD Video read speed was 12.7X – again better than average.
Average CD-RW write 4+1 (for writing the disc at 24x) - noticeably under average speed.
Writing Performance: DVD
Lite-On uses CAV (Constant Angular Velocity) method to write at 16x speed. This gives an average speed for DVD+R of 11.7X and a total writing time of 5+41. Ditto for DVD-R – basically, the same time. No a barn burner, but quite acceptable.
The 1673SU can also produce functional backups of Safedisc 2.90 protected discs. This makes it one of the better choices for protected game discs.
Some other things I particularly appreciated:
Fast and accurate audio extractions.
Good reading speed with many media types.
Good user community support and good forums.
Very quiet drive, even in write mode.
Some things I don't like or would change:
Better documentation – box only contained an adequate, but slim EZ-DUB manual
Power switch on unit + longer USB cable
16X write speed needs improvement
You'll need a minimum of a P4, 1.3GHz CPU, 128MB of RAM, hi-speed HD access. The EZ-DUB feature only works with WinXP and 2K. All other features work with Win98se and up. My rating for this value-packed unit? I give it two thumbs up. It's no speed demon, but I'm not concerned about a few seconds. My bigger concern is reliability, which I found. For more info, updates, etc. go towww.liteon.com.
Marcie Thorton is a HAL-PC member and corporate trainer for a large land developer. Her responsibilities include design of video training and collateral marketing materials for corporate distribution.