Hellooo Hollywood, by Charles W. Evans
DVD recording is here
Preface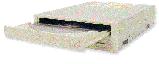 This very large "CD" is becoming a standard appliance on new systems and the price is quickly dropping. DVD was originally considered an archive media, but now it is put to so many more active uses, such as wedding movies, music collections and large data files to travel shows, your personal photos and videotapes.
Buy the best quality media (silver or gold) since it will last longer. As mentioned in a separate "101" article, CD and DVD "speeds" are not comparable. That is, a DVD "1x" equals about "9x" in CD terms. My only disappointment with the current recorders is that the CD record speed is generally 16x, which is slow. However, if you only burn a few CDs, it doesn't matter.
Three past issues of the Magazine included a more definitive series about DVD. Although parts are rather technical, it would help you by speed-reading this informative series. The November Burning DVDs for Everyone class is basic and not about DVD technology - but just what the newbie needs.
When you see good deals on DVD blanks, read carefully. Many "specials" are 2.4x speed, rather than the current 4x speed. By the time you read this, there will be more burners on the market and the prices will be even more enticing. A semi-technical note: install your DVD on an IDE connection separate from whatever drive will serve as the "source" from which you copy.
Enjoy,Charles W. Evans, Reviews Editor
TDK indiDVD 420N+ Recorder/Rewriter
TDK Electronics is one of the most respected names in the storage industry. Thanks to their good looks and impressive specs, their CD and DVD writers have been popular with consumers right from the start. The 420N includes features like 16x CD writing speeds, 32x CD read speeds and support for buffer underrun protection (no coasters). If you need a DVD burner, do not hesitate to consider the TDK indiDVD 420N. Its sleek look matched with its high power and low price are definitely worth the buy. But for the price, the CD writing speed is mediocre.
To install, connect the drive's IDE cable, adjust the jumper position (typically, not necessary), and plug in the power. The entire installation should take no more than 10 minutes.
The 420N includes two CDs of bundled software. Bundled programs include Pinnacle Systems' Pinnacle Studio Version 8SE (reviewed in a prior Magazine issue and a powerful video editing tool), TDK Digital MixMaster (for audio) and InCD, for packet writing. The most useful program is NEROExpress, a lighter version of Ahead's hugely successful and powerful Nero Burning Suite v.6 software. Overall, the software package is well rounded, practical and easily understood. (See separate review of NERO v.6.)
NEROExpress is powerful, and requires only a short learning curve - very intuitive interface. Burning a DVD is a similar to burning a CD and no one should have trouble with it. NERO takes the worry out of burning.
DVD performance tests used: NERO DVD Speed 053 and CDVD Benchmark 1.02. The score is the average of two of the same test. DMA has been enabled for all IDE devices supporting it.
Test Results
Average transfer speed (CAV) - 4.7x
Burst speed - 15.8MB/Sec
Average access speed - 116ms
DVD write 4x - 12:44 minutes
(3.71GB movie sampler)
Unfortunately, the 420N's performance is not perfect. The 420N writer was able to read single layer DVDs at about 12x, but it was noticeably slower reading other types of DVDs.
It did very well in DVD writing tests, burning 3.71GB of data in as little as 12:44 minutes. Unfortunately, when it came to rewriting, the 420N wrote at 2.4x. However, the drive's 16x writing and 10x rewriting speeds are OK for an infrequent CD burn, but don't toss your CD-RW.
Some comments and suggestions:
Provide support for Mt. Rainier format
Eject button, at least make it a different color - too hard to find
Great documentation
Excellent under run technology
Add a headphone jack and volume control
The indiDVD 420N offers many of the things we've come to expect from TDK including good looks, lots of features, excellent software package and impressive performance. Your retail box includes a new IDE cable, but no audio connection to listen to DVDs! You can buy this DVD+ for around $160, by the time you read these reviews. On a five-point scale, this unit is a 4.5 and you cannot go wrong with this hard working, high performance drive. TDK's available support: e-mail, web-based FAQs and their unique, real time, on-line chat with a live person! There is a firmware update and software updates, available at www.tdk.com.
LaCie DVD +/- DVD Burner
Occasionally you'll see the LaCie brand at the computer stores. Not a household name, yet, but big in PC devices. This is one of a newer series of industry drives that will burn either of the two major formats, the plus or the minus. Since standards are yet to be determined, this is a sensible approach to selecting a burner. Not all DVD players can play both formats, especially the rewritable disks. LaCie has included a very nice software package, which includes Roxio Easy CD & DVD Creator, the well-respected Sonic MyDVD Video Suite (video edit), and Intervideo WinDVD (one of the top DVD/Video CD players on the market). It'll read a CD at 32x or DVD at 12x and write at 16x and 4x, respectively. DVD re-write is about 2x.
What this drive lacks in style is made up for inside. Installation takes about ten minutes. Check or adjust the jumper setting, slide it into the computer and put the screws to it. Plug in the power and turn on your system and you are ready to burn a DVD. LaCie has thoughtfully included an audio cable; an IDE cable would be appreciated.
Install the software and you can now burn DVDs. Well, not quite. You see, Roxio requires at least two installations. Why? The first one will disable any CD-type drives. So you need to go into your registry and delete two entries, restart your system and reinstall Roxio. (Roxio, however, has a complete uninstall option on its CD, so it's easy to remove the program). How do I know this? Last summer I spent one frustrating week trying to figure out what happened to my two CD drives. Fortunately for me, and now you, I knew the two magic words."modem Bob". He found the exact web page that solved the problem. So when you come across this problem, simply point your browser to support.microsoft.com/default.aspx?scid=kb;en-us;314060 (Knowledge base #314060) and say "thanks, modem Bob".
The WinDVD has a comprehensive, but easily understood, feature set that plays several video formats and a flexible configuration. Aside from a few comments about Roxio, read the full review of this version 5.5 in an earlier issue of the Magazine. Its set of features and options is all-inclusive. For instance, to copy a CD or non-protected DVD, simply click on Roxio/CopyCD and press OK. How is that for simple? Easy CD/DVD Creator will automatically recognize the media and, if a DVD, its speed. There are five other major options, including Video CD and one to compress a larger disk's files onto a smaller capacity CD or DVD. It will not, however, copy copy-protected DVDs.
Sonic is an old-line, well-respected developer of high-end video editing software, but this one is designed for consumers. Editing video is not like writing a letter, but less complicated that you'd think. Sonic's MyDVD is well-designed and will shepherd you through its several options. Store files and use your DVD as an archive or use for current digicam files or photos or sporting events. I'd suggest you start with the storyboard approach. The time-line method is a bit more complicated.
Test Results
(similar for the minus)
Average transfer speed (CAV) - 4.58x
Burst speed - 16.8MB/Sec
Average access speed - 121ms
DVD write 4x - 13:39 minutes
(3.71GB movie sampler)
Like most other DVD re-writers, it wrote at less than 2.4x. Unfortunately, that is a typical re-write speed. But I doubt you'll be using it as a big floppy.
All the controls are accessible right on the front of the drive. This LaCie product is a significant, value-added drive, burning both major formats. I didn't see any firmware updates, but there are software updates. This drive merits your serious consideration. For updates, support and additional info go to www.lacie.com.
PS: Special thanks to father/daughter HAL-PC team of Jane & Richard Serbin for the last minute proofing.