LapLink Gold 11.5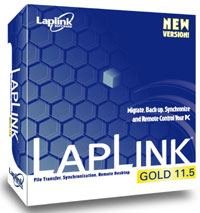 This easy-to-use remote control for your PC can also perform PC-to-PC file transfers, schedule transmissions, synchronize two or more computers, remotely run applications, and chat with users on the other end.
The package includes client and host software that must be installed on both computers. This is an excellent and practical product for both novice and power users. It can be used over the Internet.
Installation is very simple and direct from the CD. You can install the program on up to three computers under the same license. The helpful 27 page Quick Start Guide is informative and succinct. The complete Manual is on the CD. The friendly interface is a split screen format resembling separate Windows Explorer's side-by-side, with each side showing the folder and file structure of each of the two computers connected together - similar to Outlook. It has one of the most proficient and intuitive file-transfer interfaces I've seen. You can easily navigate through files on each machine, using standard Windows hotkey commands and the convenient right-click menu, especially with the addition of the LLG Shortcut bar at the left side of the window.
The operation of LLG functions in two modes: Connect and Services. The connection can be established a number of different ways: serial cable, parallel cable, network cable, modem, Direct LLG computer connections, Local Area Networks, DSL, WiFi, etc.
I had serious problems establishing a connection, under certain circumstances. For example, the situation gets complicated when your host machine has a dynamic IP address. However, LLG does let you access host machines via an ILS (LapLink Internet Locator Service) server. LLG's pop-up Quick Step screens lay out the setup process in plain English - novices will find this a blessing.
Its SpeedSync technology makes updating files faster because as updated files are compared, only the changes are transferred. A security system, including encryption, protects your valuable data at all times. You can synchronize files and folders between two computers (or drives). It can be scheduled to run regularly, transfer files, and disconnect. LLG also lets you print a document from a remote computer to your local printer.
There's a new killer app: Surf Up. With Surf Up, you (or others you allow) can access an LLG-equipped PC over the Internet. If the LLG machine is behind a firewall, however, you will need to open a port (LLG supports SSL). LL Internet access via LL Everywhere - an added cost option.
Remember the DOS days, when LLG let you handle disk cloning? That feature is back, thanks to PowerQuest's Drive Image Lite, which is fully integrated.
I like LLG's use of an address book metaphor to store the profiles of machines you regularly connect to.
One feature that is part of the new version offers great promise but is poorly implemented: the ability for remote control sessions to transit corporate firewalls and to control machines across the Internet. This feature shows great promise, but needs more work.
The remote control session is straightforward. Using the mouse and keyboard, you can open documents, grab e-mail, launch a browser and run programs. If there is someone at the other end, you can use both text- and voice-based chat to carry on a conversation to, say, troubleshoot problems on the host PC.
LL has many security features, from requiring usernames and passwords for incoming connections to 128-bit encryption of all data sent both ways. Set user privileges folder by folder so that a remote caller can access only specified parts of the host's hard drive. Check the Firewall box in the dialog where you set privileges to incoming remote users.
Phone support is free for the first 30 days, but after that, each call costs. The help desk is open only nine hours a day (M-F) for both phone and live computer chat sessions. Weekends you can search the knowledge base or use e-mail. The live tech support folks are sharp and knowledgeable.
LLG Gold 11.5 performs flawlessly and contains just the right, no frills tools-set. It is easy to use, robust and it supports plenty of different connection options. Every IT support professional should have this program in his/her tool kit plus any SOHO owner. For more info, updates, FAQs, etc. go to www.laplink.com.
Richard Serbin is a HAL-PC member who is president of his own international real estate development firm and regularly "toggles" between desktop, laptop and the US of A. He can be contacted at txcomb@hal-pc.org.