WinX DVD Ripper Platinum
by Robert du Vernay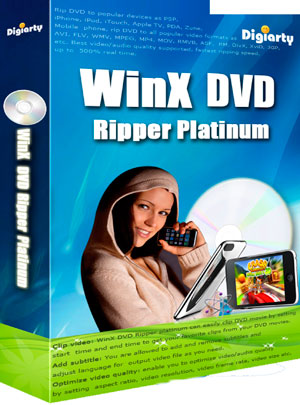 WinX DVD is a small RIPPER type software client. It rips, that is removes the movie from the commercial menu and transcodes and reformats the flick into any one of several smaller formats. I tested WinX with two movies from my favorite RED BOX and it did the job and converted both to private label 4.7 G_byte discs. Utilizing current releases from the Box, tells me the software can handle/crack current encryption.
WinX is an internet download, not boxed edition works w/ XP/Vista/Win7. Installation was a simple click of the button and x seconds later, it is ready to go. You open to a fairly basic interface screen, with virtually all the options the current world has to offer, like AVI, MPEG, MP4, WMV, FLV and music options. Handles NTSC and PAL and (S)VCD NTSC/PAL formats, the primary Music format is MP3, allows you to capture screen shots for insert, provides for a multitude of video/audio adjustments.
Operation is simple:
You identify your input source media, then
You select what you want it converted to, then
You press the GO button . . .
WinX takes it from there and gives you a digital copy on you HD in the folder/format you chose. The burning of the private label disc can then be done by any software client you want to use from this point on.
There is a Help screen if you need it. But it only deals with AVI format scheme and that I think is a short fall. More details concerning the multitude of options would help this guy out. There are lots of boxes which could be checked or not checked! But what do they do or not do?
The second area which I was not impressed with, is the speed of rip/conversion. 1:52 hours is woefully slow; I do hope this is addressed in the next release. It also appears that the program has not been written to take advantage of multi-core processors. But you can always assign this guy to a background core yourself w/ Win7. As a registered owner of the program, I received an e-mail alerting me that an Update to the program was available. The FREE version of this program will not break Hollywood's encryption schemes. $30 bucks wouldn't kill you, and if you need to conversion to DIVx (AVI) this may just be the ticket for you.
Robert du Vernay, a HAL-PC member is Chief Instructor for the 1st Saturday Basic 101 series of classes. His contact is rpd@hal-pc.org.