Corel Project Creator
by A. M. Schaer
This one stop tool makes it easy to create, edit and share projects. Produce photo books, collages, cards, calendars and photo slideshows including HD video in a few clicks. Share to YouTube, Facebook or Flickr. Photo projects can also be printed through Corel's online print service. The opening screen shows all the options available.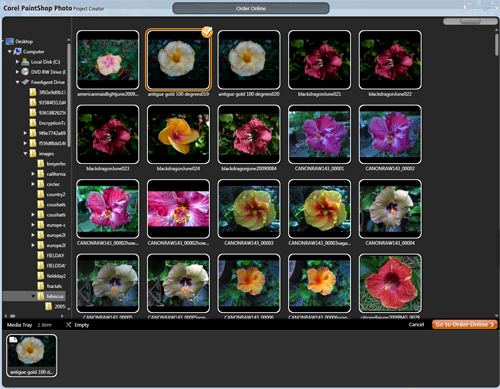 Installation was a little slow. It also requires you to input your PaintShop Pro Serial Number before it will finish installing. It's hard to find on the Start Menu. To do so, on the Windows taskbar, click START >All Programs > Corel PaintShop Photo Pro > Corel PaintShop Photo Project Creator . After you use it for the 1st time it will show up on the main Windows Start menu.
Select a style, select the photos, drag them to the Media Tray, Click Go to Photo Book. At this point you can add text to the pages All the projects follow the "select the project select the options select the photos. It's easy to create some pretty slick looking stuff.
You can make slide shows in either standard or high definition. You can insert video clips as well as individual slides, and add titles and a soundtrack or voice over to your slide show. It is easy to produce professional results. Slide shows can be saved in Flash format for uploading to YouTube or in one of several video formats including Quicktime and WMV
It also lets you make photo books. You select photos by dragging them to the image tray and it automatically creates a 26 page long photo book. If you don't select enough photos it will duplicate several of them on different pages. I found this a little disconcerting, but it easy to fix this by removing the pages you don't' want.
Backup option allows you to burn CDS and DVDS directly within project Creator but that's all it does. It doesn't automatically keep track of what you backed up on which CD, as some programs do.
The program offers a variety of output options. You can print a project on your printer or order prints from an online service. It will automatically format a project for sending by email and will also saver projects as PDF or Microsoft Silverlight files. Without leaving the program you can upload projects to some online services, such as Facebook, Flickr and YouTube.
The Order Prints Online would be easy to use, provided the server on the other end worked. I dragged a photo to the Media Tray and clicked Order Online. I was told my picture had uploaded, but then got a message that "Online Ordering is not available at the moment". Maybe they will have it fixed by the time you read this review.
Remarkable value – Where? Download it from here. Cost? Free if you are a registered user of Corel Paintshop Pro X3.