Monthly Questions And Answers For Windows XP
Please remember when reading these questions that there is more than one way to do most Windows XP tasks. The suggested answers below are one easy solution.
How do I change the Picture on the computer screen? I am tired of the hills and valleys.
Go to any open area of your desktop (hills and valleys). Right mouse click and on the drop down help menu, choose "Properties".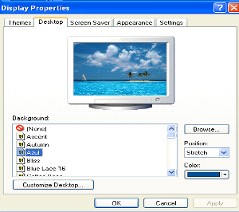 Choose the "Desktop" tab and select the background that you like. A preview will appear. If you like the picture, click "OK". You can add additional pictures to this list in different ways. One is to copy any picture file that ends in the 3 letter extension "bmp" or "jpg" into the "c:\windows\web\wallpaper\" directory. Microsoft XP Plus ($29.99) also includes additional themes and wallpaper. I hope this keeps all of your Hills & Valleys behind you!
In Windows XP, how do I make internet shortcuts?
I am glad that you asked this one. Most people know how to create favorites but some websites are so popular, you would like to have them as shortcuts on your desktop. For internet desktop shortcuts, open the Microsoft XP Internet Explorer while connected to the Internet. Choose "File", "Send" and "Shortcut To Desktop". Voila! You now have a shortcut to that website on your desktop.
Can I run Windows XP? I have a 233 PC that is running fine, I just want to improve.
No. The general answer is that any machine purchased since Christmas 1999 ought to run XP just fine. Specific requirements are: 300 MHz Pentium II (I suggest a P3) or compatible or better, 64MB of RAM (I suggest 128 to 512), 2GB of free hard-drive space (I suggest 4 GBs), SVGA plug-and-play monitor, and a 12X or faster CD-ROM or DVD-ROM drive. My personal PC feeling is however, if it ain't broke, don't fix it.
When I run Disk Clean Up, it gets to the first three bars when checking the files (status bar says "compress old files") and then just hangs there? If I close it down and run it again, then it just never comes up at all.
Usually this is a registry fix. I never suggest that a novice edit the registry because one wrong step could cause your PC to crash. Always backup your registry before adjusting it.
To backup the key that we are going to adjust, click "Start", and then click "Run". Type "regedit" in the Open box, and then press ENTER. Locate, and then highlight the following registry key:
HKEY_LOCAL_MACHINE\SOFTWARE\Microsoft\Windows\CurrentVersion\Explorer\VolumeCaches
On the File menu, click Export, and then click Desktop, type "VolumeCaches" in the File name box, and then click Save. If you experience any problems after you complete the steps that are listed in this procedure, you can use this backup to restore the "VolumeCaches" key to its original state. To restore the key, double-click the "VolumeCaches" registry file on your desktop, and then click Yes.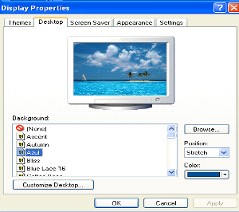 To fix the problem, expand the following registry key:
HKEY_LOCAL_MACHINE\SOFTWARE\Microsoft\Windows\CurrentVersion\Explorer\VolumeCaches
Delete the Compress old files registry key. Quit Registry Editor.
I'm having lots of problems installing any Critical Updates, Security Patches and even the SP1 from Microsoft's website. Are there any basic tweaks I have to do in advance? I also get "cryptographic error messages".
First, delete the contents of your windows temp and Internet cache folders. Reboot and try the update again. Also try disabling your anti-virus and other running background applications before you install any OS upgrade. If this doesn't work, delete the catroot2 folder contents. It's in the system32 folder usually here:
C:\WINDOWS\system32\CatRoot2
Or rename the folder. Don't worry a fresh one will be created on the reboot. This process should fix your problem.
Windows XP Helpful Websites: