Nero 9: Latest DVD Burning Desire.
by Robert Du Vernay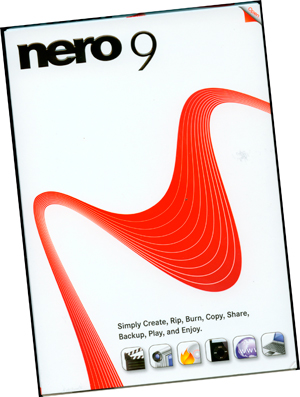 Nero 9. . . A suite of media programs which lets you Create, Rip, Burn, Copy, Share, Backup, Play and Enjoy. Whatever you want – music, video, photos, even data all through a convenient user interface, StartSmart. Nero 9 has more features than you will ever use, or have the resources to support. Nero 9 is designed to work best with VISTA and it will run with XP.
Been using NERO for a long time, back to ver. 4.x.x.x. This new NERO 9 is huge, 1.5G! Before you install, please take the time to remove and clean out any prior versions. Takes 30+ minutes to install, but you can cut that down. Nero gave us back the Option as to WHAT products you can install or not, in this edition. But all the file extensions were hi-jacked, this complicates things down the road. Runs a bit slow, but then it is running under VISTA.
If you are a currently using ver. 7.x.x and upgrading to Nero 9, you are going to notice a big change in the presentation and an increase in the toys list. All the basics are there and they will become intuitive as you play on the first control panel. I recommend starting with the data burn. Once you are comfortable there, you will be a virtual wizard on the next one.
All the basics are covered and what I play with worked OK. The creation of a Slideshow is the one thing that I test big time, because it involves Photo Editing, Audio, Video setting, burning in CD / DVD format and required that I ripped a CD's. Oh, beware Nero does not copy any copy protected video stuff. You will get a message on that one. But then you use DVD Shrink or AnyDVD and that problem is resolved, both integrate nicely with Nero.
Music – rip, convert, arrange, create playlists for your IPod. Gracenote will fill in the details. Works great, easy to do and it is fast.
Video – capture from HD camcorders. You can record projects to AVCHD and Blu-ray (you will have to buy an add-on to actually accomplish this) discs. They have an Ad-Spoter which skips commercials automatically. A wiz on hi-def, including modest video edit functions.
Photos – Browse, manage, Edit tools include crop, rotate, adjust/enhancements. Useful for Slideshow prep, 3D menus and an array of transitions. Worth investing some time on, for the slide shows.
Convert & Share – If you are a YouTube fan, then this set of toys will pay for NERO 9…Put your stuff on the Internet, your phone, you're IPod. And, convert your LP's, Cassettes and CD's to MP3s. Wave Editor is easy to use, to clean up those old recordings.
Home Entertainment – Provides for recording, management, and playback of HDTV and DVB radio. I did not get into this, as I keep my TV in a separate arena. And you need hi-end toys to play with Nero Home Entertainment.
Back Up – A very nice and easy to use, Data backup procedure is available. The stuff we call DATA is the most valuable thing on your computer system! Save it! But you must actually do it! My last presentation on DATA backup was 8 days before IKE 2008.
In general, NERO 9 is OK. The learning curve for a novice can be more difficult in some areas but easily handled with a little help from a friend. Product documentation is provided through a series of PDF's, good reading when you need an answer or clarification. You will need a broadband ISP to take advantage of several features (updates from NERO run in the 200MB area) and you may be required to upgrade some items to enjoy the Home Entertainment features. Software support is primarily e-mail, talking to a live person is only possible after you give over your bank card numbers. Nero 9 can be purchased from Amazon for 65 USD. Buy it. You'll love it.
For more info, updates and forums go to www.nero.com.
Robert Du Vernay is a HAL-PC member who is the guy who does the Basic 101 presentations on the 1st Saturday. can be reached at rpd@hal-pc.org.