ACDSee Pro 2.5 Photo Manager, by Janice Harper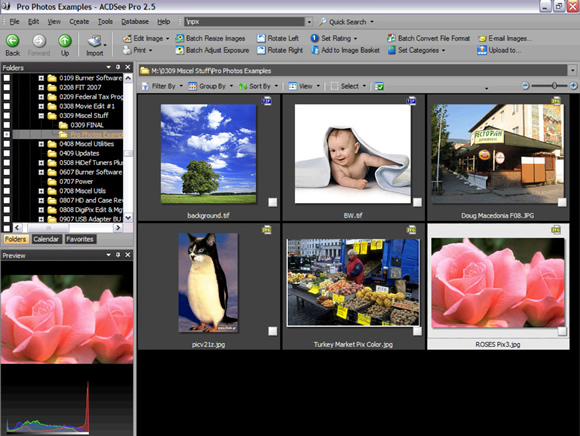 Pro 2.5 Photo Manager by ACDSee Systems lets you view, process, edit, organize, catalog, publish and archive your photo collections. And those photos can be RAW files or JPEGs. There are conveniences like visual tagging to help you manage your collection of images. Pro 2.5 has a direct and clearly understandable interface and you can customize the interface so it makes sense to you. If you are inexperienced, don't let all those initials overwhelm you. If you don't recognize them, you probably don't need them!
Although its level of sophistication may suggest it is only for professional photographers, the novice can learn to navigate and use it with a modest learning curve. These are features I find most helpful:
Ability to see results of image edit/processing in real time.
Instant retrieval of images based on vigorous and flexible criteria, including file properties, date, etc.
Get instant full screen viewing, and fast thumbnail browsing for more than 100 different file formats including JPEG, BMP, GIF, PSD, PNG, TIFF, TGA, RAW and more.
There's full ICC and ICM profile support and conveniences like visual tagging to help you manage your collection of images.
Sift through hundreds of shots and identify the ones you want to keep using one-click Visual Tagging.
Perfect your images with state of the art RAW processing and advanced pixel-level editing. Take total control of every aspect - from white balance to sharpness. Love this one!
Create spectacular slide shows with transition effects. Add watermarks to your photographs.
For the pro photographer, there's extensive support for RAW formats from Nikon, Canon, Konica-Minolta, Olympus, Fuji and Pentax cameras.
Technical: When it comes to RAW processing, Pro's tools are state-of-the-art. The software offers the ability to recover up to two stops of lost highlight detail and the convenience of copying and pasting RAW settings or batch processing multiple files. The program fully supports IPTC/EXIF/XMP metadata See: www.acdsee.com/products/acdseepro/rawformats.
Pro provides instant full screen viewing of thumbnails (or other size - your choice) in over 100 different formats. There are underexposure warnings so you can adjust threshold values. And a histogram is displayed for each image.
When you focus on a single image, Pro provides all the tools you need to make highlight and shadow adjustments, fix common problems from skin blemishes to lens flare, heal (maintaining color and texture) or clone problem areas, crop, rotate, resize, apply over 40 filters and correct perspective and lens distortions. A feature set that will make any novice smile.
Printing options range from standard size prints to custom sizes, including contact sheet printing you can set up for any number of rows and columns. There's also a "send pix" through the Internet.
Pro can detect when you attach a device like a camera or thumb drive and automatically import the images. And it will add a copyright notice to the metadata header of each image via batch processing.
If you want to work with layers, for instance, Pro won't help. But Pro otherwise has a pretty full set of options extending from noise reduction and unsharp masking to lens correction. One thing you can't do, however, is batch healing edit to a set of images.
You can compare the Before and After versions by holding down the Preview button. The Apply button applies your edits to the image, but you still have to save the image since its pixel data has been altered.
The first step is to select a Style. Pro shows you nine options, primarily varying the layout and information display. The HTML pages and resized images are generated quickly.
With the exception of RAW processing, Pro changes the pixel data, like traditional image editing software. It compares to Photoshop Elements. The editing is certainly capable of handling any normal photography editing needed.

You can minimize the learning curve by downloading the video and PDF tutorials and by using the excellent Help tools or the easily-understood manual.
Pro 2.5 is Windows only. But a Mac version is scheduled for release in fall 2009. This easy-to-use photo manager is an ideal solution for a shutterbug. ACDSee Pro 2.5 is available for a free 30-day trial and for purchase for USD129.99 (much less on the street). Pro 2.0 users are eligible for a free upgrade. Pro 2.5 is one of the handiest and most useful photo programs I've seen. Two thumbs up Pro 2.5. For more info and updates go to www.acdsee.com.
Janice Harper is a HAL-PC family member who owns an independent graphics firm that does custom graphics. Send any questions to her at reviews@hal-pc.org.