On the Road, Again
Well, it finally happened! My Palm IIIx went and died.
At least I think it's dead! The screen is black, and I can't see a thing on it. With fond memories (and my stuff backed up on the computer) I obtained a new Palm m505. The Palm m505 is no longer being manufactured (of course); however, it is the color version of the m500 Series and has all of the same bells and whistles (no color though). The m500 Series comes with Palm OS Version 4.0 (Version 4.1. can be obtained online at Palm's Web site), a rechargeable battery, a USB HotSync cradle that also charges the battery, 8MB of memory and a Secure Digital (SD) and MultiMediaCard slot (cards are sold separately). The m500 weighs 4.0 ounces and is 4.5 inches by 3.1 inches by 4 inches. Backup cards are about $29.95 for 16MB and $39.95 for 32MB. There are various manufacturers for these cards. A Bluetooth (SD10) card is $129 (in case you don't know, that's a communications card). There are eBook cards, game cards, travel cards (maps) and translator (language) cards available for the m500 ranging from $29.95 to $49.95.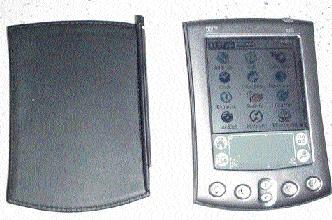 The m500 (my m505) quickly installed on my computer and then HotSynced to the Palm. Much to my surprise, I found that all of the applications and games that I had on the IIIx also HotSynced to the Palm. That includes Word, Excel, Pocket Quicken, My Roots, my address book, datebook, expenses, email, VirusScan and PalmPix (unfortunately, the camera does not connect to the m500 or m505). The m500 does have an expansion slot that accepts the cards mentioned above and all kinds of devices are available (or soon will be) for this slot. All Palm OS based software works on all Palm series, however, hardware does not, it only works on the series it was made for. Now that would be a good gadget - a device that would connect the hardware made for any Palm to any Palm. The m500 (my m505) is easy to setup and use on the Palm Desktop (on your notebook or desktop computer) and prints nice calendars, etc. I particularly like the business card that you can set up in the address book and beam to anyone who has a Palm with an Infrared (Ir) port. You can input data into the m500 using Palm's Graffiti writing. It's easy to learn and use if you like pen type writing. I prefer to use the popup onscreen keyboard and my stylus. It's quick for me because I've been doing it this way since the first Palm came out. The Note Pad application allows you to make a note or drawing using your own handwriting. Palm says that it's sort of like a Post-It note that you can delete whenever you want. It does work great. The clock application also has an alarm that can be set to remind you of appointments, etc. during the next 24 hours. At $199 (in the Palm Store), you have to admit that this is a good deal (remember though that the m500 is not in color). Palm can be contacted at www.palm.com.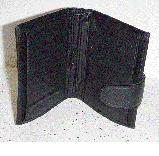 To go along with my m500 Series Palm, I also obtained some accessories from Belkin Corporation. To carry the Palm in style, you need to get their Slim Leather Wallet. This wallet (or case) is made of fine grain leather and has a snap closure. You attach the Palm by means of a post in the wallet that inserts into the slot on the side of the Palm. I like that. I've always refused to buy any of the cases where you have to put a sticky strip on the device. The wallet has three compartments for credit cards and business cards. It also has four pockets for SD cards. With a lifetime warranty from Belkin, it's a nice addition to the Palm.
Belkin's USB Sync Cradle is another necessary accessory. This cradle folds flat for easy packing and travels well. You can adjust it to five angles when you unfold it and it's plug-and-play (as you expect from a USB device), so it's easy to use. It comes with a lifetime warranty and it also works with the m125 Series Palm.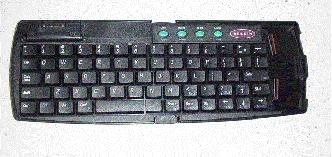 The Portable PDA Keyboard from Belkin is a must-have item if you intend to do a lot of entry directly into the Palm. It has its own case and boasts an ergonomic design. Installation is quick and easy and the device is also plug-and-play (and also works on the m125 Series). With its own application buttons and no cables needed, this keyboard is very comfortable for touch-typing and is a pleasure to use. I had a Palm keyboard for my IIIx and this keyboard compares in every way. This device comes with a three-year warranty.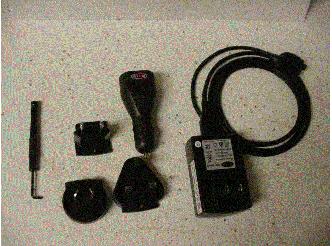 Of course, I saved my favorite Belkin accessory for last - the USB Power Sync Travel Kit. This is a must-have item for all of you Palm-enabled Road Warriors out there. The kit comes with a 12-volt car charger, an AC charger with attachments for the United States, the United Kingdom, Europe and Australia (now I just need to be able to go to all of these other places). The kit will work with: the Palm m500 and m505; Compaq iPAQ H3100, H3600 and H3700; and Hewlett-Packard Jornada 520, 540 and 560. Belkin includes a limited lifetime warranty for this product.
When you add it all up (the weight I mean), it's quite impressive:
Palm m500 - 4.0 ounces
Belkin Travel Kit - 1.5 ounces
Belkin Keyboard- 2.0 ounces
Belkin USB Cradle - 4.0 ounces
Belkin Wallet - 2.5 ounces
Total Weight - 14.0 ounces
For the capability that these devices provide, that's very little weight to carry around. For more information on Belkin's great products, contact them at www.belkin.com and contact Palm at www.palm.com for additional information about other Palm Series devices.
By the way, check out the Palm Store at store.palm.com or 800-881-7256 for lots of other Palm goodies.