Premiere Elements 8
by Louise Maye Huddelston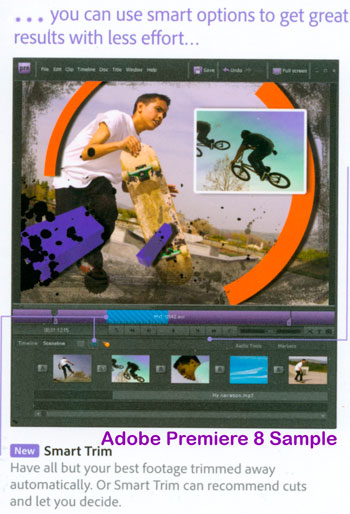 Premiere Elements 8 is the companion software to Photoshop Elements 8, and this is the video editor and "movie-maker" software. If you like to take videos or make slide shows with effects, music and more advanced direction, this is what you need. You can buy Premiere bundled with Elements or separately. This review is about Elements, so this part is brief.
Premiere 8 has serious problems that have been traced to conflicts with Realtek Audio drivers and Nvidia graphics driver installation software. Suggestion: download the free 30 day trial version to test compatibility with your PC.

I am having an issue with some of the rendering and converting to certain formats while I can render and upload to YouTube. The troubleshooting is a complex series of tests and definitely pushing my patience, as it will probably take me more than a few hours.

I found this software absolutely intuitive and even as a total novice to video production, I made several A/V productions and I was very happy. Not perfect, but I could to do some cool things with sound and transitions that were beyond my usual slideshows with Photoshop Elements. There is Instant Movies, to process a video clip for you with pre-packaged templates, based on one of several themes; this is a life-saver.

Auto Analysis is a new feature that takes in image content (including face recognition) and allows you to do Smart Tagging of various aspects, including video quality, date, subject and much more.

Help: As far as help goes, the tutorials are somewhat limited unless you pay for the Plus Membership. There is excellent help online and I had occasion to use it.

Remark: I have heard that some users have crashes, freezes, etc. I think this is not so much the program but the user's computer resources – mediocre operator, insufficient RAM and/or CPU speed.

I expected that I would be able burn a DVD in the AVCHD format and then play it on a Blu-Ray player. I discovered that Premier Elements 8 does not support burning AVCHD format DVDs! Most competitive software will burn AVCHD format DVDs. More successful results from Microsoft's Movie Maker Live, which is free.
Another cool technology from Adobe stable in Premiere 8 is "Object Tracking". You have to use it to believe it! You select a person/moving object in the video & drop a clip (rain, lightening, bird etc) on the object.
General: Contacting Adobe support is another exercise in patience. Send them an e-mail, wait 2-3 days for a response is canned, wait another 2-3 days for another response. If you're in any kind of hurry, forget it. Adobe support just isn't the quality it used to be. Bottom line, for the money Premiere is the best video editor I have tried.
The practical value of Premiere 8 is the incredibly rich feature set, the sophisticated, yet simple user interface, and the wealth of content, add-ons, and tutorials. Just put it a sufficiently powerful engine!
Louise Maye Huddelston is a HAL-PC family member who is a partner of a graphic outsource company.