Double Layer DVD Burners: Last of its kind?
by the Reviews Team
Preface.
Why the "last"? 16X is about the top technical speed for optical recording devices (fancy words for "burners"). Remember that CD and DVD speeds are not equal. A 1X DVD speed is equal to about 8X in CD speed. So do the math: 8 x 16 = 128X.
Right now the media for 16X Double Layer is not available – 16X for single layer is available and writes pretty fast even when you use an 8X DVD blank.
The first layer of a dual layer DVD blank is read exactly the same way as the first layer of a single layer. The difference here is the reading strategy of the second layer on the disc. The beginning of the second layer is located in the outer part of the disc, so the drive starts reading from the outer tracks towards the inner part of the disc.
In a separate article, Mr. DuVernay points out that if you simply wish to backup a movie, with the price of DL blanks, it might be cheaper to just buy a second copy. There are valid reasons to use a 16X DL burner and it generally revolves around backups and/or archiving files. Plastic blanks last longer and retain their fidelity longer than floppy disks or tapes.
My monthly admonition: go to each vendor's web site (software and hardware) for updates. Especially check each DVD hardware site – new hardware often quickly have "firmware" updates.
Enjoy.
Charles E. Evans, Reviews Editor
LiteOn 1633S: DL DVD Burner
by Marcie Thorton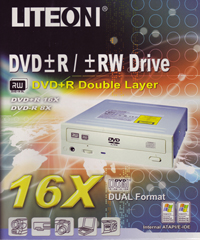 LiteOn is the number one manufacturer of optical disc devices in the world. Thanks to their good looks and impressive specs, their CD and DVD burners have been popular with consumers right from the start. The 1633S is one of the fastest DVD/CD burners available on the market today. Retailing at a mere $80 (as of 10-30-04), LiteOn is practically giving this drive away. It is the ideal drive for both CD and DVD burning. It's particularly fast, inexpensive, durable and provides an incredible bang-for-the-buck.
The 1633S read every single CD and DVD I threw at it, and burned flawlessly -- no coasters. The drive remained ultra quiet even at its top DVD read and write speeds. There's not much difference between 12x and 16X DVD burning, nor much of a price difference between a 1213S and a 1633S. The 1633S is faster and supports DVD DL. You do the math. The installation is a snap. Users have to go through a standard procedure, like that of an ordinary CD-ROM drive. Windows 2K/XP will automatically recognize your drive.
The new LiteOn 1633S supports up to 16X DVD+R recording speed, being capable to burn a full single layer disc in less than six minutes. The drive also supports writing speeds of 8X for DVD-R, 16X for DVD+RW and DVD-RW, and 4.0 and 2.16X recording speeds for Double Layer media. When it comes to CD writing speeds, the drive can write CDs at 48X and can rewrite at 24X.
This unit features SMART-BURN which avoids buffer underrun errors, automatically adjusting writing strategy and running OPC to provide the best burning quality. The SMART-X function adjusts CD-DA/VCD/DVD data extraction to the fastest allowable speed depending on both the data request rate from the host and the disk quality.
The drive also uses the RPC II region control, allowing a user to change the drive's region at most 5 times. You can set the drive to region free using several readily available utilities such as Kprobe.
I will perform some field tests using Ahead Nero's testing utilities: Nero CD-DVD Speed 5 and Easy CD-DAExtractor 7.1.
LiteOn is known for supplying a complete package with their drives. So it is no surprise to see the bundled software include Ahead's NERO 6 OEM suite and CyberLink PowerDVD. Nero has moved to the head of the class and PowerDVD is one of the best software DVD players. Nice, easily understood bundle.
1. Some drive features of particular interest:
2. Support Double Layer DVD+R9 Recording Function
3. SMART-BURN avoiding Buffer UnderRun error, Automatically adjusting writing strategy & running OPC to provide the best burning quality
4. SMART-X function adjusts CD-DA / VCD / DVD data extraction to a fastest allowable speed according to both data request rate from host and disk quality
5. VAS system reduce vibration and noise during recording and reading
6. Support Fixed Packet, Variable Packet, TAO, SAO, DAO, Raw Mode Burning & Over-Burn
Video Extraction: With faster and faster DVD burning speeds coming out, it is natural that DVD read (ripping) speeds should be tested. I extracted a 1+42 minute DVD movie, totaling 7.2GB in size. I didn't use compression. The unit extracted all the DVD movie's contents in less than 15 minutes. Ripping at 5184kb/s.
Benchmarks: "How fast is it?" I benchmarked the 1633S with Nero CD-DVD Speed. I used three 8.24GB DVD for double layer (DVD9) testing. The single layer DVD read dropped a little below 16X. Impressive nonetheless. In double layer speed tests the unit only reached a maximum speed of 16X or less – standard for double layer media burns. For best quality burns with a minimum of errors, get the vendor's list of recommended blanks. No all blanks are created equal.
Overall the quiet SOHW-1633S's burning performances is excellent – a real value-added burner! It's pretty impressive to burn a complete DVD in seven minutes. For more info and updates go to www.liteon.com .
Marcie Thorton is a HAL-PC member and corporate trainer for a large land developer. Her responsibilities include design of video training and collateral marketing materials.
NEC ND-3500A: Two Layer Burner
by Franklin J. Tyler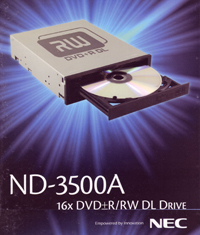 NEC recently joined the 16X DVD recording race with the introduction of their latest drive, the ND-3500A. After the big success of the ND-25x0 series, the new ND model offers the highest recording speed available for all media formats.
This drive also crossed another limit, in write speed as well, but this time with double layer DVD+R discs. Now you can burn them at 4X.
High resolution writing strategies are again incorporated into this unit, an enhanced version of Active Optimized Power Control (Active OPC). Active OPC constantly monitors the sensitivity of the media and adjusts the laser strength to achieve the best possible results ( controls the laser power in real time). It does this by analyzing the reflection from the media's surface. Buffer Under Run error prevention technology ensures a constant flow of data.
Specification: Write Speed
CD-RW: 24X
CD-R: 48X
DVD-RW/+RW: 4X
DVD-R/+R: 16X
DVD+R DL: 4X
The front panel of the new model lacks the volume control and the phone-in jack. The loading tray is lined with sound proofing material to reduce the noise and to protect the insides of the drive from dust.
Now you can select the Book Type parameter, but in practice this option does not work.
Test Results: I started byrecording a DVD+R DL disc at 4X and decided to record the DL disc in the DVD-Video mode.
The burn process was completed successfully:
Recording Time 15.01 minutes
Format Capacity 7.78GB(8.41GB)
Book Type DVD-ROM
Media Type DVD+R
I set the DL burning Book type to DVD-ROM, so the recorded disc must be compatible with outdated DVD-ROM drives and consumer DVD players. Everything was fine; all three consumer DVD players confidently played the disc.
The drive also will burn high quality 4X discs at the 8X speed. Get the list of approved discs from NEC.
As you can see, our test results resemble those of 8X discs burned at 16X: the number of PI errors increases to the end of the disc, but on the whole the results are more than positive. Writing at 2.4X was 21.44 and at 16X it was 6.18 minutes. The only comfort is that the drive can write high quality 4X DVD-R discs at 8X, the list of such discs is available at the NEC web site.

Double Layer media is supported, as expected, at 4X. An average of 23 minutes is required for burning a full DVD+R9 disc at this recording speed. The 3500A reported an average ripping speed of 5103kb/sec with DVD-Video discs (which puts it in the middle of the pack). CDs can be recorded at 48X max when CD-R discs are used and 24X max with CD-RW blanks.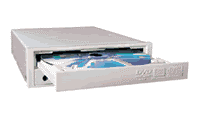 The unit comes bundled with Ulead's DVD MovieFactory 3.5 Suite which includes Movie Wizard, VideoStudio 8, DVD Workshop, Burn Now DVD Player and Nova Backup 7. A comprehensive bundle of an exceptionally well designed software. Good interface and low learning curve, but many sophisticated features.
In summary, I can say that the new apex of write speeds are conquered without any special problems, DVD+R, single layer, recording quality at 16X is perfect. The same can be said about the DVD+R DL recording quality at 4X. On the whole, the new drive from NEC perfectly copes with recording various optical media. The unit tested was not very reliable at reading low quality discs and the discs recorded on other drives. Street price in early November was $88. In other respects, I can confidently recommend it to all users. For more info and updates go to www.necsam.com .
Franklin J. Tyler is a HAL-PC member who is the staff archivist for a graphic conversion firm.