Apple News, by Beverly Rosenbaum
The Apple(s) of Your Eye
There are quite a few new Apple products to catch the eye of potential PC converts these days.
In the first three months of 2005, Apple sold more than five million iPod digital music players, an increase of more than 550% over the corresponding period last year. Sales of Apple computers also rose 43% to more than one million, mainly due to the success of the new Mac mini and new PowerBook notebook computers. Greater than 40% of Apple's sales during this period were outside the US, reflecting the popularity of the iPod across Europe and Asia, according to a report published by the BBC News.
The Mac mini, a 2.9 pound cube measuring 6.5 inches square by 2 inches tall, is generating a great deal of interest.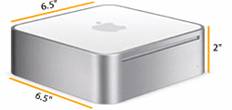 It has a very attractive price ($499), with many features and accessories. It comes with a 40 or 80 GB hard drive, slot-loading CD-R/DVD-ROM optical drive, and RAM expandable to 1 GB, as well as a collection of productivity software, music options, and games. It supports USB, Firewire, Ethernet, modem, and digital display connections, as well as an optional DVD-R Superdrive and wireless Extreme Airport card. To further entice PC converts, Detto Technologies' $49.95 Move2Mac software program with cable included can make migrating from one platform to another virtually painless. See www.detto.com/move2mac/ for a tutorial and quick reference guide.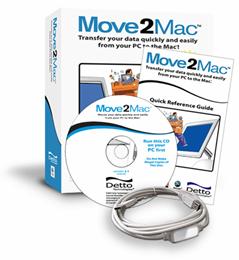 Another selling point touted in the past has been Apple's history of being trouble-free from spyware and viruses. And the recent release of Apple's OS X version 10.4 Tiger, including 200 new features, has everyone taking a second look. But, to avoid any surprises, users should be aware of known software compatibility issues before upgrading (see a list at www.macintouch.com/tigerreview/incompatibility.html), and they should definitely read review material before opting for the $9.95 upgrade from Panther to Tiger.
One of the most popular new features of the new Tiger release is the Dashboard, a display accessible with a keystroke and designed to give users quick access to a collection of applets on their computer.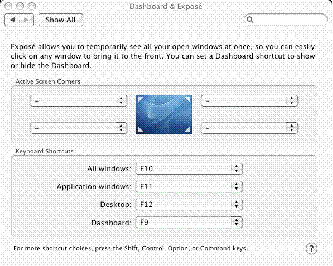 The Dashboard and Expose Control Panel settings allow you to choose the shortcut key for it.

Small, single-function programs, like a clock or a calculator, can be added to the Dashboard to perform common tasks and provide fast access to information. Apple released a basic set of Widgets and encouraged third party creation of more of them with the same HTML and Java technology elements used to construct web pages. Soon it was widely reported that the combination of Safari and Mac OS X 10.4 could create a spyware hole larger than the IE-Windows combo. A new Dashboard widget called " Zaptastic " was soon created (www.stephan.com) as a proof of concept to show how a widget could infect the system if a user visits a page that exploits this flaw. Safari by default allows opening of "safe" files after downloading. The combination of widget autoinstall, and the <meta> tag would allow a slightly evil widget to be installed in the dashboard. There's a checkbox to disable it, but the default is to allow the auto-expanding feature. So you'll have to manually uncheck that option in Safari not to Open "Safe" files after downloading.
Widgets cannot be removed from the Widget Bar nor can their order be changed. At first the only workaround was to just remove the offending widget from ~/journal/Library/Widgets/ and reboot the computer to complete the process. However, among the collection listed at www.dashboardwidgets.com/, there are two third-party widgets well worth installing. One is Widget the World Watcher that will create a pop up dialog asking if you wanted to install a new widget. This will prevent auto-installations by offering the options of allowing the installation, deleting the widget, or having it dropped on your desktop for later. You can download it directly from macupdate.com/info.php/id/18039. Another one is the Widget Manager from Downtown Software House, a freeware Preference Pane for OS X 10.4 that allows you to inspect, remove, and disable Dashboard Widgets, from Apple or third parties.
You can check out 191 widgets at Apple (www.apple.com/downloads/macosx/dashboard/) and 290 more in the showcase at www.dashboardwidgets.com/showcase/, although I imagine the number will be much higher by the time you read this.
Other features include an unbelievably fast Spotlight search tool that displays the results as fast as you type in the terms, and an RSS tool built right into the Safari Browser. RSS (an acronym for Really Simple Syndication) displays web news content in XML format.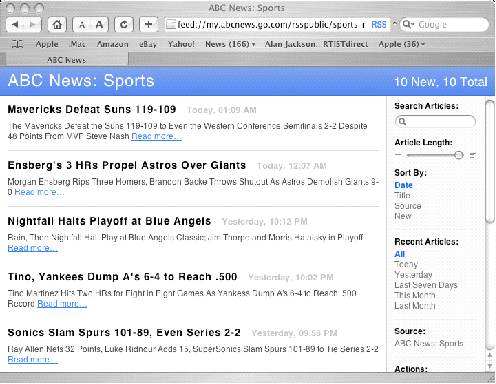 The installation of Tiger takes about an hour to an hour and a half, and occupies 2.7 GB, unless you choose Custom install, which I would recommend. That way you can reduce the number of extra printer drivers that are installed and save some disk space. Spotlight will index your hard drive the first time you run it, and that process can take 30 minutes or more, but continues to index transparently in the background after that. The Automator comes with a library of single task actions, and 36 more can be downloaded from www.apple.com/downloads/macosx/automator/.

A version 10.4.1 update has already been released to correct some problems with Safari, iLife, iDVD, iPhoto and other applications that unexpectedly quit. It also improved security and menu-scrolling behavior for third-party mice and PowerBook G4 trackpads. So it definitely has the potential to please.
Beverly Rosenbaum, a HAL-PC member, is a 1999 and 2000 Houston Press Club "Excellence in Journalism" award winner. She can be reached at brosen@hal-pc.org.