From Paper to Pixels: Scanners
by the Reviews Team
Preface.
After more than a year, I thought it would be useful to look into changes in scanner technology and an alternate for "digital input". The first scanner needs no external power; it comes from the USB port. The other scanner has a very high optical resolution. Both reviewers told me they had access to prior models and were impressed with the improved software bundle and the stability of the drivers.
If the truth be known, most of your scanning is at 600dpi or less. So why the high resolutions? One, you can scan 35mm slides which are small, and they must be scanned at a high resolution. And two, you can obtain a better final result by scanning say, at 600dpi, then with a separate image editor reduce that to 300dpi -- you'll pick up some more details.
Each scanner has a "lock" to secure the scan mechanism when it is moved. If you move it, lock it. When you scan, please unlock or you may damage the mechanism.
One of the newer pieces of software enhances old photos -- scratches, faded images, etc. Moreover, it actually works.
This month there is a review of a digital photo album. Read it. It is a nice program.
Go to the vendor's web site and download updates for each program.
Enjoy.
Charles W. Evans, Reviews Editor
PS: For more info and assistance, check out the Scanning (now called the Digital Imaging) SIG -- it is under new management.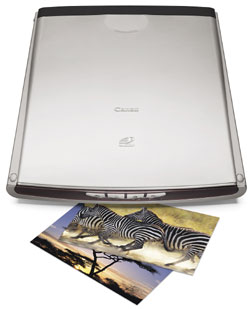 Canon's LiDE 80: Desktop portable
by Mary Alice Johnson
If you are looking for a desktop scanner that is equally at home on the road (no power adapter is required!) and is stylish enough to introduce to your mother, the LiDE 80 is it. This thin, smart-looking scanner also scans slides (unmounted) and is lightweight. It is a bit on the pricey side, but convenience is worth a few extra dollars. Its optical resolution is 2400x4800 and you get a nice, sharp and saturated color scans. However, the definition in the deeper shades and shadows is mediocre.
It's based on CIS (contact image sensor) rather than CCD (charge-coupled device, which generally delivers a more detailed scan) technology and is powered directly via the USB port, so you can use it anywhere. I liked the fact that the installation screen gave a description of each program and an explanation of what the program does so you can decide for yourself whether or not you want to install it.
Two rear ports, one for the USB 2.0 connection and one for the Film Adapter Unit, are the only inputs. (For a less expensive model with the same design, but no film scanning, the LiDE 80's sibling, the CanoScan LiDE 50 is a perfect alternative.) The reasonably comprehensive ScanGear driver, Adobe Photoshop Elements 2.0, and the two ArcSoft image-editing programs, PhotoBase, PhotoStudio, NewSoft Presto! PageManager and OCR OmniPage provide a variety of enhancement and error-correction tools.
The nifty Z-Lid expansion top lifts up to 1-inch high and stays flat for scanning thick books and magazines. The front of the scanner has four easy-access buttons: Copy, Scan, File, and Email. These help to automate the scanning process. The aluminum cover gives the scanner a neat high-tech look, but it is susceptible to small dents and the lid is awkward to lift and lower.
The Film Adapter Unit plugs into the back of the scanner. There is a separate film register device that "clamps" on the scanner via two side slots. The film adapter unit can accommodate up to six 35-mm negatives or transparencies but only in single frames or strips, not in slide mounts.
You must move the light source and scan each negative individually, but the results are quite consistent. Do this with the unit horizontal. There is a bracket that allows you to use the scanner slightly off vertical -- nice touch where desktop real estate is scarce, but be careful -- you can knock it over.
LiDE 80 connects to either a PC or a Macintosh via USB. Installation is simple and includes Adobe Photoshop Elements 2.0, which is an exceptional value. The rest of the software package is of variable utility. ScanGear, the scanner driver and the OCR application, ScanSoft OmniPage are included.
With CanoScan Toolbox you can program the one-touch buttons to do things like scanning to an application or sending a picture to Aunt Tilley via e-mail. There was no problem in "associating" either Elements 2.0 or my paint program, but I could not similarly automate from the OCR program to Word. The OCR program is a real improvement over past versions. This version was very accurate and quickly highlighted "errors", which weren't but that is OK. (They were IRS acronyms!) It did not hold the column format. It is a very strong and accurate program.
Compared to the new photos, the old ones looked scratched, dull and drab. The scanner's built-in automatic retouching technology is amazing -- from old photos it removes most dust particles and scratches, plus it can "remover" most old, faded images. This CanoScan also lets you scan multiple photos at once. This saves a lot of time on large projects. The "Multi-Scan mode" will scan all the pictures placed on the platen glass in a single pass, but it puts each photo in a separate image file! It will even adjust slightly misaligned photos.
Convenience features include exclusive Z-Lid expansion top, which lifts up to 1-inch high and may stay flat for scanning thick books and magazines. Like my neighbor's older Canon, the 1250U, it is awkward to lift and lower the lid, which is significantly improved in the LiDE 80, as is the ScanGear driver -- it works quickly with nary a glitch and has a clean understandable interface. Oh yes, love the 262 page, clearly written, printed documentation! An excellent all-round scanner with 35mm film capabilities. For more info and updates go to www.canon.com.
Mary Alice Johnson is a HAL-PC family member who is a HS teacher and journalism advisor. She can be reached at MAJohnson@juno.com.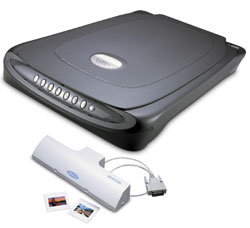 Microtek ScanMaker 6000 USB 2.0
by Robert Du Vernay
The Microtek 6000 is a sleek black low profile scanner with a fleet of buttons up front. Its optical resolution is 3,200 by 6,400 ppi. It is bundled with an Adobe PhotoShop 4.1 LE for the Mac and PC, two Ulead products, ABBYY Fine Reader (OCR), and the Microtek'sScan Wizard 5. There is an Acrobat Reader vs. 5.1, but skip it and download vs. 6. It comes with a 35mm scanner/back light arrangement, which will allow you to convert 35mm film to scanned images.
I tested the ABBYY Fine Reader OCR program using a special test page, with the resulting output directed to Word. The product automatically defaults to B/W at 300dpi. There were several errors, automatically flagged by ABBYY, and picked up by the spell check function of Word. You can run multiple pages into the document set. The quality was first-rate, but you shouldn't expect 100% accuracy.
Adobe PhotoShop LE is the image and photo editor. It will provide you with the essentials. Ulead manages your media library setup. If you perform a lot of image processing, scanners and digital camera (or digi-cam), it has some neat features. Ulead has a slide show feature, but unfortunately, you have to have the Ulead product resident to make this work. So much for sending a slide show to your sister!
Scanner function buttons on the unit cover all basics. Like the E-mail attachment, which I found very impressive -- it found the picture, sized it, captured and attached -- automatically. Other button functions are Copy, Print, File, Web, plus three others, which I didn't try.
Scan Wizard 5 has two modes: an Advanced Control Panel and the basic, Standard. I used the Standard to run the scans in Figure 1 and the Advanced for Figure 2. I had a terrible time trying to perform some basic functions in the Advanced mode, just could not get the unit to select a particular sub-area and then release that selected area. After doing quite a bit of searching in the documentation -- yes, the answers were there. My original work around was to go to the Basic -- Standard mode and use Custom setups. Having had a Microtek scanner several years back, I knew that Scan Wizard is a powerful package.
Scan Wizard 5 has an impressive set of tools, and will allow you a great deal of flexibility at the scan level, before you take the actual scanned image into your image processor . Advanced Image Correction controls let you adjust and enhance your image. The corrected results are displayed in real time in the Preview window and in the AIC dialog box. You can scale, crop, and set the resolution, zoom and invoke automatic color resolution.
Standard Control Panel provides a simpler interface. Many of the features of the Advanced are present, but most are presets. The Standard is very straightforward and easy to use. In fact, most of your scans can be done in the Standard mode. If you want, you can simply let the Scan Wizard 5 do it all, just put the photo on the scanner bed and press the button!
Only major weak point with this product is the documentation! Or, I should say, lack of it. A $125 product certainly warrants more than four printed pages (two for the MAC, and two for the PC). If you want to get your money's worth out of this package, you need to print the PDF documentation. Having said that, the docs are complete and instructive.
Microtek 6000 scanner is a fine product and produced great results. USB 2 connection is wonderful, I like the low profile, and it is certainly fast. With the Scan Wizard 5, this is a very handsome package. Just be prepared to do some reading. For more info and updates go to www.microtek.com.
Robert Du Vernay is a HAL-PC member and is the senior instructor for the CD Burning for Everyone and the DVD Burning for Everyone classes. He can be reached at rpd@hal-pc.org.