Palm Tungsten C
There are an ever-growing number of WiFi HotSpots, allowing you to check your email and surf the web using a wireless connection. It's also easy to set up a wireless network in your home.
If you like the idea of wireless networking but don't want to carry around a laptop or tablet PC, the Palm Tungsten C will let you carry an Internet computer in your pocket.
The Tungsten C is one of the most powerful Palm handhelds available, with a screaming fast 400MHz Intel processor. It also features 64MB of RAM (though only about 51MB of that is available to you).
The display is a beautiful 320x320 transflective color screen, which provides an excellent display whether you're looking at text or graphics.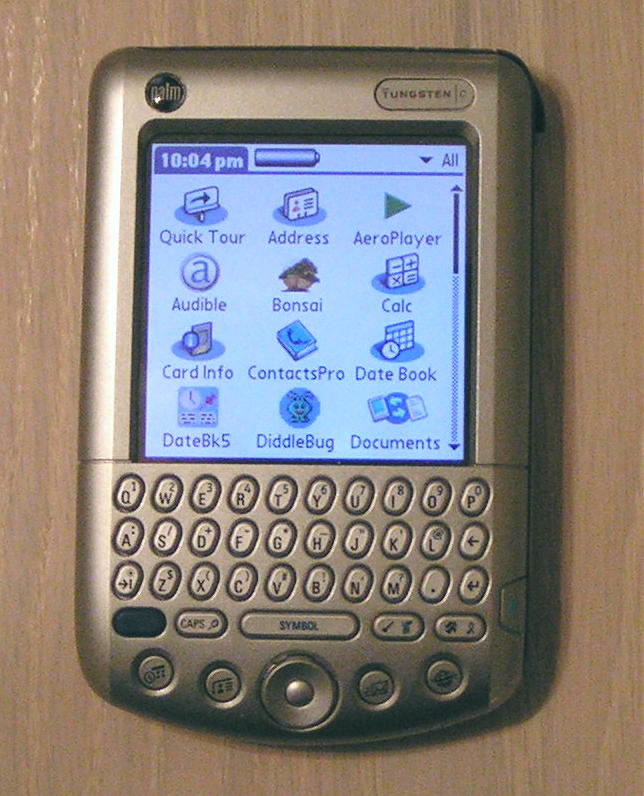 Like most other current Palm handhelds, the T|C has an expansion slot that can accept multimedia cards or secure digital cards. It also has the Palm Universal Connector, so cradles and other peripherals that you used with a Palm m5xx or Tungsten T will also fit the T|C.
Unlike most other Palms, the T|C has a built-in QWERTY keyboard. I wasn't sure about this when I first saw it, but now that I've been using it for a while I find that I like this little keyboard better than Palm's Graffiti, especially now that the standard is Graffiti 2. And of course it works just fine with the full-size keyboards that I've been using with my previous Palms.
The built-in software now includes VersaMail for email, and a web browser. The T|C has built-in 802.11b Wi-Fi, so you can get on the Internet anywhere there is a Wi-Fi HotSpot.
Other built-in software includes Palm Photos, DataViz Documents To go, and PPTP VPN client. You also get two CDs that include Palm Desktop, Chapura PocketMirror (allows you to sync your Palm with Microsoft Outlook), Adobe Acrobat Reader for Palm OS, Copytalk, Infinity Softworks powerOne personal calculator, WorldMate, Printboy, Solitaire, Kinoma Player & Producer, and Palm Reader.
I haven't had any compatibility problems with the software that I used on my earlier Palms. In fact, since I had been running much of my Palm software from a secure digital card, all I had to do was insert the card into the T|C and I was ready to go.
Audible Player works quite well on the T|C, so I can still listen to my Audible books. However, the T|C doesn't use a standard audio jack like the Tungsten T did. If you want to use a headset to listen to audio playback, you have to buy the special Hands-Free Headset from Palm. That's only $15, but it was annoying to find that I would have to make another purchase in order to keep listening to audio.
The T|C also doesn't have a built-in microphone, like the Tungsten T series has. While there is a Voice Memo application included with the T|C, you must have the headset plugged in to use it.
My only other complaint is about one of the included programs, Documents to Go. These Palm programs are quite powerful and usable, but the word processor does not have a word count function — which severely diminishes its usefulness for writers. But if you don't need word counts, then this is still a great program.
The Palm Tungsten C is a great little handheld. And if you want Wi-Fi, it is currently your only choice from Palm.
It's also the most expensive Palm, at $499. But if you want a Wi-Fi computer in your pocket, with the added bonus of being a fast Palm with an excellent display, the T|C is a great choice.
Palm Tungsten C
palmOne, Inc.
www.palmone.com
$499
© 2004 by Charles M. Olsen