Window to the Web, by Beverly Rosenbaum
HALNet Provides Free VPN
For Secure Remote Access Connections
HALNet users can now have a remote access Virtual Private Network connection that affords them privacy and security when they are away from their home connection.
Customers of HAL-PC's Internet service can download a free Windows client installer (approximately 1 MB in size) and instructions from www.hal-pc.org/vpn. This client will enable them to connect their laptops to the Internet through non-secure sites such as wireless hot spots, Internet cafes, or hotel networks. Using this VPN "tunnel" the entire connection -- mail, account settings, and any transactions -- can be encrypted.
The computer.howstuffworks.com website explains this concept very clearly. A VPN connection extends a trust relationship across a public network without sacrificing security. So users are assured of having confidentiality (a private connection), integrity (their transmissions are not altered), and authentication (identity of the user is verified).
The HALNet VPN installer loads client software that will set up a tunnel to the HALNet VPN server and ask for the user's login ID and password. From that point onward, the traffic from the PC is encrypted and goes through HALNet.
The opening screen of the setup wizard explains exactly what will happen during the installation.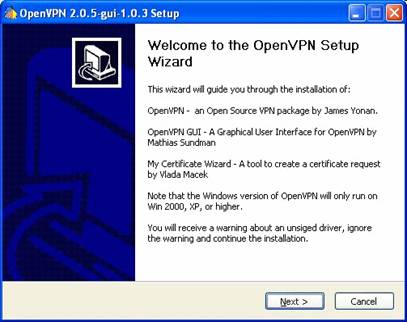 You must click on "I agree" to continue.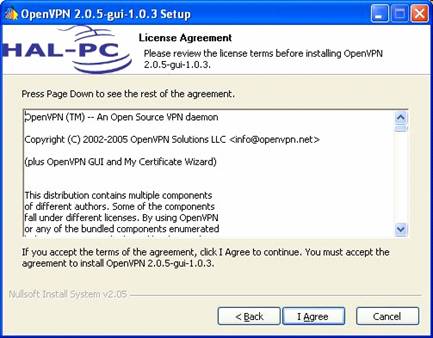 The items you need are already checked, you simply click "Next" to continue.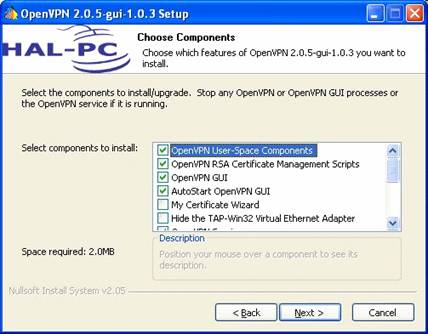 The default destination for the installation is "C:\Program Files\OpenVPN" so you can click "Install" or change the location at the next screen.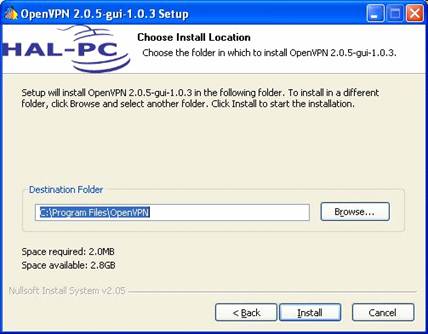 During the installation process, the files are listed as they are extracted and installed.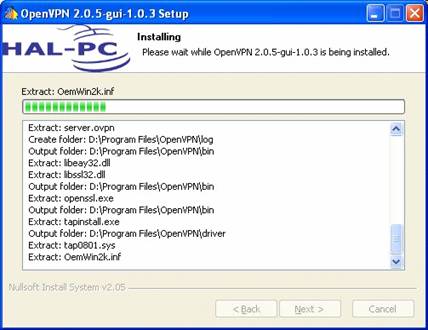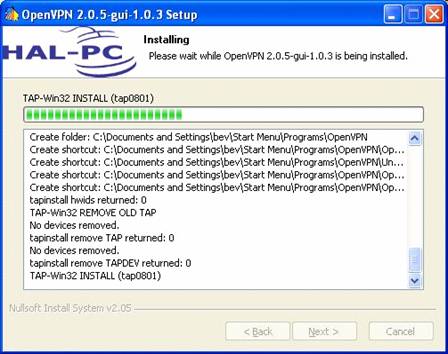 When you reach the screen about Windows compatibility testing, please click "Continue Anyway" to complete the installation. It is simply an unsigned driver that will not harm your system.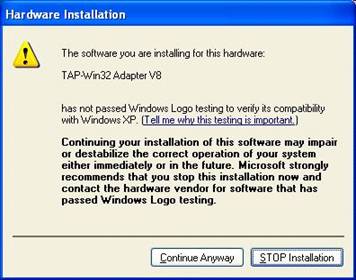 The following dialog boxes indicate that the installation is complete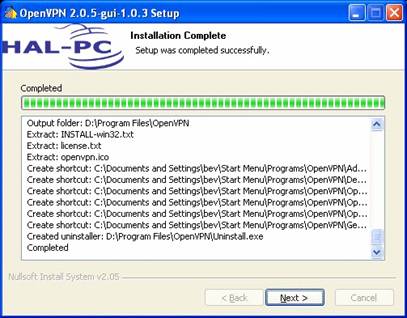 and you have an opportunity to view the Readme file. Click "finish" to close the wizard.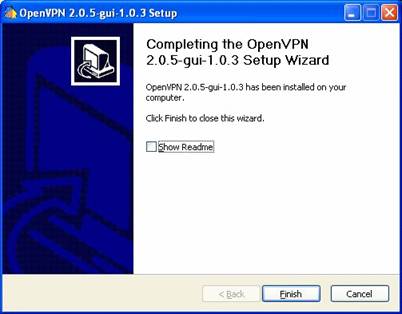 A small icon will appear in your System Tray (lower right of the Windows screen). The color of the icon indicates the status of your VPN connection.
Red is not in use, or not connected


Yellow is trying to connect

and Green is connected.



Right-clicking the system tray icon gives you a menu to choose the "connect" option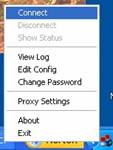 and then you're prompted to authenticate, or enter your HALNet username and password, to complete the connection.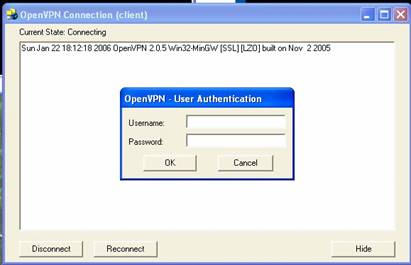 When your connection is completed, a balloon will indicate the assigned IP address.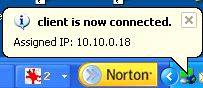 Right-clicking the system tray icon again will display the menu that offers the option to disconnect.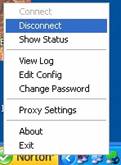 I've written in the past to warn you about the risks of using open wireless access points in public places. This "virtual" IP-based network uses encryption and tunneling to protect HALNet customers when traveling and extend the range of secure connections for them away from home. I've tested it myself and found that it installs very easily and works flawlessly. If you have any questions or comments, please direct them to me or the HALNet support team.
Beverly Rosenbaum, a HAL-PC member, is a 1999 and 2000 Houston Press Club "Excellence in Journalism" award winner. Send her your comments about this column to webwindow@hal-pc.org.