New DVD Burner Software: PC and Mac
by Charles W. Evans
Preface.
I constantly feel wind rushing by. It's the rush to be compatible with Windows VISTA, a very good, stable and visually-compelling operating system. That aside, I'm delighted to present three top-of-the-line DVD/CD burning programs that include a host of additional features. A real turning point for burning software. As usual, after your initial installation, go the vendor's web site for any and all updates. For NERO, first check with their tech support and your favorite forum about the seemingly bad updates that have crashed a number systems. Check the Reviewer's comments first.
It's also time to start arranging your system to burn DVDs for hi-def and blu-ray video files. This is so hot and with the price of blu-ray players and burners dropping, ultra hi-def is just around the corner.
Enjoy.
Charles W. Evans
Reviews Editor
NERO 7 Ultra Edition ENHANCED
by Robert Du Vernay
Nero 7 Ultra Edition ENHANCED provides you with over 20 applications in ONE solution to complete all your digital media tasks on your PC and on your TV. Nero has gotten big. And, been re-worked to take advantage of Windows Media and VISTA! If you have a machine with dual or quad core processors, maybe this product was made for you!
The NERO boxed copy I received for the purpose of this review has severe problems; it is vs. 7.8.x.x ! There is a newer version 7.9.6.0, available at their website. Please do not use the DVD that comes in the box! If you have installed it, then un-install it and download the newer version 7.9.6.0. Also, you will need a high-speed broadband connection to download this 172MB file. That is 172MB (12+ hour download on dial-up) for the NERO.exe application plus 34M for the supporting manuals. The serial key from the boxed product will open the download version.
All the basics of NERO are present in good working order! Much of the new parts are geared to accommodate the new technologies in the market place. During the install, you will be required to update DirectX 9.0c or greater. Adobe Flash Player is also required. You will be provided with a text box which gives you the option to opt out of the NERO association setup. There are four tabs and four different types of options – read the screens! You may or may not wish to make a wholesale assignment. I recommend you review the Install Booklet documentation, before you start this install.
You will end up with new Icons on the desktop, in the quick launch bar and items in the Start.ini file. Plus Nero Scout as an auto bar item; Scout is Nero's local version of Google. In Nero StartSmart panel, move the slider bar and you will see many more options.
NERO Sipps is new; it is a VoIP service. If you make telephone calls to friends in Saudi Arabia, Thailand or some other exotic expensive place, this pays for your copy of Nero 7. You must register to turn this item on! Nero Mobile can turn your mobile phone into a media center, depending on your plan - read the doc's carefully.
Windows Media Center and VISTA users can take advantage of options which allow capture of streaming audio and video TV content. You can now use that Dual 2 core processor! This Nero is aimed at the VISTA user.
Blue-Ray HD is now supported. And you can export your video files to iPod and PSP devices. Wave Editor and Sound Trac have been improved. Nero Recode is better and faster! Much of the improvements here will be obvious to a Nero user, but invest a few minutes with the documentation, you will be rewarded.
Nero 7 Enhanced exhibits a general improvement across the board in all the basic areas. The newer features are all accommodations of the new array of technological innovations which have recently become available in the marketplace. I am surprised this release was not called Nero 8.
You will have to download the manuals from the Nero website. It would be nice if they were integrated into the product; they are not under vs. 7.9.6.0. But reading the manuals will greatly assist you as you explore new features. Get the manuals up front, or you will see DEAR USER.
Nero has a Product Update feature which will assist you keeping your Nero current. This can be done automatically every x number of days, or you can select the default. This is a long-overdue option for Nero, which is a large product. Updating Nero has been difficult in the past, but no longer.
Support is very limited. E-mail or 1-800 after you give your credit card number at $1.29/minute. My e-mail complaint was still not responded to after a week. All I received was an automated response, which is disappointing. My problem was resolved, but the answer came from another user. Nero 7 Ultra Edition ENHANCED sells for about $60 on the Internet or locally with rebates, and has a MSRP of $100. Beware of the REBATEs…read the fine print before you buy! NERO has 20 major apps and Roxio has only about half of that...but the workhorse is NERO.
Download the manual and updates and visit the forums at www.nero.com.
Robert Du Vernay is a HAL-PC member and instructs the Basic 101 classes for CD/DVD Burning; he can be reached at rpd@hal-pc.org.
Roxio Easy Media Creator 9

by Robert Du Vernay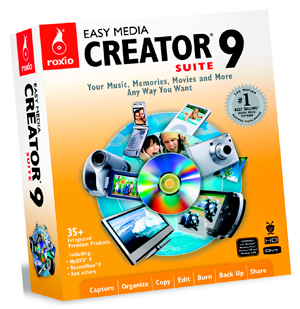 Easy Media Creator 9 is the latest version of Roxio's popular media creation software and has all the tools necessary for producing professional-looking CDs, VCDs, SVCDs or DVDs. With a smooth, easy-to-use interface and English sentences describing the functions, it is distinctly different from vs. 8. There is another version of the product known as the "DELUXE suite"; it comes with a bit of Dazzle hardware and different software clients. This review is the "peoples' edition".
Easy Creator 9 on the front end exhibits a number of subtle changes. I've been using this product since version 4, and when there was no LABEL Creator button on the 1st screen…I slowed down and decided to do some exploration. Everything is there and in many cases works better!
Burning and Copying
All the basic creation functions and formats are available and what I tested works. I did not play with the iPod, PSP or mobile phone features because I don't own one. Shrink-to-fit features work, so you can make the movie fit a single DVD. But remember, this product does not do Copy-Protected materials and it will tell you so. And before you invoke that 128-bit encryption/password protection, remember, if you lose the password; the data you locked up is history.
Music
Mobile phones, iPods, PSP, WMA players--you can fill them up with your music. You can now capture streaming audio and even create your own ringtones from your music collection. Preparing a music compilation, you can employ the GraceNote DB and automatically add titles and other tags, when you are working from a commercial CD. There is a transition creation feature, which requires some small talent on the part of the operator.
LP and Cassette digitization is easy! The documentation is crystal clear and plainly exhibited. This is the bit that scares most folks off. Once you capture material, the real work starts with edit. Remember this is a real time process and does require operator intervention. You may save your digitally captured items in a number of formats, and call them back for later work. Combine music from different sources. A friend gave me a ton of music from an Internet download that was in FLAC, which is relatively new format… Roxio 9 converted this into CDA flawlessly and quickly.
Photo and Video
HD formatting is now here! DivX, HD, capture from TiVo, DV camcorder, and creation of 16:9 DVD video is possible. Plus the usual; do a Slideshow with music in HD or regular DVD, organizational aids, and some basic photo handling.
Easily transfer the footage from your camcorder to a DVD in one click with Plug-n-Burn, which is a great backup idea. Convert DVD movies to DivX, or WMV and compress: adding your menus, text, buttons and credits. A lot of 3D text options are available for the home editor/film maker.
Backups / Labels
You can set up a scheduled backup - full, partial and unattended backups. With the advent of malware and issues available to us over the Internet, backup is an imperative. If you don't have a backup now, I will tell you, you are dumb for not doing it! This feature alone will cover the cost of this product. You can also do your backup either local or network. It says you can recover data after a system failure or crash or virus attack.
This is the bit I went looking for when I first installed version 9. It got tucked under something else. The Label Creator is neat! You can virtually fill in the blanks on a music CD from GraceNote DB automatically, provided the CD can be identified. You can even download graphics if they are available or provide your own. There is an index feature provided which allows you to keep your labels with a thumbnail index. It would great if the boys and girls could agree upon a universal format for this function!
Roxio 9 really looks a lot like Roxio 8, but it appears there is a push on to get with VISTA and embrace more of the new technologies in the marketplace. Accommodation for Blu-ray, HD-TV, PSP and iTune make the product stand out. It does come with a small users guide [printed] and there is in-depth detail via the Internet.
Support! There is a 1-800 number, but that will cost you by the minute and then there is e-mail which for many is a very difficult way to go. A discussion site/forum is available. Customer satisfaction is all over the place, from what I note via Internet chatter!
The basics are still there, but things have been moved about a bit. Easy Media Creator 9 sells for about $60, MSRP $100 - $20 upgrade rebate; read the details very carefully. The power user will find Roxio useful, but Roxio plays better to newbies and has a much easier learning curve! For more info and updates go to www.roxio.com.
Robert Du Vernay is a HAL-PC member and instructs the Basic 101 series for CD/DVD Burning, Digicamera and Scanning classes. He can be reached at rpd@hal-pc.org.
Toast 8 Titanium for MACs
by Janice Harper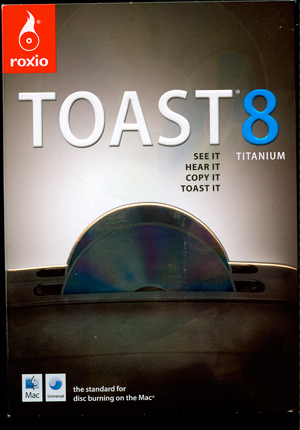 The eighth version of Toast disc-burning application from Roxio packs a handful of excellent new features, with a fresh face. Toast has evolved from a utility that simplified the arcane process of creating reliable CDs, to a feature-rich, practical monster. Toast has long been the market leader for managing and burning digital media.
I recommend it on three counts: reliability, ease of use and elegance; enhanced and new functionality; and features not found anywhere else.
Toast lets you convert and save TiVoToGo files and burn Blu-ray or LightScribe discs. It also lets users save large files or folders over several discs for either Macs or Windows PCs.
Despite this complexity, Toast remains a very easy tool to use. The latest version moves the traditional Toast tabs - which govern what kind of disc you plan to burn - from the top of the window to a panel down the left. Main project types - data, audio, video and copy - expand to present further options.
Toast's comprehensive burning abilities are still its bread and butter. While HD-DVD burning support is forthcoming for the still-rare hardware, Toast tackles Blu-ray, dual-layer DVDs and more common disc media formats. For audio discs, it burns MP3 CDs. Just drag files of nearly any popular format into its window to automatically convert them into the proper format for the disc. Protected AAC files from the iTunes Store aren't supported.
One of the best features in Toast 8 is video processing. I used it to compress and export videos to an iPod, including our TiVo's shows, either to watch on its screen and/or burn onto DVD or export to PlayStations. TiVo files are restricted to 320 by 240 pixels. Toast lets users trim the beginning and ending times of a video, but you can't make simple cuts in between. Roxio: great feature, but needs work.
Vs. 8 update improves compatibility for Mac users on Windows networks.
To make it an even more attractive proposal, Roxio has rolled in many of the features of its stand-alone Popcorn tool which allows Toast to resize large video content to fit onto single-layer DVDs.
Vs. 8 adds several new features for audiophiles. When you create audio CDs you can adjust levels, filters and cross-fades for each track. Toast handles this neatly: as you drag music files into the content area, small fade-in and out icons appear next to the first and last tracks, while intervening tracks boast cross-fade icons linked to an adjustment window. Still, the audio features are not especially robust - good, but ordinary.
Toast can split large files across multiple discs, but now, it embeds cross-platform restore software on every, so you can rebuild from a PC.
Toast offers a data-recovery mode - you grab files off scratched or otherwise damaged discs.
Standalone applications include a slideshow program; Motion Pictures HD, which rivals iPhoto in its range of features; and DiscCatalogMaker.
The excellent Spin Doctor has been completely improved. It's always been the tool of choice for digitizing cassettes and LPs. Conversion and clean-up of crackly and poppy analog sources have been streamlined and worked well in testing.
For example, there's improved one-click copy of audio CDs and movie DVDs. From these archives data can be restored in both Mac and Windows formats.
Toast's help and support options are decent, but could use some work. Finding help on specific topics is awkward since they are spread among the printed manual, the support site and the various applications' electronic files. The support site offers on-line documents and forums, as well as a support contact link (registration required).
Yes, Toast is expensive. If you're working to tight deadlines or master complex discs, Toast is well worth the money. If you're less constrained, try some of the cheaper or free programs. Bottom line: I'm impressed with this new version and give it the big, brass ring! For more info and updates go to www.roxio.com (now owned by Sonic Solutions).
Janice Harper is a HAL-PC family member who owns an independent graphics firm that includes MACs. Send any questions to her at reviews@hal-pc.org.