The house, power supply and cooler.
The Mystique: Computer case extraordinaire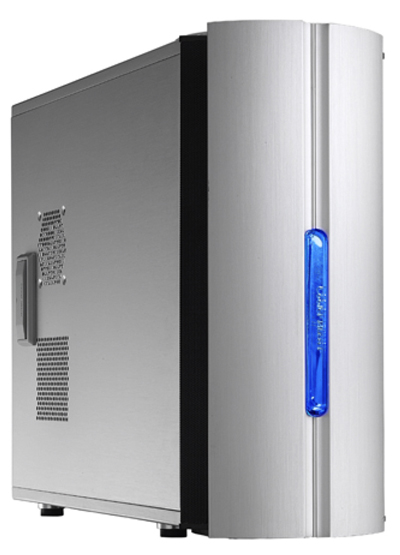 When it comes to the new Cooler Master Mystique 632, high-quality is a given, but expensive it is not! It's also light weight compared to sheet metal, but it is easier to scratch. And installing most components is a breeze.
It sports front and back 120 mm fans, instead of the customary 80 mm fans and provision for a third 120mm fan on the side.
Features and Specifications: Some of the more notable features are:
Meshed front panel (lower half underneath the wave) design for superior airflow and maximum cooling performance
Screw-less design for easy assembly – true statement.
Built in washable front air filter
120 mm quiet fans front and rear for superb ventilation and proper airflow pattern
Rear gromets for liquid cooling kits
Aluminum alloy design reduces chassis weight while solid construction makes for durability and sturdiness
The Specs:
Available Color Silver / Black
Weight - 6.3kg
Material - Aluminum
5.25 inch - 4 (Exposed)
3.5 inch - 2 (Exposed); 4 (Hidden)
Cooling System One 120mm fan in the front and one 120mm fan in the rear.
I/O Panel USB2.0 x 2; MIC x 1; SPK x 1; IEEE1394 x 1 (support Intel hi-def Audio) – same
controls are on the top of the case and in the front on the uGuru panel.
Power Supply - standard ATX PS2 (option)
Most of the left side is clear plastic and there is a vent for a third fan. With some of the hard drives and especially video cards, can cause heat buildup.
I was surprised at how firmly the locking system works, especially when you realize that the one slide bar is truly enough to hold your devices securely. CAUTION: the horizontal bays were difficult to slide devices into - unacceptability tight. I didn't have to use a hammer, but it should have been much easier to insert any device into the 5.25" slot. Almost as bad were the inside bays for hard drives. Cooler Master you need to work on this. The concept is great - just didn't work out in practice.
The interior of the case in entirely screw-less. Whether it is one of external or internal slots or any of the three slots for interface cards, no screws need apply!
Just lift up the purple latch and open it just like a door, then remove the slot covers you are going to use. Be sure to close the locking mechanism once you've installed your system and expansion cards.
The front of this case is all mesh, to promote excellent airflow through the chassis. Included behind the mesh, is a removable filter material to help reduce the amount of dust getting into your case.
One of the first things I look, rather feel for, is the metal edges. In sheet metal cases, the cheap ones have sharp edges and corners. Better quality ones have fewer. This one is aluminum and has the usual amount, but in different places. Just watch out. More edges should be rolled.
With its good looks, clean design and features, this case is one that you will enjoy working with. I particularly liked the door mechanism, tool-less installation of the drive bays and the cool looking case.
Fit and Finish
Sturdy construction
Low noise unless in Turbo mode
Ease of installing drives, but all the power and data cables reduce air circulation
Few sharp edges and watch for sharp corners
Horizontal external bays too tight - poor design
At the end of the day, this is a great case with outstanding installation ease features. There are several engineering design features that Cooler Master needs to work on: sharp edges. They aren't lurking around every corner, but more than one should expect from this quality of case. Very practical layout inside and good looking outside and well constructed. Just the kind of case you can take home to meet your mom.
CPU Cooler fan: CoolerMaster Eclipse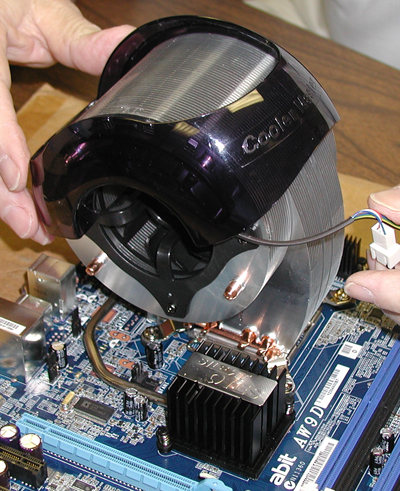 We recently had the privilege of checking out CoolerMaster's huge Eclipse CPU cooling device. Not too often do we get to see something as unique be the cause for questions and comments. The Eclipse is intended to be the enthusiast's choice of new CPU coolers.
Specs:
Application-Dual and single core of Intel Core 2 Duo, Core 2 Extreme, Pentium Extreme ,Pentium D ,Pentium 4,and Celeron D CPUs
Dual and single core of AMD Athlon 64 FX, Athlon 64 X2, Athlon 64,and Sempron CPUs
Socket Type-Intel LGA775, AMD Socket (754/ 939 / 940 / AM2 / F)
Heat Sink Material-Aluminum
Fan Dimension-T 66 x 68
Fan Speed-900~3300 rpm
Fan Air flow-ax 39.8 cfm max
Fan Life Expectancy -40,000 hrs
Bearing Type-Long life Bearing
Voltage Rating-12v
Noise Level--17Db(Min) to Average 24Db
Connector-4 PIN
Fan speed adjustment-1.Silent Mode~1800rpm
2.Performance mode~3300rpm
Weight - 23.6 oz
Terminator! This is a beast of a heat sink with pretty well polished copper heat pipes that resemble claws reaching out from the copper base. It is about 6 inches tall, 4.25 inches wide and 6 inches deep. There are about 45 solid fins that have a circumference of nearly 12 inches and are about one inch deep at the top and almost three inches at the bottom. Now, that is some serious thermal dissipating surface area.
The copper base isn't completely smooth but that's one of the reasons for the "thermal paste". It is protected by a removable plastic strip.
So, what is that black helmet looking shield on top? You might think it is a duct of some sort. It channels the airflow to cool down not only CPU itself, but also the surrounding components (VRM, Memory, NB Chipset, and etc). Eclipse supports both the latest AMD AM2 and Intel Core 2 Dual.
The internally mounted turbine fan is designed to provide a good amount of air flow with lower fan noise. The turbine fan is also controlled by a 3 position jumper.
Inside the rest of the packaging is the manual and mounting hardware. CoolerMaster has included a better thermal paste than the typical stock. They've included the various types of connecting hardware for different CPUs, including AMDs K8 revisions.
Installing the Eclipse is easier than most. The extra long dual fork clip and the locking clip look very much and operate exactly like a default AMD cooler mounts. As I sat the Eclipse in place a new obstacle became apparent. It blocked the northbridge device.
Once you have it centered and in place on the end of the forks, you simply rotate the latch around clockwise and press it down till you feel it lock in place. It's that simple.
For Intel users, screw the four standoff screws in to the mounting bracket and stick the four rubber washers over the screw ends. Then simply attach the bracket using four small machine screws and you can then mount the Eclipse.
If you decide to switch the Eclipse to the other direction, you will now have room to access your memory modules fully and without need of caution. Again, the gliding air duct can be adjust to blow more air directly on adjacent parts.
Test Notes: Ambient room temperatures were 21 C (70 F) during the testing. When testing CPU cooler performances, the system is used regularly over a 24 hour period to allow the thermal paste and heat sink to set.
CoolerMaster Eclipse
Fan Speed Idle Load
Low 30 C 42 C 30 C
High 28 C 40 C 30 C
Auto 28 C 42 C 30 C
Stock Cooler
Fan Speed Idle Load
Normal 38 C 54 C
Auto 38 C 54 C
Under full load, the CPU temp didn't go above 47 C despite running various other programs and benchmarks trying to completely heat up the processor. The fan noise was moderate while running on High and very quiet on Low.
Compared to past performance coolers, the CoolerMaster Eclipse has something new and technically artistic to offer that provides very good cooling. It's a whole new look in terms of CPU coolers and a bold break from the common design users are familiar with. Just remember to measure twice and buy once!
iGreen 500W Power Supply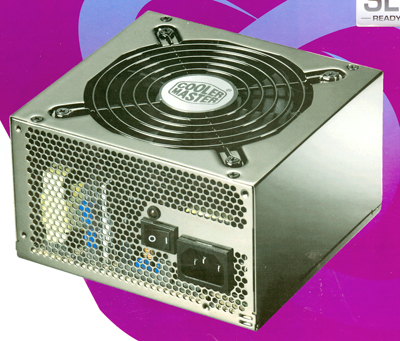 CoolerMaster is taking the next step in reducing the demand of our electrical resources. They have introduced a line of power supplies named iGreen Power, available in 430W, 500W and 600W sizes. Other than the power output, these units boast high efficiencies, silent operation and powerful 12V rails. I'm reviewing the iGreen 500W to see how well it performs compared to other SLI ready power supplies.
Features of a Green power supply:
1. Intelligent Circuit Configuration
* No.1 "Double Forward Switching Circuit" Technology for 85% Efficiency
* Intelligent circuit configuration for higher stability and reliability
* Super silent operation with intelligent fan speed controller
2. Green Power Product
* Green power design to meet "Energy Star" and "Blue Angel" requirements for energy and money saving and Europe's RoHS compliance.
3. High Performance
* With 5Vsb increasing from 2A to 3A, it could support up to 8~10 USB devices.
* 120mm dual ball bearing fan makes superb heat dissipation at low noise (17dBA)
* Sleeved Cables for neat management, cable safety and improved airflow.
4. High Reliability
* Passing Over-Voltage, Under-Voltage, Over-Temperature, Over-Current, Over-Loading, and
* Short Circuit Protection
5. Worry Free While you work or play
* Power Failure Detector will light up when Over-Voltage, Under-Voltage, Over-Temperature,
* Over-Current, Over-Loading, and Short circuit occur.
* PCI-e connector with bead core protection to minimize EMI for reducing noises.
* Multi-GPU Ready: Dual PCI-e connectors (on 500 and 600 watt models)
* SLI-certified Licensee Product (500 and 600 watt models)
Specifications:
Model RS-500
Type - ATX Form Factor 12V V2.2 / SSI standard EPS 12V V2.91
Fan - Dual ball bearing 120mm fan
Power Good Signal 100 ~ 500 ms
Hold Up Time >17 ms
Efficiency - 82%
Output Capacity 500 Watts Continuous
Max. Output Capacity 600 Watts
Dimension - Standard ATX 150 x 140 x 86 (mm)
Safety Nemko / TUV / cUL / CE / BSMI / FCC / CCC
The included items is the standard heavy duty power cord, four mounting screws and manual.
I'll start off with the main housing and jump to the cables later on. The finish on the iGreen is polished nickel plate, which is much nicer than the standard black or silver units. The 500 watt comes with two 120 mm fan with automatic fan speed control. When the PSU is called for more power or the temps rises on the heat sink, the fan will spin faster, lowering the temps.
The back of the iGreen is one big vent with honeycomb shaped holes. Also on the back is the power switch and a red LED. This LED is for fault indication and will light when a power failure is detected.
All the cables are sleeved in a heavy duty nylon mesh that should protect them from damage. On each end, the sleeving is held into place with zip ties or heat shrink tubing. The main power connector, is the 24/20 combination plug. Just detach the 4 pin portion to create a 20 pin plug for older styles of motherboards. P2 is the 4 pin 12v power connection for the motherboard. P3 is the 6 pin PCIe connector, P4-7 are the SATA power connections. P8-12 are the Molex connections and P13 is for the floppy drive. Every power cable you can think of or need - a very generous array of cables.
I did create a short circuit, and the PSU shut down instantly and the red LED came on. As for fan noise under load conditions it was slightly audible. The fan changes speed depending on its load requirements.
The overall function and performance of the iGreen 500W lives up to its expectations. Anything that works the same with less effort and gives the same or better quality output is a major plus in my book. So give one of the iGreen PSU's a try and know you've saved a tree! This is one of best designed and practical power supplies I've ever seen.
Fujitsu 147GB SCSI Ultra320 Hard Drive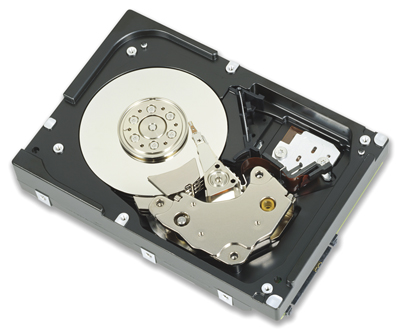 Build and deploy storage systems that offer significant capacity and cost-effective performance. This hard drive operates quietly even under heavy loads. Quieter than my old WD 4GB drive!
* Enterprise hard disk drives offer 10K rpm speed and store 147GBs (also available in capacities of 73 and 300GB).
* Includes 8MB data buffer for optimizing the overall drive performance. A large buffer makes a noticable difference – one you can see in performance enhancement.
* Fujitsu Fluid Dynamic Bearing (FDB) technology embedded on all models assures remarkably quiet operation.
* Ultra320 SCSI and 2Gbps Fibre Channel interfaces.
* Latest generation of 3.5-inch hard disk drives are RoHS compliant (a European standard).
The time is right to purchase one of the highest-capacity hard drives. With the Fujitsu innovative multi-platter hard drives, you can dramatically increase speed and efficiency, because fewer platters mean higher data rates.
The Fujitsu enterprise hard disk drives were the industry's first 75Gb/square inch design to deliver 147GB of storage capacity in a 10K rpm in a 3.5-inch form factor. This makes them a perfect solution for today's mass storage or movie editing or server. This hard drive are equipped with 68Pin (available in a 80Pin version) U320 SCSI interfaces and 2 Gbps Fibre Channel. Fujitsu hard disk drive product variations and accelerated performance allow greater flexibility for stand alone systems or use in rack mount or RAID.
The newest generation of enterprise hard disk drives are also in compliance with the RoHS initiative, which calls for the elimination of hazardous substances from the manufacturing of electronic equipment.
Functional Specs:
Model - MAW3147NP
Storage Capacity (formatted) 147.0 GB
Disks 3
Heads (read/write) 5
Average Read: 4.5 ms (typ) / Write: 5.0 ms (typ)
Rotational Speed 10,025 RPM
Data Transfer Rate To/from media - 132 MB/s
To/from host SCSI: 320 MB/s, FC: 2 Gb/s
Interface 68Pin Wide (NP Series)
Buffer Size 8 MB
Physical Specifications
Power Requirements Voltage - 5 V ± 5%, 12 V ± 5%
Idle watt consumption 9.5 W
Acoustics Noise (idle) - typical less than 4.0dB
MTBF 1,200,000 hours (who will you leave it to?)
Component Life & Warranty - 5 years
The hard drive is a major component of anyone's computer system. It stores your operating system, videos, mp3s and games along with any other business or personal programs you prefer. So when you think of a hard drive, the first two thoughts that should come to mind are: reliability and storage capacity. The Fujitsu has storage capacity, but is it reliable? If you were to ask me that question about ten years ago I would have said yes and my answer is the same today. Fujitsu has developed into one of the most trusted players in the reliability category.
This information comes first hand, I am running two drives: one Seagate and my newer one is a Fujitsu – all more than four years old. Fujitsu has for years been one of the leaders in enterprise media storage and especially large hard drives.
Performance, quality, reliability and storage is what you will get from the Fujitsu UltraSCSI 320 hard drive. This hard drive can hold multiple family videos, MP3s and games; it's the perfect place to edit your movies, for instance.
As for noise. I took the HD out of the case and placed it next to a similar size SATA drive. You'd think a 10K rpm, 147GB drive might be noisey. Not true. Yes, I could hear it start up, but it was no louder than the other drive. And I had a WD that sounded like a washing machine with bad bearings! And inside the case, who knows? It is responsive in the daily work of input/output to/from the hard drive.
I am very impressed with this Fujitsu hard drive. Excellent engineering, quality and it is reliable. And it can easily be a part of a RAID system. I really cannot conjure up anything negative about this hard drive. Fujitsu simply does things right. This is a hard working, well mannered hard drive. It will be around longer than I!