Malware Detection by CounterSpy
by Jack H. Murphy
Preface.
There are literally dozens of spy and adware detectors on the market. Ditto for antivirus programs. The real test is how well a program actually detects. Last stats show a 91% infection rate for personal computes. Remember: the very best detector is prevention and the very best prevention is free and always will be. That free prevention is your own commitment to safe computing.
Charles W. Evans, Reviews Editor
What is Spyware, Adware and Malware?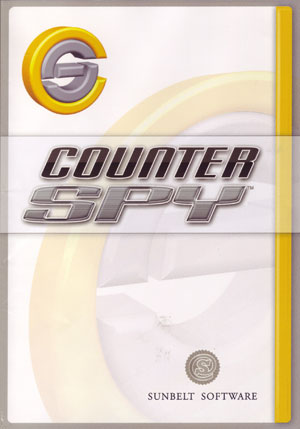 Spyware and Adware, also called "Malware" (the current, more commonly used term), are files that allow them to spy on your browsing activity, see what you purchase and send you "pop-up" ads. They can slow down your PC, cause it to crash, record your credit card numbers and worse. Simply surfing the Internet, reading e-mail, downloading music or other files can infect your PC without you knowing it. Or, click on an innocent looking e-mail attachement.
CounterSpy nice-looking interface that is well arranged with highly visible buttons to get beginners started. Definition updates are frequently and they are convenient to download – just one click. CounterSpy does the usual: delete, quarantine, or remove spyware. It also includes a scheduler, secure file shredder and a history cleaner. It includes "active protection" which monitors ActiveX controls. This product's user interface is easy to use and understand, which means it's obvious what button to click for whatever action you want.
Tech support via e-mail is slow or as the case with my e-mail #2, no response. Fortunately, there's a good help with the program, but you'll typically not need it. Tech support via phone was much better.
If you are using Windows XP and running user and administrative accounts, you will need to install it on each, individual account and each account must have administrative rights!
CounterSpy should appeal to those who want to add an extra layer of protection to their PCs for a minimal cost. It performs some security auditing and protection not found in typical anti-spyware programs, attractively priced. Although it does miss some potentially dangerous malware.
It uses behavioral analysis and a database of threats to provide decent, but not nearly perfectdetction. Relying on what it calls Active Protection Monitors, CounterSpy provides affordable protection against some known and unknown threats. For example, getting Windows to allow anonymous enumeration of user accounts or attempting Wi-Fi system entry.
The software's My PC Checkup feature clearly needs some improvement, but an excellent feature. Although the database-based spyware scanning isn't perfect, it scored above average on my tests.
When it's more polished, CounterSpy will be a powerful force in this crowded market. For now, when run in conjunction with at least one other tool CounterSpy should appeal to those who want to protect their PCs and learn something about various threats along the way.
The trial download includes 15 days of definition file updates . CounterSpy has a problem with false positives, not uncommon for spyware programs. This product has superior potential for the long run, but it needs to get its house in order. Better than most and good bang for the $20 buck, but I'd wait for the next update (not version). For more info go to www.sunbelt-software.com.
Jack H. Murphy is a HAL-PC member who is a database admin technician for a local auto parts distributor .