Advanced WindowsCare Personal Edition - Freeware
by Ira Wilsker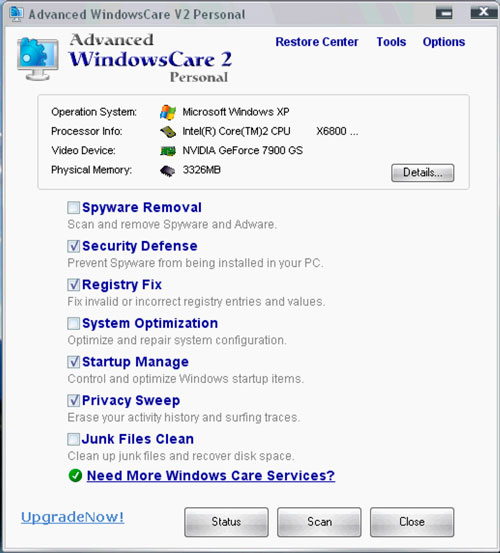 A lot can go wrong with the software and operating systems on our computer. Just like a car, if maintenance is ignored or infrequently performed on Windows, problems can occur that can impair the execution of software on our computers. To perform this software maintenance, IOBIT has released a freeware version of its Windows repair utility, Advanced WindowsCare Personal Edition. It is just "1- click" does it all. If you are concerned about the safety of free software, this product is free of any spyware or adware.
Advanced WindowsCare PE is a comprehensive suite of utilities that can identify and repair many of the common system problems that plague Windows users. It runs on Windows 2000, XP and Vista. There is an upgrade: Advanced WindowsCare Pro for $29.95 (15 day free trial available).
Advanced WindowsCare PE is very easy to use, and offers a "1-click" option where all of the major utilities are automatically run. It gives a detailed report to the user, and offers the options to either automatically or selectively repair any problems found. Most scans were completed in about one minute.
One useful feature of this software is a scan that searches the computer for spyware and adware or malware. Any such malware that is found can be selectively deleted by the software. If you are concerned with privacy, the software can also erase all history files on the hard drive.
The registry is a complex database containing information on all of the software and hardware installed in the computer. Often the registry becomes bloated with obsolete information, and corrupted data, which can create a serious performance drag on the computer. Good PC hygiene dictates that the registry should be periodically scanned for errors and cleaned, and this software does an excellent job. One nice feature is the ability to recover any changes made with an integral restore feature. This software is capable of repairing the registry.
Hard drives become cluttered with a variety of junk files, such as obsolete cache and temporary files. These useless files may waste countless megabytes on our drives, and slow down the ability of the hard drive to find data. Advanced WindowsCare contains a very efficient junk file removal utility. As a matter of personal choice, I prefer to look over the list of files found and decide which to delete, but it is fairly safe to delete what the software finds. As a matter of practice, after useless files are deleted, it would be a good idea to run a defragmentation to further improve hard drive performance.
Another feature gauges Windows and internet performance and offers options to improve the speed of the system. As computers age, we are plagued with slow startup and shutdown problems. This occurs because as we install software on our computers, many of the programs place items in the system startup by default; more items in the startup means slower and longer start ups. Advanced WindowsCare contains a powerful but simple startup manager which displays the contents of our startup, and allows the easy management of what loads when you boot.
One of the most frequent questions asked on my weekly radio show on KLVI is how to improve computer performance and speed. Advanced WindowsCare Personal Edition is a valuable free tool that does much to improve performance, clean up the registry and startup, delete useless files, and otherwise provide benefits to the user. For more info, downloads and updates go to www.iobit.com.