AVS Video Converter for Video and AVS Video to Go: iPod, PSP, Bluetooth, etc.
by Kathryn Killmore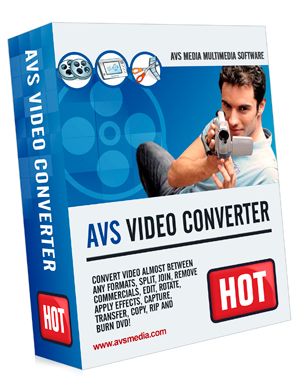 This is one of the most compact, efficient, easily navigated digital conversion programs I've seen. Until recently AVS offered a "suite" of tools, two of which I have used and reviewed, Convert and Movies to Go. Now each of their programs (some dozen or so) are available separately. In my work, my clients are beginning to provide video in different formats unfamiliar to me.
With Converter, it really makes no difference. I basically import one or more videos, click on what format to convert to from the icon at the top of page, select which "profile" I want (the program has a separate list unique to each Icon/format – slick) click on "Convert Now" then get some coffee. Return, burn to media, print a bill and take both to the client. Wow. If they ever found out how easy it is, I'd be out of a j-o-b!
For example, you can convert between/to any of these popular formats:
HD Video (e.g., AVCHD and MPEG-2 HD), MOD, AVI (DivX, Xvid, etc.), MP4 (inc. Sony PSP and Apple iPod), Microsoft Zune, WMV, QuickTime (MOV, QT), SWF, DVD, VOB, MPEG-1, 2, 4, or FLV (plus a dozen more). How about converting from DivX to DVD – from a 770MB file to a 2.8GB, and maintain the original quality – don't ask, I don't know either.
They have programmed native support for your multi-core processor power. Use DVD menu templates or split your movie into chapters. All the basic video features are supported: Edit, split, trim HD-videos, add text and effects and convert them to DVD or any other supported video format. Burn a DVD-disc and watch it on your DVD-Player. Oh yes, AVS: on your preview window, please include a volume control on the next update. Sure I've got a control in the systray, but each program has a different volume level.
Output Videos to Various Devices:
1. iPod, iPhone, PSP, Zen, PS3 (HD support), XBox (HD support), Archos, phones, DVD/MPEG-4 players (with DivX/Xvid support) and portable media players.
2. Convert videos for web pages
3. Copy videos and home DVDs to hard drive
4. Extract soundtracks and images from movies
5. Save audio streams as audio files, save single frames as images.
6. Edit Fast and Precisely with a Timeline.
7. Convert several video files at once. Join several video files and make one DVD
Minimum System Requirements – important…
OS: Microsoft Windows XP, 2003, Vista (3 GHz single core/1.8 GHz dual and one GB RAM) - no Mac OS/Linux support
Processor: Intel/AMD compatible at 1.5GHz or higher (I suggest 2.0GHz)
RAM: 512 MB or higher (I suggest two GB)
Sound: Windows compatible sound card
DirectX: Microsoft DirectX 9.0c or later

Additional features and uses for AVS Video Converter:
- Converting video for webpages and uploading to video sites.
- Create Movie DVDs from your various videos
- Extract Images and audio soundtracks from movies
- Convert video to iPod, Zune, PSP and other portable formats
- Extract Audio Soundtracks and images from DVDs and Videos
- Put Video or DVD on Cell Phones and PDAs
- Copy DVDs for Backup Purposes
Also in my package of programs are:
AVS Capture Wizard. The program transfers videos directly to DVD from VHS tapes, DV or web cameras, TV tuners and even DVB-S, DVB-T or paid satellite channels! I've only tried it on VHS tapes and it works flawlessly. The resulting DVD showed a little better quality image than the original VHS!
AVS Video ReMaker, a fast MPEG files editor, removes TV ads or just unwanted parts on the fly from DVDs or video files recorded. Edited without reconverting DVDs or video files retain their original quality. I haven't tried this program, but I suspect it works as well as the first three.
I would strongly recommend the first two programs - plus Capture if you have a library of analog media. I found them practical and maneuvering was simple. For more info on additional formats, programs and updates, go to www.avs4you.com.
Kathryn Killmore is a HAL-PC family member who is a freelance artist and has begun to experiment in digital art and video editing. Send any inquiry to reviews@hal-pc.org.
AVS Video to Go: iPod, PSP, PSP, Bluetooth, etc.
This is a smart, very smart, wizard-styled tool that copies movies and converts just about any video to iPod, Sony PSP, Archos, Zen Creative, mobile or a portable media player with one-click. You don't need to be in a dilemma over best output parameters. DVD to Go automatically sets them to optimized output parameters for your device! Each format has a unique "profile" associated with it.
AVS Video to GO controls the size of the output video file so that it fits a memory size of your handheld device just perfectly. Create your own custom presets (profiles). Change output file and codec settings in custom mode or convert a part of a video to make sure all the settings are correct for the best quality. These folks don't miss a trick!
PS: AVS what's with the disappearing ? and About? Every time my mouse moves over either one, they go away…far, far away. I don't have a memory problem, but at least leave a ghost image. Thank you.