Acronis True Image Echo Workstation for Networks
by George Walker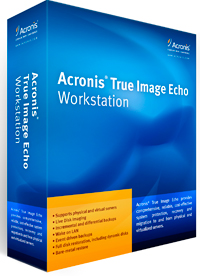 If you have a network of three or more computers and are interested in protecting your data and applications, you may have a use for True Image Echo Workstation for Networks by Acronis. The program is primarily for backing up hard drive information and restoring. It has many of the same features as one of Acronis' other programs, Acronis True Image Home 11 but it has some additional features.
A main feature of Echo Workstation is that backup and restore operations for all of the networked computers can be controlled from one computer without the restore program itself being installed on the individual machines. The Management console is used to perform the remote operations. The first operation, to get the computers ready for remote operation, is to send a program they call (Agent) to each computer over the network.
A second feature, sold as an add-on to the Workstation program, is Acronis Universal Restore. With this add-on you can restore a saved system to a different computer. We did use Universal Restore, to restore to a Desktop computer, a complete system that had been backed up from a Compaq Laptop. The laptop system consisted of a dual boot configuration of both Win XP Home and Win XP Pro. When recovered to the Desktop, both XP Home and Pro ran without problems. Most of the needed drivers were available from the operating systems. In the "there is no free lunch" category both of the operating systems required activation to continue to operate on the Desktop System. The Universal Restore add-on program sells for about $30.
The operating system requirements for Workstation are Win2000 SP4/WinXP Pro SP2 and up. Simple File Sharing must be turned off and Printer and File Sharing must be turned on. The usual username and password are needed to connect to each machine. Windows permissions and folder sharing must be enabled where necessary.
The program provides a backup server so that all of the backup information can be managed and stored in a separate location. We tested the program, without add-on, using three computers running Windows XP Pro and had success baking up and restoring an entire computer as well as backing up and restoring individual files.
This program is easy to install and operate, but it was not, until I read the online manual. More than adequate documentation is available at their web site. The Workstation program is $30 more than the Home addition and in the case of both programs a separate license is required for each computer. A comparison of Home and Workstation programs is available at www.acronis.com/enterprise/products/ATICW/comparison.html. Acronis offers numerous programs and their Workstation program may be just the thing for you and your network.
George Walker is a HAL-PC member and volunteer, helping in both "Build or Buy a Computer" and "PC Upgrade & Troubleshooting" SIGs. After joining the PC revolution during the CP/M era, he continues to build, use and fix computers. Contact him at gwalk@hal-pc.org.