SiteSpinner Pro 2.91c
by Charles W. Evans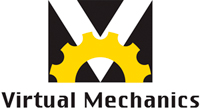 Have you ever wanted to create your own web site? And you don't know where to start or how to "code" a web page? ("Code" was my big hang-up.) Have you tried typical WYSIWYG editors and been disappointed with the "less than professional" results, or overwhelmed at their complexity? Let me introduce you to my solution. You can publish both the standard HTML web page and a newer SVG page on the same site - SVG is for portable devices (iPod, cell phones, etc.)
Virtual Mechanics is the developer of SiteSpinner Pro and after looking at different WYSIWYG programs, I chose this one. It's the quick way to get a good-looking site online. It has a low learning curve. For the beginner it is perfect – no long instructions or code to learn and their tech support is first-rate. Caution: when you see an excellent, well-designed web site, remember it is the designer who made it that way. Even SiteSpinner cannot work magic! Having said that, there's a 30 day trial – take it for a ride. It works on all versions of Windows 32 or 64bit. But don't let "simple or easy" suggest it is less sophisticated than the "high priced spread".
Ease of use is the most compelling feature. It's still hard for me to believe I've actually created a web page after procrastinating for 14 years! If you need help, contact their first class tech support and/or go the user forum. Tell them I sent you. By now they know my name!

Second big reason to like SiteSpinner: It's uncomplicated to publish to the Internet and to make changes and updates - one site I'm trying to design needs a little updating each month. It just can't be simpler.

"SiteSpinner will create, with your guiding hand, web sites that are as professional as your imagination allows." Anon

SiteSpinner will drag-and-drop virtually any image or text anywhere on the work page to quickly build your base.

No image editing software is required, since you can change the property, size, transparency, shading, and rotation of any image or graphic in seconds.

Use your imagination to select from dozens of different fonts to create just the right text. A link creator allows you to create links, edit links site-wide, store links, and easily color links to suit your page colors.

SiteSpinners layout page features both grid lines and tabs; and, continuous upper corner pixel counting helps you align any item to the exact pixel location on the page.

SiteSpinner also eliminates the need for FTP software. A built-in publisher allows you to preview each page and then publish the page to HTML or SVG directly to your site host with the click of a button. Go directly to any page on your site, and easily edit, add, or remove any text or images in short order. Newbie or not…if you've ever had your own site, you recognize the need to be able to edit your sites content conveniently.
CON: You cannot directly edit text on the work page. There are no plugins or extensions. Multiple select objects is awkward and confusing. Undo is ineffective.
SiteSpinner Pro is a web authoring tool that makes it easy to design sites and have separate desktop and mobile layouts and can be published as a single file, or as mobile-only formatted pages. Their support forum is very helpful. Go for a ride on the 30 day trial. I'm very impressed with this program. For more info and updates go to www.virtualmechanics.com.
Charles W. Evans is a HAL-PC member, volunteer and the Magazine Reviews Editor. He can be contacted at reviews@hal-pc.org.