Kodak EasyShare Zoom 650 Digital Camera

, By Alice Lipscomb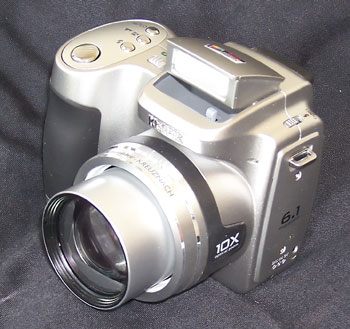 The small and sporty 6.1MP Kodak EasyShare Z650 is remarkably small for an extended zoom camera with a 10x optical reach. The Z650 has an intriguing design that fits your hand and permits better gripping as you zoom off in the distance (OK, that's a bit theatrical, but the feel is awesome). It won't easily fit in your pocket, but the ergonomics is simply great. The Z650 also features a live histogram view for verifying the exposure settings in most, but not all modes. Are you ready to experiment with a longer lens, but still require plenty of automatic options?
It offers aspiring photographers exceptional performance and greater photographic control through its Schneider-Kreuznach Variogon 10x optical zoom lens. The 10x optical zoom (equal to 38-380mm zoom in a 35mm camera) gets you close to the action. The Z650 delivers more advanced control when necessary and simplicity of operation for most photographers. Another name for that is versatility.
Typically, I'd list a few features and refer you to Kodak's web site for all the details. However, for this camera I'm listing most of the specs with comments next to each.
Lowest Internet price: $280 (April '06) – excellent value, competitive price w/this feature list.
Memory: 32MB internal (first thing, go buy at least a 256MB card) and uses MMC/SD memory cards.
LCD Screen and Viewfinder: 2" indoor/outdoor color display – very good display but fades quickly in bright light. Electronic, hi-res 202K pixels – no diopter adjustment. One or other – not both – Off/On switch – nice touch since LEDs eat batteries! Clear image in most lighting conditions.
Image format: JPG (no TIFF or RAW) - Kodak, why hast thou shortchanged me? Add TIFF or RAW.
Video capture: MPEG-4 or QuickTime – excellent choice, good quality movie, no pixelation.
640x480 resolution (11fpm) Max: 20fps. It can take over an hour on a 2GB card (May reviews).
Lens specs: Schneider-Kreuznach Variogon 10x optical zoom, 5x digital – love the lens.
Min./Max. focus: 38mm to 380mm - 35mm camera equivalent. Aperture: 2.8f to 8.1f. Autofocus – sometimes outside ideal lighting, kind of sluggish and indecisive.
Exposure controls: Priority – Shutter or Aperture – outstanding range of practical controls. Auto, Manual exposure and Muli-Program Modes.
Metering: Center weight, spot or multi-segment – ditto – don't complicate metering, these are good basic options ISO – 80 to 800
White balance: Auto or preset modes – ditto here, good, practical options – don't change these, Kodak.
Scene modes: 17 modes – come on, who can remember 17 modes? Who needs them? If you cannot do it with nine or less, then get another camera or better still, buy a Polaroid instant.
Shutter speed: 8 seconds to 1/1700 – lag averages about ½ second – very nice and a real treat!
Storage media: 32MB internal, up to 2GB external SD or MMC card – buy at least a 1GB card. Kodak has selected a rather aggressive JPG compression – I'd have preferred less compression, considering the downside of using JPG files .and some problems with haloing effects.
Extras: Carrying strap, lens cover and USB cable and rechargeable LiIon battery, printer connector on the bottom, built-in flash and custom insert for EasyShare printer + EasyShare CD (not very impressive). The external AC power brick is optional. Nice, practical range of extra items. Also, built-in PictBridge support.
Color modes: High color, low color, natural color, sepia, and black and white – again, good basic option and first-rate converter from color to, say, sepia plus RAW to JPG algorithm.
White balance: Auto, daylight, tungsten, fluorescent, and open shade – ditto, good, useful options 'tho I'm not sure what "open shade" means
Editing? Yes, on-camera: cropping and red-eye reduction - forget both of these options, do these elsewhere.
Image stabilization? No, none, zip, nada – too bad Kodak, somebody's brain wasn't properly recharged! This omission was hard to swallow.
Put your lens shade on to minimize the occurrence of flares or ghosting when shooting in the bright outdoors. Also, buy a neutral or UV filter to protect your main lens. I noticed an average amount of barrel distortion at full wide angle. I also noticed slight amounts of chromatic aberration (purple fringing around highlights) in high-contrast areas, which is still a common issue amongst super-zoom models.
KODAK's Color Science image processor results in edge-to-edge sharpness, saturated colors, accurate skin tones and generally highly accurate exposure. Use the Share button to tag pictures for e-mailing, printing and saving to the on-camera digital photo album or on-line album as favorites.
The Z650 is a great choice for any user who wants a consumer digital model that offers powerful features found in more expensive dSLRs, regardless of their experience. All of this without having to deal with purchasing and changing lens. Z-Series camera owners can quickly print 4 x 6-inch pictures using the new KODAK EASYSHARE Printer Dock Plus Series 3. For more info and camera firmware updates go to www.kodak.com (register your camera at the same time to obtain support).
Alice Lipscomb is a HAL-PC family member who owns a digital imaging service and photographic studio. Direct any questions to reviews@hal-pc.org.