Desperate Housewives on the move: Portable Hi-def TV
by Kathryn Harris-Jones
Preface.
These two devices that can turn your computer into an actual hi-def TV are just fascinating. Each has a very good picture and sound. But don't expect more than from your home TV. That is, if you are 60 miles from a TV station, you are not likely to get hi-def, but you might receive an analog signal. I just wanted to caution you that in the wilds of Big Bend National Park, you won't find any Desperate Housewives!
So why a portable TV? Camping, on the beach, on the road, in a motel with no cable or in your office? The place is up to you. Oh yes, each device has several other features you should check out. If you have teenagers, be prepared to buy a second one (device, not teenager)!
Enjoy,
Charles W. Evans, Reviews Editor
KWorld 340U USB Hi-Def TV Stick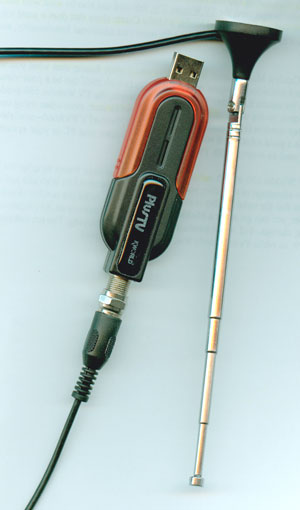 This fat, flash drive supports up to 1080i (HDTV) and Dolby Digital AC3 audio output. You can watch TV on your PC and this tuner provides a top-quality video and hi-def audio experience. The box includes the effortless and comprehensive software: TotalMedia, an application to watch or record your favorite TV programs on a daily, weekly or once-only schedule, pause, time-shift, rewind and replay! Tivo, eat your heart out!
You can also convert music files between two formats, convert files for iPod, PSP and Microsoft Portable. There is also a nice slide show creator - basic, but functions well.
This is some complete software program. My only quarrel is that once you scan for TV channels - and it does a nice job of this - ithe next step (play a particular channel) is not obvious. KWorld, please work on this. It is the heart of this excellent tuner.
The supplied single pole TV antenna is OK, but if you are in an outlying area, it doesn't do a bang up job of finding channels. Get some rabbit ears or a small powered antenna. Windows Media Center recognized the tuner instantly. I hooked up a settop antenna and it scanned and found all the ATSC channels in less than eight minutes. Then it downloaded the program guide from the Internet, but this isn't free.
The software allows you to burn all these programs to disk and enjoy them when you have time.
USB2 TV Tuner: ATSC Hi-def and Digital cable with a threaded cable connection and QAM input
For Hi-def you should have these specs - minimum specs need not apply!
Pentium 4, 3GHz and 1 GB RAM
Graphics card (Microsoft DirectX 9c or above, high-end Graphics Card with DX-VA feature recommended for HDTV programs) with at least 256 MB of video RAM
Sound card (AC97 compatible)
Available powered USB 2 port
Larger external or powered antenna for better ATSC hi-def TV reception
WinXP SP2/MediaCenter Edition/Vista 32 or 64

I wanted to see if Windows Vista Media Center, this tuner and a simple antenna could serve as a reasonable alternative to the HD DVR I rent. The answer is yes.

Watching or recording an HD broadcast uses about 40-60% of the processor. Video quality is excellent. I have a 21" hi-res analog monitor. It has more resolution than most expensive 1080p HDTVs, so you can actually see the hair on an elephant's tail!

I can schedule recordings, pause live broadcasts, fast forward, rewind and do everything a dedicated DVR can do without a monthly fee (like Tivo) or paying the cable company a jillion $'s.
This is an excellent device. Just follow the brief Quick Install Guide, exactly. Then simply click on the TV icon and wait for the device to find all the local channels. It is intuitive and a good value. Printed guide is way too brief. Before sending me to a CD, how about more info about set up of at least the TV? If you have teenagers be prepared to buy a second one! More info and updates at www.kworld.com.tw.
P.S: Special thanks to member M. A. Vela for sharing the following comments about the prior model, the 330U.
The KWorld website includes some additional FAQs, uninstall procedures and a brief guide that included specifying the video device (BDA 2883 Device or BDA 2883 TV Tuner), but read the info carefully. The opening menu at the bottom of the screen provides switching between analog and digital stations.
An attempt to use Media Center Edition 2005 software (in place of Total Media 3) on this tuner failed with a message that the TV tuner could not be found. MCE has a few features that would be worth trying but this problem has not been solved. PlusTV specifications state that the tuner is "MCE compatible".
ATI Hi-Def TV Wonder HD650 Combo USB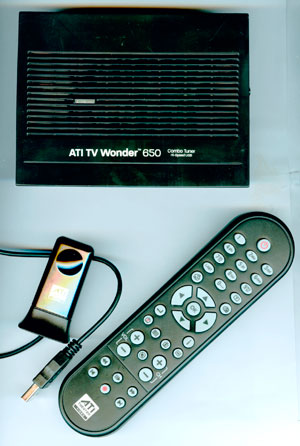 "Wonder" comes close to a total description of this hi-def TV tuner! The is a smart looking, black lacquer-finished device. As the box says "…transforms your computer into a multimedia center." The picture illustrates a versatile device to watch, pause and record live TV - record even while you watch another channel. It uses hardware to process the incoming hi-def signal, which provides a lot more processing horsepower for a better quality video.
Extra nice: convert your analog cassettes, LP records and VHS tapes - it has RCA and S-video inputs. To make iPod and PSP files, a transcoding app is included. (You'll be very popular with the teenage set!) The FM radio found 22 stations and the sound really is hi-def!
A "combo" tuner is in fact a dual TV receiver and includes one of each: analog and digital. You can watch an NTSC program while recording a channel on ATSC OTA or Clear QAM; likewise, you can watch a digital channel while recording an analog channel. This is certainly more flexible than the Pinnacle hybrid USB TV.
The Combo USB also has ClearQAM tuning, so you can receive unencrypted digital content from local cable television providers.
There is no included TV antenna, but the FM tuner has one! Alas, it is not as portable as I'd like. There is an AC power adapter. Therefore, you either need a wall plug or DC converter.
So what's included? Two CDs. One installs the program and device driver. The other CD you have to be careful with. Most of the programs want you to buy something. You might use what is offered or not.
The included AMD's Catalyst Media Center software, which provides Windows Media Center-like functionality (though I'd suggest WMC), includes a programming guide and lets you author DVDs, access the DVR from any broadband-connected computer, and convert recorded TV programs into formats for popular portable media devices. It is compatible with both Windows XP Media Center Edition 2005 or Windows Vista (Home Premium or Ultimate).
ATI's recording software has a primitive, limited interface that will drive you towards Media Center.
Hardware MPEG-2 support lets you record SD programming with very little CPU usage, and the Theater 650 chip sports a 3D comb filter, hardware noise reduction, edge enhancement, and automatic gain and color control, all of which result in a much better-looking SD image than you'll get with budget tuners. HD images are outstanding, generally.
Compact and offering above-average video quality, the TV Wonder 650 is an excellent choice, particularly for Vista users. It provides the best HD signal quality I've seen to date from a TV tuner.
This device can also be used with MCE, as well as with other programs such as ArcSoft Total Media, a Media Center clone that does a great job mimicking the simple interface of MCE. ArcSoft's app also adds some nice additional functionality, such as basic photo editing and conversions.
Catalyst Media Center image quality was a bit fuzzier than what I expected from a standard-definition TV signal on an HD display (which itself can be a poor viewing experience). Compared to other TV tuner devices, the 650 produced a definite visible difference, giving me the most watchable image I've seen, even when using my 21" analog monitor.
The Wonder 650 includes a remote control. For both the image quality and additional features, this will be part of my "media center" toolbox. Two thumbs up, ATI. For more info, updates and FAQs, go to www.ati.com.
Kathryn Harris-Jones is a HAL-PC family member who is a video refurb supervisor for a large regional electronics distributor. Send questions to reviews@hal-pc.org and please include your contact phone number.