Outside the Lines, By Carla S. Cawlfield
Laissez les Bons Temps Roulez! at the Annual HAL-PC Volunteer Luncheon
It has definitely been the year for Mardi Gras in Houston. Even the first vehicle in the 2006 Houston Art Car Parade was a wagonload of New Orleans Jazz musicians. Some of our dearest HAL-PC members (our volunteers) enjoyed a wonderful Mardi Gras-themed party in the HAL-PC Headquarters Atrium on March 4, 2006. We recognize our hard-working unpaid folks every year with a luncheon and awards ceremony.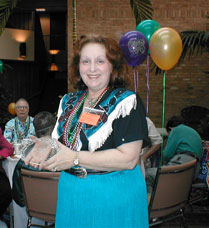 The HAL-PC Magazine's own Beverly Rosenbaum was honored as Volunteer of the Year, and she received a beautiful cut-crystal plaque. We are so proud of her.
This year, HAL-PC was fortunate to have several sponsors for this event. Please honor these businesses with your patronage. They were kind enough to donate goods to us; we can repay them in kind with our purchases. These companies include Brennan's Restaurant of Houston for the fabulous bread pudding with whiskey sauce, Cornelius Nurseries for part of the table centerpieces, Randall's for the French bread and King cakes, Aunt Sally's Pralines of New Orleans for fresh pralinettes shipped overnight, and R. Dalton Coffee Company for a wonderful coffee bar. The buffet also included Mardi Gras Fiesta slaw and Texas-style jambalaya. We ate very well indeed.
HAL-PC is so blessed to have very imaginative and energetic women in our office staff. These three women—Office Manager Marie Jones, Registrar Cynthia Andrade, and Volunteer, SIGs, and Education Coordinator Ashley Revilla are exceptionally talented party-givers. They had tables of prizes and a variety of games to play. Each year seems to get better and better. Past themes have included Houston Rodeo (of course!), Hawaii, and Spring Fling. No telling what they'll come up with for next year.
If you want to join in these festivities, all you have to do is donate your time to HAL-PC. We have a great time each year and it is definitely the more the merrier.
Carla Cawlfield is a long-term HAL-PC member and volunteer. She spends her time dreaming up more party ideas and other anti-productivity activities. You can email her at carla@hal-pc.org
© 2006 by Carla S. Cawlfield