Make Your Own External HD!
by the Reviews Team
Preface.
Sound improbable? It's easier than you think: take one internal IDE hard drive and one external case. Put 'em together and with WinXP, it will automatically be recognized! (There's an included CD for other operating system drivers.) Be sure the jumper on the rear of your HD is properly set.
Why not buy one all put together? Simple. It is less expensive and you will have the type of connection you need – ATA, SATA, USB2 or Firewire or a combination of your choice of two. We are definitely in the digital age: lots of digi-pics, home movies, MP3 collection and a source for backing up your many files. External drives have the added safety of not being a physical part of your computer. I think external drives offer the best compromise amongst speed, convenience, and security (like most drives, can be password protected).
I don't advise using an external hard drive as a program source. That is, don't run programs from an external hard drive. NOTE for WinXP users: format using the Disk Management function. (You might consider making two partitions – one smaller one as a FAT32 partition.) See separate table for hard drive test results.
Last, a special thanks to long time guru Bill Peavy for making this technique known to us.
Enjoy.
Charles W. Evans, Reviews Editor
360C Case + Maxtor 160GB Hard Drive
by Paul C. Breenen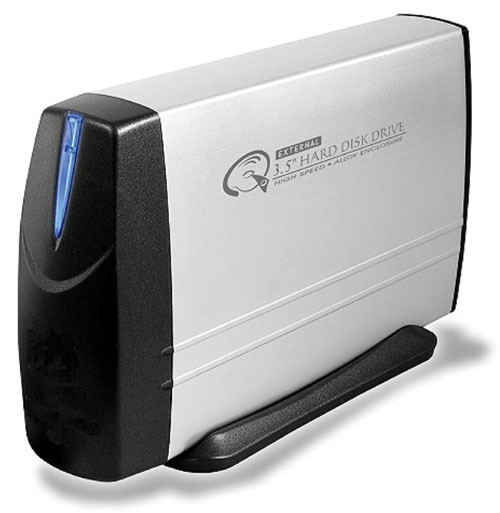 An external hard drive case is hardly an exciting or sexy piece of equipment to write about. And there are plenty of ready-made external drives available on the market. And one of the more interesting ones is made by Maxtor with their One-Touch drives that provide an easy, automatic one-button backup of your internal drive data. But those are ready-made external drives and we need to move on to our DIY project.
External cases come with three different types of connections. This one has both USB2 and Firewire (IEEE 1394). How much more versatile can you get? By the way, the Firewire port is the larger, standard port rather than the much smaller port used with many digi-cams. The manufacturer thoughtfully included a short cable to convert between the two, plus two other connector cables.
The first thing that jumps out at you is the ultra sturdy, heavy gauge aluminum case and smart-looking design. The four parts of the case fit perfectly, suggesting a very well-designed and engineered case…not one of the cheaper, plastic case models, which you should avoid. The electronics are mounted on a heavy plastic board attached to the rear of the case. Simply place your hard drive on this "carrier" board, attach the data and power cables and power light, slide into the case and attach the stand with two screws. Then plug in the power adapter and connect to your computer. There is also a convenient power switch on the rear of the unit plus two Firewire ports and a USB2 port. It is nice to see a device with a long power cord.
The electronics are located on "plastic board" onto which one places the hard drive. It is well designed with no last-minute connecting wires or solder additions. Very clean. I just cannot pick at any part of the case. Well, almost. When there is continuing data transfer, the activity light is always on, but varies in intensity, so much so I thought I was being brainwashed as the new "Manchurian Candidate"!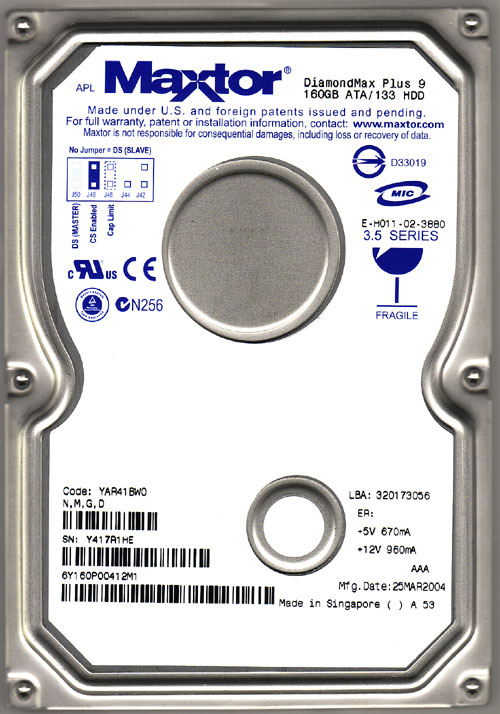 Inside the case. I selected Maxtor's new 160GB DiamondMax Plus 9, ATA133 model (most cases will accept up to an ATA133 spec). To help control its operations, there is an 8MB buffer with a seek time of 9ms and transfer rate of approximately 133MBps (internal and external). All of this backed up by a history of reliability by Maxtor. Let my CPU blow up, but not my hard drive!
Special features: Data Protection System, Quiet Drive Technology, Shock Protection System, Fluid Dynamic Bearing motor and the DMA/ATA-133 (Ultra) interface for the drive. Its quick response is a combination of the 8MB buffer and an average seek time of 9ms plus a 7200rpm speed which provides a transfer rate of approximately 133MBps. The DiamondMax is equipped with fluid dynamic bearing motors for acoustic sensitive environments. This allows the drive to operate at an extremely low sound level. Maxtor Shock Protection and Data Protection Systems on every drive, which is especially useful for a portable, external drive! I use a non-tech term called "fetch" for data retrieval and this unit is very responsive.
Consider that most portable computers have, at best, moderate capacity hard drives. This is an excellent and less expensive approach to increasing the hard drive capacity. Notebook hard drives tend to overheat and fail more frequently than large-case desktops, due to inadequate heat dissipation.
This is a great combo that will be used for storing and editing my large video files. These folks caught the shiny brass ring – don't leave home without it. For more info on the Maxtor hard drive go to www.maxtor.com and for the case go to www.adimicro.comor www.trittontechnologies.com. Special thanks to Argosy for the review unit.
Paul C. Breenen is a HAL-PC member, entrepreneur and co-owner of www.tias.com, the largest purely antiques and collectibles site on the web. He can be contacted at pcbeenen@hal-pc.org .
Bytecc Case + Samsung 160GB Hard Drive
by Joanne Ballato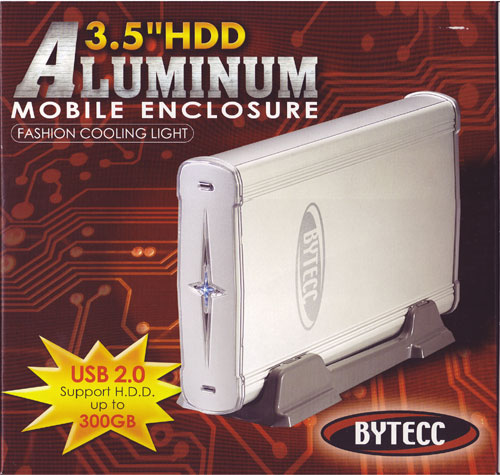 External hard drives are great and useful devices but are very expensive. This kit allows you to "make" an external hard drive for less. External hard drives offer a relatively inexpensive way to turn an internal hard drive into a high-speed external drive.
The Bytecc ME-350U2F Aluminum 3.5" HD External case allows you to install up to a 300GB hard drive and access it through a USB 2 or Firewire port on their computer. (This enclosure has both USB2 and Firewire ports.) The Bytecc ships unassembled and it takes less than ten minutes to assemble and attach the hard drive (which you must provide). Installation is simple: connect the drive to the internal IDE cable and power connector. The entire assembly slides into the one-piece aluminum chassis. With everything inside the unit all snug as a bug, a set of covers slide into place on both sides, and capped off by a final backplate that is screwed into place. When it's all said and done, the Bytecc provides a very clean, efficient and smart-looking housing for your drive.
The next step was to test it out on several different computers and operating systems.
First, I tried it on my laptop running Windows XP Pro using the USB cable. That was too easy. What more can I say, this is plug and play at its best. I never saw it connect with the "found new hardware" popup, it was just there.
Second, it was ditto for Win 2000 Pro.
Third, I thought I'd try it on a Windows 98SE. Win 98SE didn't find the USB drivers, but they came on an included a mini-CD. After installing the drivers and a reboot, Win98 still didn't see the drive. Then I remembered that Win98 will not read an NTFS partition. I created a FAT32 partition and Win98 recognized the drive.
Now for the real world test. As the Network Administrator for a small company, I'm often called upon to troubleshoot desktop issues. This day, I was at one of our remote stores when the connection to our main office went down. Uh oh, there goes the access to all my utilities and tools. No problem, I thought, I'll just get the external hard drive and see how this thing really works. I just plugged it in and turned it on and I had tools at my fingertips. Two thumbs up!
Potential Uses: backup data, store confidential info off the main system and move large amounts of data from one PC to another.
Features:
Tough, thick aluminum enclosure
Allows hot-swapping (Plug 'n Play)
Supports HDs up to 300GB
Special Hardware Requirements:
CD drive for driver install and manual
USB2 port (will work on a USB1.1, but why?)
Firewire IEEE 1394 port (required only if you use a Firewire connection)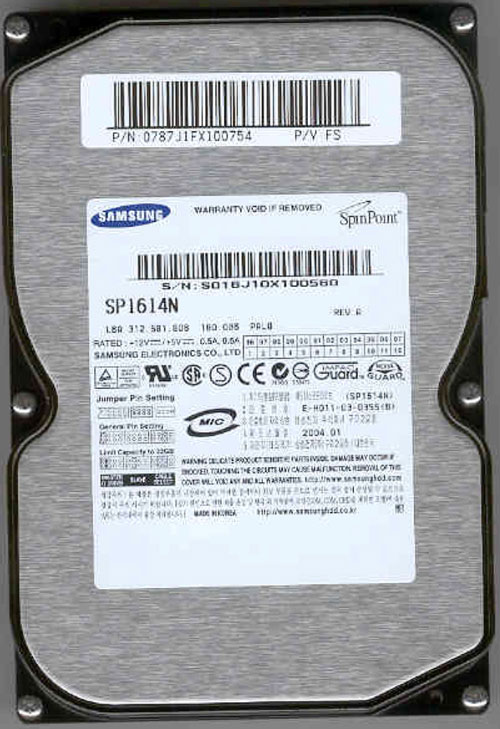 The hard drive is a Samsung SP1614N, a 160GB ATA 133 model with an 8MB buffer. It is a speedy 7200rpm drive accessing/transferring data at about 8.9ms. Although the aluminum case is thick, I had expected to hear some form of operating noise. None. Very quiet. Part of the reason for a quiet drive is what Samsung calls "Fluid Dynamic Bearing Spindle Motor Technology", which provides the dampening for the motor bearings. To anticipate future drive failures, this drive is SMART compliant.
Ultimately, the Bytecc ME-350USF serves its purpose as a first-rate way to go for external storage via USB2.0 or Firewire. Don't consider it as a way to add a hard drive for software, since you wouldn't want to run programs through the USB port in the long term. I think this is an ingenious solution for mass storage! For more info, go to www.byteccusa.com and www.samsungusa.com.
Joanne Ballato is a HAL-PC member, Microsoft Certified System Engineer, Microsoft Certified Trainer and MCSE SIG Leader for the last five years. She may be contacted at joanne@hal-pc.org.