My DVD VIDEO LAB 10 by Roxio
by Robert Du Vernay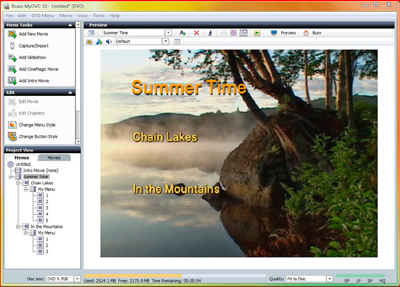 "Easy Video Editing and DVD Creation", says so right on the box! Another way to describe this product is to say it is a subset of Roxio 10, maybe even Roxio 2009. Video Lab 10 is a VISTA/XP product with basic video edit and slide show features (broadband connection is virtually required for expanded features). This product worked straight out of the box, and I don't always get to say that. The only thing in the box was the install DVD – no manual, no quick start guide, not even a Hershey Kiss!
If you have an earlier version of a Roxio product, you will be prompted to REMOVE identified items, during the install. The disc balked, so I copied it completely to my desktop and clicked on Setup to install, which took about 20 minutes.
Honestly, I have to say that VIDEO LAB 10 slide show performs as advertised. I haven't used 100% of all the features. I don't own devices for some video features.
Slideshow – Audio, you can have multiple MP3s or just one continuous loop, and the SVCD output has been improved. You can also put MINI movies in your slide shows. Nice feature for a new kid or a snippet from a wedding, and associate a music bit unique to that piece. LAB 10 sideshows are designed to be played on a DVD settop player. If you want to use the Smart Sound Audio, you need QuickTime 7.04+. Did have a problem playing a SVCD slide show on the Cine Player provided.
Video – options, yep! You can duplicate, take 'em apart, all sorts of things…and prep your favorites for upload to YouTube if you want. This program will not allow you to violate copyright, OK. A very nice, basic movie editor. Rendering went very quickly, compared to Roxio 10. It has an especially convenient movie format converter to iPod, PSP and mobile phone-compatible formats.
For editing, begin with either the storyline (what you want to tell about) or timeline (which is linear). Multi-trim editing capabilities are helpful, but might prove daunting for the novice. On the other hand, you can edit, rearrange and be creative with native Hi-def movie footage.
(With the increased popularity of portable devices, movies can be quickly converted to DivX IF if this feature doesn't hang. Mine did hang on most of the video features – convert, edit, DivX, CineMagic, etc. I installed this program on a different computer and it generally worked. I would wait until Lab 10.1 comes out. Editor)
Although CinePlayer has a great interface, I think it is a bit clunky. If you need a video player, there are better ones on the market.
Capture – DVI, Camera …claims you can add video or photos, or import from over 100 analog/digital devices. I have enough trouble with one camera that takes 30 second snippets. Basic capture flexibility is built in.
Music – Rip/Copy/Convert/Jukebox options are less than Roxio 10, but adequate.
Step Guides – are built into the various bits of the program, are reasonable, and will definitely get you going. Still you may need to fall back on the Internet to get further information to make your video adventures better.
Check for updates, get QuickTime and you are done. Info at www.roxio.com. Plan to invest some time to learn enough to do a nice job with VIDEO LAB 10. Amazon has Video Lab 10 for 48 USD with free shipping and no tax.
Robert Du Vernay is a HAL-PC member and is the Basic 101 digital series instructor who can be reached at rpd@hal-pc.org.