Fuji FinePix A400: Basics can be great!
by Sarah Thompson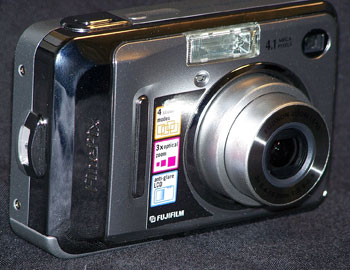 Fuji Film presents its new A-400 camera that is ideal for the first-time digital camera buyer or any photographer who wants simplicity without sacrificing image quality. It gives you 4.1MP and a 3X optical zoom, saving your pictures on an internal 16MB chip. You can view its 1.8" LCD under almost any conditions since it has Fuji's special anti-glare coating used on many higher-end plasma TVs. Features and options are very understandable and intuitive. Picture quality is excellent.

It offers a somewhat small 4MP sensor and standard 3x optical zoom into a little frame. It's an adequate camera for those looking for a mainstream, bare-bones camera that's easy to handle and easy to produce good pictures, but you may want to check out the virtually identical A500, which has a 5MP sensor.
At a bit over six ounces, fully loaded, it's easy to slip in/out of your pocket when you quickly need it. Controls and/or settings are easily identified and manipulated. The CD includes their FinePix Viewer and a basic, but adequate picture manager.
And make no mistake, the pictures are very good. Very good fidelity and saturation plus quite acceptable details, even in shadow areas. Frankly, I was surprised at the quality for a "point-n-shoot" type camera. I suspect their new Super CCD has a lot to do with it.
Users of either camera can enlarge pictures to 8x10-inch prints nicely.
12MB of usable internal memory. External memory uses the xD Picture card. I would suggest buying at least a 128MB card.
Need to check your focus? Just depress the shutter half way. The red/green brackets show you where it is focusing and when it is ready for you to fully depress the shutter. It might even tell you that you need to use your flash. The power button is fairly hard to depress - small and in an indent.
Some specifics:
Movies are short and mediocre and in the AVI format. For instance it takes a max. of 320x240 by 10fpm for sixty seconds. Four times as long at 160x120. (Use a matchbook cover and pretend you're at a drive-in movie along with Ken and Barbie - sorry Fuji, just couldn't resist!)
Scene modes: Portrait, Landscape, Sport, Night - just right.
The 3X optical Fujinon lens is one of the best quality on a mass market camera. The zoom is equal to 38-114 on a 35mm camera.
Focus is auto, macro or manual. Easy to set, but you cannot set it as a default.
Time from shot to view? About a second. Time in between shots? About four seconds.
Nice, well designed automatic operations, such as exposure, ISO settings (100-400) are pretty narrow - I'd prefer starting at 80.
White balance - about eight choices, but I think that's overkill for a point-n-shoot camera.
Flash mode - six modes - all useful and practical, except the "red eye reduction" - never could get this option to work well. You might consider skipping this mode.
Getting the pictures out: it is PictBridge compatible plus a USB port and included cable.
Optional accessories - the most useful: AC Power Adapter: AC-3VX and Rechargeable Battery. I'd suggest this option as the most cost effective.
For the amateur, you'll find this camera a joy to use and easy to navigate through the controls. For the more experienced casual shooter, this, too, is your camera but might want for more controls. Really, the pictures are surprisingly very good. For more info go to: www.fujifilmusa.com/JSP/fuji/epartners/index.jsp.
Sarah Thompson is a HAL-PC member who is a free-lance graphic designer and digital artist.