Corsair's Dominator Memory Rules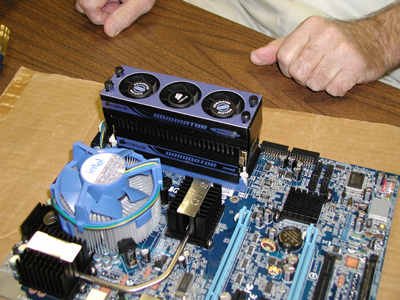 Corsair's Dominator memory modules look like nothing else you have seen before with a unique cooling device and robust overclocking results to go along with it. The DOMINATOR is by far the fastest production memory available. Corsair set the bar when it comes to performance memory (RAM).
Not only did they increase the frequency of their flagship, they also lowered the timings and temperatures at which the modules operate. And, they left a bit of room to overclock. If you have a powerful platform, the Dominator memory module will allow you to reach higher levels of system performance.
Twin2X2048-8500C5D – model number
Individual Module Capacity: 1024MB
Native Speed & Latency: 1066 MHz @ 5-5-5-15-2T
Enhanced Performance Profiles (EPP): Yes
Voltage: 2.4
For its Dominator modules, Corsair has rolled out a new DIMM design that incorporates Dual-path Heat Xchange or DHX for short. A significant amount of heat is generated by the memory module's circuit board. To help dissipate that heat, Corsair extended the base plane upwards, effectively creating a second heatsink on each side of the board.
This second pair of heatsinks is sandwiched between more traditional heat spreaders that cover the memory chips. Both sets extend half an inch above the top edge of the board, and a comb-like pattern of slits provides additional surface area while allowing for increased airflow across the modules.
Corsair's Dominator modules also come equipped with an auxiliary cooling unit that clips onto a motherboard's DIMM slots. The unit features a trio of 40mm fans tied to a standard three-pin fan that plugs directly into the motherboard. Nine inches wiring ensures reaching the motherboard's auxiliary fan connection, even with the largest of cases. Corsair set another gold standard wtih DOMINATOR. Not only does Corsair increase the stock voltage for this set of memory to 2.4V, it also utilizes a creative external fan system to keep the modules very cool. Although I'll have tests in a future issue, I can tell you that with a minimum load the memory ran about 5% cooler and with a high load, it was more like 11% cooler.
All of Corsair's Dominator modules support Enhanced Performance Profiles (EPP) and come in 2GB pairs - 1GB per module.
Clearance might be a problem, though. the Dominators are slightly less than a half an inch higher than standard DIMMs, and the fan unit adds an additional inch and a half.
* SiSoft Sandra Standard 2007 (more comprehensive tests results using Bapco test modules, are in a future issue, including overlocking)
Note: quicker memory latencies and greater bandwidth only improve application performance if that application is memory-bound. Many are not and bottlenecks often lie elsewhere.
Noise levels: nil.

Standing 50mm tall. For some cases or nearby heatsinks this may cause interference issues. As they say on This Old House: measure twice, cut once or, measure twice, buy once.
If you want to have the ultimate memory kit for your dream machine the answer is simple - Corsair Dominator modules are what you need. I need to underscore that this killer fast memory is best suited to super computer enthusiasts, heavy graphics or gamer with equally tuned PCs to match!
For the enthusiast, there is no limit to how far you can push your system. One of the major bottlenecks of performance is thermal resistance and heat. The actual DIMM design has been tweaked for more effective heat dissipation, allowing for higher speeds with tighter timings.
Deploying a faster processor or a more powerful graphics solution will usually give you a better bang for the buck than the highest-end memory product. But there are people who want the strongest, meaning that they are eager to squeeze maximum performance out of each component - including the memory. If you want the best of the best, Dominator sets out to rule the memory world.
If you want maximum performance, this memory is impressive thanks to its ability to sustain 5-5-5-15-2T timings at up past 1160 MHz. This product is for heavy users and dedicated overclockers who want it all.