AVerMedia EZMaker USB Gold Convert
by Robert Du Vernay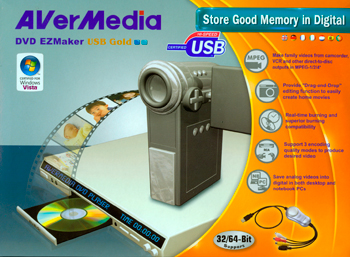 EZMaker USB Gold is an external device to Capture/Convert Video and Audio from older analog files to newer digital formats. It nicely includes an Editor with features and burn software provided via CyberLink Power Director 4.0 DVD. Use it with Windows XP or Vista. A easy, friendly interface.
There are no connecting cables provided, so you will have to hit the Dollar Store and grab the RCA three wire set, or an S-Video cable and a pair of RCA audio cables. A third type connector, RCA connector cable, is mentioned, but I have never seen one. On the computer side, this product works with Windows XP SP2 and VISTA, and works with 32 or 64 bit environments. Windows 2000 SP4 is mentioned and caveats, I would not try this guy with Win 2K.
If you have a codec issues you are advised to go to www.divx.com. A Pentium 4, 2.4 GHz or comparable AMD, or higher processor is a minimum requirement, but I have a 2.6 GHz processor so no problems (or an equal AMD machine). VISTA doesn't like this product, which surprised me. The product has three functions:
Capture – Digital, which would be from your DigiCam, Digital cameras recorder, or an Analog feed of the old Vacation, Weddings, Gatherings, TV stuff, or anything else you have on VHS and need to save! Ditto for LPs and cassettes and other analog sources. Encoding modes are HQ, SP and LP. This reminds you of the older VHS days! So don't stretch the tapes, by repeated stops and starts. High quality DVD media is designed for one hour of video.
Edit/Author – You get to play with the bits of video (which are now in a digital format) on your hard drive. You could spend a lifetime here. There are Clips, Time bars, Audio cuts and overlays. Basic Easy film editing! You need to invest a bit of time on this stuff. I kept to the simple menu and pushed things along.
Burn – Direct to Disc burning from the Capture. Now that appeals to me, as it should for you, and it provides a simple break point, as an easy hand off position. VCD, SVCD or DVD format are allowed. Superior burning compatibility up to 16X (depending on your burner and media). No BLUray.
All the basics are covered and what I played with worked. Oh, you cannot convert/digitize copy protected media. I had trouble with video on CD media! My set top player just doesn't like that format. In general, DVD EZMaker USB Gold is basic capture device, which handles analog and digital feeds. S-Video is a better quality format than the one RCA cable! Use S-Video if your equipment supports it. You won't get anything more out of it than your source.
The product works better with digital than analog feed. Edit features I used were basic, and if you want to get into Authoring then you need to plan on a time investment. The learning curve for a novice can be more difficult in some areas but easily handled with a little help from a friend. Software support is provided by e-mail, from AVerMedia or CyberLink. I very much liked the DIRECT BURN to DVD live, 'cause it opens up all sorts of possibilities for further data manipulation. If you are serious about getting into Edit/Authoring your Video projects, then you may want to look at the big brother CyberLink products.
AVerMedia DVD EZMaker USB Gold is a real "can do" conversion device that can be purchased from Amazon for 47 USD (via Brown, free).
Robert Du Vernay is a HAL-PC member and the Chief Instructor who conducts the Basic 101 presentations on each 1st Saturday. He can be reached at rpd@hal-pc.org.