Corsair SSD F180GB Force Series
by Alice Hamilton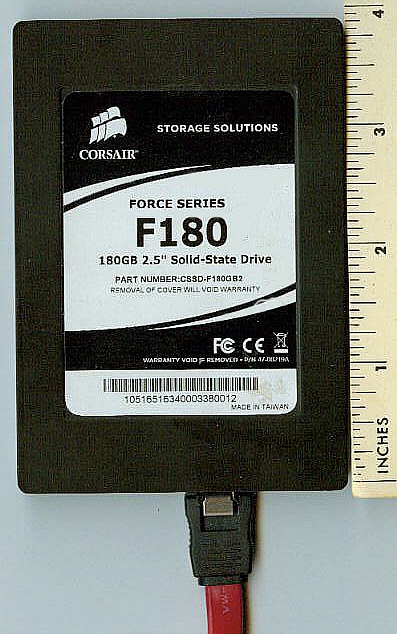 Hey. Netbook and notebook newbies. Do you want to jump start your book? Call Corvair for help and invest in their uber fast F180GB solid state drive (SSD). Small, very quiet (actually silent – electrons are hard to hear even when moving), reliable and amazingly fast performance. They are relatively small capacity right now, but prices are dropping and size is increasing. Make one your boot drive and a mechanical drive for everything else. You will go from power on to checking your e-mail in seconds.
One reason it is so fast is Corsair's use of the new SandForce controller and MLC (multi-level chips) NAND flash memory. Yes, it does sound technical, but I wanted you to know this F180 is different. Corsair's specs state: read/write speeds of up to 285mb/s and write speed up to 275mb/s. Our tests don't substantiate this, but not far away:
about 7% less.
BGC (Background Garbage Collection) - see web site to find out about this one!
Warranty: three year warranty – appears to be an industry standard for SSDs.
Form Factor: 2.5" - will fit in a 3.5" slot using separate adapter.
Weighs about six ounces – almost the weight of three eggs!
Small size is great for limited access or space – heat is no problem. Cost/$ even for a righteous buy of $150 after MIR – expensive for the hardware. Low power translates into extended battery life. My notebook loves you for this. Make sure to set up TRIM if running Windows 7 and delete the hiberfil.sys - will save significant space. TRIM support is O/S dependent.
Except for SATA II transfer limits, this drive has worked well and hard for me. This Force series is well known by gaming enthusiasts and provides a flawless experience – so I am told. I never thought of SSDs and games since I'm in the business world. In a way that's good for me since gamers tend to push the technology envelop.
I attempted a two SSD RAID 1 – worked OK, but not exceptional. It was a trial effort, but not an effective deployment of SSDs. I think that mechanical drives are better suited presently.
Important guideline for maintenance: SSDs require different methods of maintenance from mechanical hard drives. One of the most commonly performed actions is to erase the drive. A secure erase differs from a format, and is the only way to completely erase a solid-state drive. Corsair has tools to do this. One issue is the BIOS on the laptop has to be compatible with the Sandforce controller used in the Force series. Remember: don't defragment.
The Negative: Corsair always seemed to be a lag behind in firmware updates than its competitors. The SandForce chips are great – never a glitch or stumble. These drives are quickly breaking out of the SATA 3.0Gbps barrier. Excellent product, but check the date – if it is very early 2010, I'd hesitate to buy it. There were numerous issues with the earlier Force series – you should have NO problem with any you purchase today.
I've run my notebook with the Corsair F180 for almost two months and no problems have surfaced. You should seriously consider this hard drive for your desktop, laptop or any other "top". Corsair has set an uber pace in solid state drives. For more info, updates and support go to www.corsair.com.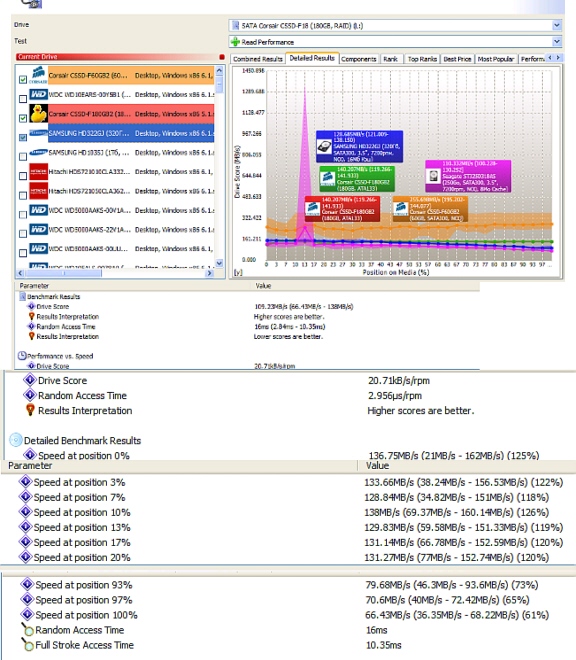 Alice Hamilton is a HAL-PC family member who is a computer hardware/applications instructor at a local community college and private consultant.