Reading and Writing
Reading
Even though my tablet PC can display ebooks, I still read ebooks only on my Palm. I love being able to carry a dozen books in my pocket, so that I always have something to read. The ebooks I read are mostly simple text, which works quite well on a Palm display.
Certain magazines are available to be read on a Palm, but this can be less satisfying than reading ebooks Magazines are more likely to include graphics that don't display well on a Palm screen, or sidebars that are harder to follow on a Palm. I do prefer to read magazines on my tablet. Zinio is a great service for reading magazines.
With Zinio, you download an electronic copy of the magazine that is identical to the paper copy. And I do mean identical, ads and all. It even includes some of the blow-in cards.
Once you've downloaded and opened a magazine, you can turn the pages forward or backward by tapping the right or left edge of the page. A button at the top of the screen will take you to the table of contents, and you can go directly to an article by tapping the title in the contents. If the article includes web URLs, you can launch the web site by tapping the link.
You can zoom in and out on the page as desired. You can also make notes by using the pen to write directly on the page, or to highlight parts of the page. There's also an eraser tool allowing you to remove notes and highlights. To find all of your notes in a particular issue, just click the Show Annotation List command. There's also a search command, which can find all instances of the text you enter.
Like the ebooks on my Palm, Zinio makes it possible to carry a stack of magazines around with me. The magazines that I subscribe to (PC Magazine and Popular Science) are about 18MB per issue.
Some of the other magazines offered by Zinio are: Business Week, Harvard Business Review, Computer Gaming World, Seventeen, eWEEK, IT Week, Network Computing, Golfwek, Motor Trend, Sporting News, BusinessWeek Jane's Defence Weekly, and Rotor & Wing.)
My only complaint about Zinio is the relatively small number of magazines that are currently available in that format. I hope that they will continue to add new magazines to the service.
Writing
A tablet PC can do a great job of emulating a pad of paper, allowing you to take unlimited notes and then search or print those notes. Additional functionality such as data backup and sound recording give you capabilities far beyond a pad of paper, while still retaining the simplicity of paper.
I've written articles on my tablet using handwriting recognition. This approach is serviceable, and allowed me to do some writing while away from my desk, but it still would have been much easier to do with a keyboard. But once you add a keyboard you defeat the purpose of a small, light tablet.
Motion Computing has come up with a great alternative. The Motion Hardtop Keyboard is a hard plastic cover that snaps onto the front of a Motion tablet PC when the tablet is not in use, protecting the display. When you need to use the tablet, you can remove the cover and snap it onto the back of the tablet.
Inside the plastic cover is a full keyboard, about the same size as a laptop keyboard. The keyboard includes a stand for the tablet, and you can adjust the viewing angle of the stand. Connect the USB cable, place the tablet into the stand, and you're ready to type. The keyboard includes a pointing stick and mouse buttons, so you don't need the pen while using the keyboard.
With its USB connectors, a tablet PC can use any USB keyboard. But the Motion Hardtop Keyboard is ideal, since it includes several components in one: protective cover, keyboard, mouse and desk stand. Plus it clips securely to the back of the tablet when you don't need it, keeping it handy while getting it out of the way.
This one simple device has added considerable value to my tablet PC. I've been using the tablet PC much more since I bought the Hardtop Keyboard, and my tablet is now my primary writing computer. If you have a Motion Computing tablet, this is a great keyboard.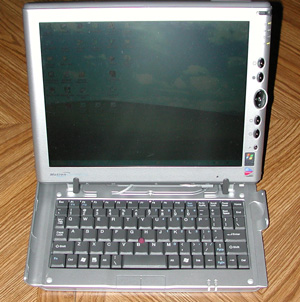 Zinio Reader
Zinio
www.zinio.com
Motion Hardtop Keyboard
Motion Computing
www.motioncomputing.com
$129.99
© 2003 by Charles M. Olsen