Kodak Photo Printer Series 3: Beauty is Paper Thin!
by Alice Lipscomb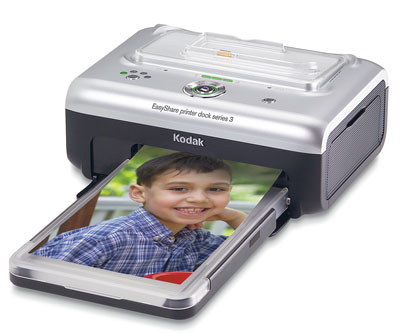 I create and view pictures all the time. Sometimes I just get ho-hum about them so when I was asked to review this printer I thought "big whoop". I was wrong and to Kodak, I apologize. The output of this printer is not ho-hum. The 4x6" prints are delicious, crisp, the colors are properly saturated and richly detailed. I could almost put a picture of flowers in a vase and have a realistic centerpiece! And there's no worry about inkjet cartridges or laser toner. These prints even come out of the printer with a protective coating. The printing process is called thermal dye-sublimation, which means the "ink" is on a roll. It takes three trips through the printer to create a borderless print – about a minute plus and the price is now competitive with other processes – less than 30 cents each.
Although it has nothing to do with the quality of prints, this small footprint printer has new features like WiFi and Bluetooth (yes, you can print from your cell phone – how cool is that?) NOTE: Some special features require additional, extra cost hardware. I'll tell you right up front there are a couple things I'd like to see Kodak change:
Monochrome prints (B&W, sepia, etc.) don't sparkle like color. There is no black "ink" and some deep shadows look a little weak and purplish. Rarely a problem, but I want you to know the full story.
No power switch on the printer and it doesn't run on batteries.
Mediocre print speed.
Red eye removal - everyone has this and the printer's not particularly good at it. Remove red with a stronger, separate image edit program. (Read April 2006 reviews)
So how to print. Drop in the Kodak's EasyShare CD and install their program. Connect the USB2 cable and A/C brick, drop in the single unit ink cartridge, put paper in the tray and send a photo. You just cannot get any simpler.
Other ways? Yes. Put most any Kodak camera on top and secure in the already installed template (there's a connection already in place), use your camera's LED to select which photos to print. Or, insert an SD memory card and print from it – no need for a computer and ditto for your WiFi connection. There really are a significant number of options and each is easily navigated. Kodak knows its customers, what they want and how they want it.
Your printer package includes the usual cables, the thermal color cartridge, some paper, etc. plus a well narrated and illustrated instruction User Guide. Their web site is also quite helpful. First thing I'd do? Pick up some paper and thermal ink. With the optional remote control you convert your printer into a slide shoe device for the TV. Even if your camera won't fit into the topside template, connect any PictBridge enabled camera via the USB port.
A little extra: on the control panel, select from one to four pictures on a print. Other options are just as easily accessible and the status lights are intuitive.
Prints: come out a bit darker than the original, blacks are not as rich as the colors and although the skin tones are detailed and saturated, they are a bit contrasty. As I've already mentioned the details are excellent and the sharp, crisp edges pop most images. You'll get each print, not just the first one, in about a minute and a half – in this instant world that seems like a long time but the results are worth the wait.
Although this printer packs a lot of ways to communicate, it is short on the type of memory cards is can accommodate and WPA security is not included. What about EasyShare software? It is OK as a basic edit and photo management tool and for the casual photographer it is quite adequate. It is not a strong image edit program. I didn't think the program was that easily navigated when, for instance, you wanted to save all or some of the camera's pictures to another folder. Like TurboTax, EasyShare gets a bit pushy regarding additional services you can buy. Minor, but sometimes obnoxious.
Do I still think this is a ho-hum printer? Not on your life. I'm impressed with the variety of features on this Lilliputian printer and the prints. From me, I'd give the big, brass ring. For more info, free software, support, forums, etc. go to www.kodak.com.
Alice Lipscomb is a HAL-PC family member who owns a digital imaging service and photographic studio. Direct any questions to reviews@hal-pc.org.