CD/DVD Burning Software: Four different approaches
by The Reviews Team
Preface.
What a change in such a short time – new software, very low prices and a plethora of new, workable features. And each is more flexible than the last version, except the last package of two programs. You may have noticed that I no longer include even guestimates of street prices. I'll bet you can find any of the applications below, by now, at 40-60% off retail and that is a real bargain.
As usual, after you install the program of choice, go to their web site and download any updates and info on the program. The Magazine does not condone burning illegal CDs or DVDs.
Charles W. Evans, Reviews Editor
Roxio – Easy CD & DVD Creator 7
by Robert DuVernay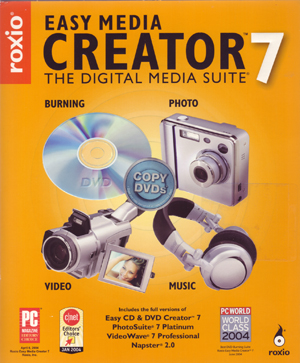 Roxio v7 combines complete versions of the latest Easy CD & DVD Creator, Photo Suite, Video Wave, and Napster brands/products. Roxio v7 is an impressive package.
Top 5 things you can do with Easy Media Creator 7:
CD burning, copy personal CDs or DVDs – even DVD Video with improved Disc Copier. [It will not burn copy-protected materials; does not RIP]
Turn a photo(s) into a mini movie with Motion Pictures special effects
Download music from the Internet with Napster - features built-in CD burning
Schedule regular CD or DVD burning back-ups of your important folders – then secure your disc with encryption and password protection
Automatically turn your video (DVI) into a DVD movie: Timeline editing tools – for fully integrated DVD burning and CD burning to disc
One thing that must be pointed out, this is a Pentium 4 class, Windows XP/2000 product. Pentium 3 is ok, if you don't want the VIDEO Editor parts. If you want to use the NAPSTER portion of this produce, a broadband connection is a must.
Roxio v7 is an impressive package, and worked in all the areas I have been able to test, except for my inexpensive digital capture card, but it does handle the card's video output files very well. I have passed RIPPED movie files through to a finished backed up DVD, very nicely. The DVD COPY Advanced Options screen is clean clear and very easy to use. All VIDEO and AUDIO component pieces are easy to identify and turn on or off and the resulting DVD backup copy played in my DVD machine.
The CD burning options are smooth and work very well. If you are used to ECDC 5, you will have to do some reading; the verbiage has changed a bit, and the look is new. NAPSTER is available for a charge and the Grace Note DB is still connected. You can convert formats, do straight copies or create your own music mix. The LABEL Creator will assist you in creating all the necessary cover documentation and how you want it.
The Photo Suite editing features are not as sophisticated as Adobe or Paint shop Pro, but do offer a substantial set of tools for the home non-professional user. You can e-mail a single or whole bunch of pictures, or turn them into a slide show. Remember, not everyone has a broadband connection, so play nice. A slide show on a DVD/CD will be more welcome than an X-Mega e-mail attachment. Get creative and make a greeting card of that nice shot, beats putting foam antlers on the dog for the greeting card!
Sound Editor application can capture and convert those old LP's and cassette tapes to a digital format. You need to purchase the connecting wire, but the rest of it is all part of Roxio.
Backup Scheduler allows you to use either DVD or CD format! And span discs. You can set encryption password protection (just don't forget the password) on your backups.
One major item I don't like is the new Label Creator feature. In v 5.3 I had control, in
v 7 it is very difficult to create a simple CD Slim Booklet. You do it the Roxio v7 way or no way. But the work around on this was to bring in a group of earlier covers/booklets and just modify existing models.
Roxio v7 is a mix of digital functions presented in a very polished and unified package, which works – two thumbs up Roxio! For more info and updates go to www.roxio.com.
Robert DuVernay is a HAL-PC member and senior instructor for both the CD and DVD Burning for Everyone classes. He can be contacted atrpd@hal-pc.org.
NTI CD & DVD-Maker 7 Titanium
by Alice Hamilton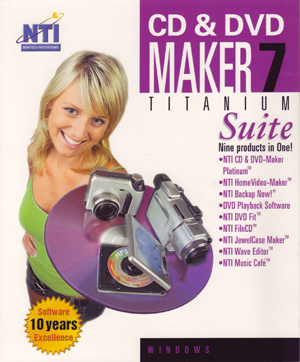 Titanium 7 Suite , by NewTech Infosystems (NTI) allows you to easily move from Automated Creation of Cinematic Slideshows to DVD Video Authoring, CD/DVD Burning, a DVD player and Backup/Recovery. Plus a new "shrink" or compression feature, especially for DVD burning. NTI's EasySteps, which is an easily navigated interface guide to the comprehensive software suite, will appeal to both novices and more demanding users.
I like the fact NTI placed emphasis on a common look and feel and that numbered steps outline most common operations, which greatly simplifies my student's projects. It includes DVD+R 16x and Double Layer (DL) support.
CD and DVD Burning : This is the easy part. Just one-two-three and you have your burned CD or DVD. You can store data files, organize digital photos, create a video library or create your own music collection. The automated audio track volume balancing is helpful when compiling audio CDs, but doesn't always work as advertised. It does detect the correct speed available from the media and the drive, and selects the correct writing method. It includes CD overburn support, buffer underrun support and built-in caching. There are several options, easily understood, that will take care of any burning requirement. An excellent burning program, period. NOTE: NTI software will not copy copyrighted media.
Cinematic Video and Slideshow : These programs can automatically add dramatic effects and transitions that synchronize with the background music. By simply selecting a style and background music that is appropriate for the content, users can easily produce a video or slideshow.

Photo Slideshow : In addition to quick creation of photo slideshows, an advanced Photo Slideshow function within the HomeVideo-Maker program makes it easy to integrate personalized audio, remarkable transitions and impressive special effects. Very good feature, but don't push it too hard.
DVD Fit : How do you get 8.5 GB dual-layer DVD movie (DVD-9) onto a single 4.7 GB single-layer disc (DVD-5) disc? That's what this utility does. Users can compress dual-layer movies, remove unwanted features, and burn them without having to split a movie onto two discs.
Backup/Recovery : Backup NOW! software is actually worth the price of the package alone. It is a powerful and versatile, yet an easily setup program for every data backup need and support for virtually all CD and DVD recordable devices. You can also back up e-mails and other important files and quickly restore lost or deleted files. Backup NOW! includes incremental and differential support, a backup scheduler for unattended backup and backup over a network. It is one of the best backup programs on the market.
HomeVideo-Maker : A rebranded version of ArcsoftShowbiz, is likeable but limited. You can use it to edit in both storyboard and time-line modes, although the software lets you work with two audio tracks for background music and narration, it allows only one video track. However, the slide-show creation tools are very good. Nary a glitch. Although its look and feel is a bit different from other in-house components, HomeVideo-Maker is intuitive and easy to use, even though limited in features.
CD & DVD Maker 7 Titanium has fewer features, a less polished interface and a weaker performance than other similarly priced suites. Having said that, I can assure you it is a very good value. The current version on your retailer's shelf should be later than the one I tested, or wait for a significant update available in late February 2005 on the web site. For more info and updates go to www.ntius.com.
Alice Hamilton is a HAL-PC family member who is a computer applications instructor at a local community college.
NERO 6.6 Ultra Edition
by Jerry Holtman
Your All-In-One Digital Media Solution. Say ' NEW' and you have NERO 6.6 , by aHead Software. Nine new features, including unlimited MP3 conversions, Dual Layer DVD burning and more. The initial screen is a very convenient and easily understood menu of "what do you want to do". Use this Start Smart menu to engage whatever function you need. Subsequent menus will change depending on which function you have chosen…couldn't be easier.
NERO Ultra covers six basic areas; Audio, Video, Photo, Back Up/Data and Labeling. It even comes with Neato label application device. NERO runs on Win 9X upward, a P3 processor is recommended. If you are planning any video work, then a Pentium 4 system with maximum memory is a must. But that is true for all Video software.
The new PhotoShow Express is impressive, a cinch to use and provides a nice, basic slide show, and even some music (if you like Nero's selection). You can update this piece for US$49, almost the same price as Nero. I tested this with a 338-picture dump, and it worked fine. PhotoShow Express can put an auxiliary data folder/file on the self-running CD, containing all the photo's in their original format/size. You can also create a presentation with video and photo's, using the included transitions, adding in MP3 audio. But you cannot delete the SlideShow you just created unless you have upgraded.
Vision Express2 supports Dual Layer DVDs (D9). Not having any dual layer media about, I will take NERO at its word. I made a copy/copy of DVD backup; it was done is under 14 minutes and it played fine on my computer and DVD/TV. Please remember, this product will NOT handle copy-protected media. It will however do re-compression of D9 format to D5 and burn a backup copy; very straight forward. Nero has a new process for encoding Dolby 5.1 to reduce the size of the audio file significantly, if you are tight on space. Edit facilities allow you to remove unwanted audio tracks, video titles, subtitles, and trim the video. If you are into DV, you are going to enjoy a host of new features. It is all there.
The old solid NERO is there, providing all the basics of CD/DVD recording. Use either CD or DVD media for data backups and complete system backups if you wish. Backup files or a complete drive, schedule automatic backups with Job Scheduler, compress files to fit more data on your discs (without loss of quality) and Password-Protection for extra security, just don't forget the password. InCD4 allows you to drag and drop data onto a CD/DVD, just like a floppy. If you are doing DVD recording, the Tool Kit will identify your media, and tell you things you sometimes don't want to know.
When you apply the update to take the box NERO version from 6.3 to 6.6, you may notice a change in the main icon/box interface. If you click on the left and open the box a bit, you will find a detailed application/function list, including at the bottom several PDF documentation items. The 6.6 upgrade is at www.ahead.com for download for registered users plus additional helpful info and forums.
NERO 6.6 is impressive; it works as advertised and the interface menus are clear and easy to navigate for either novice or for the more sophisticated user who requires advanced controls over output. This program merits your serious consideration. For more info, updates and forums go to www.nero.com.
Jerry Holtman is a HAL-PC member who is an experience CD and DVD author. He can be reached atJholt2@earthlink.net.
Slysoft's AnyDVD and CloneDVD2
by Robert DuVernay

Antigua, East Caribbean is one of the islands that was featured in the "Pirates of the Caribbean ", and is home to these two programs. AnyDVD is the finest ripping software on the internet today and when used in conjunction with CloneDVD2, is absolutely awesome! Hey, you think I am making a lot of noise, yes! I took a couple of commercial D9 format movies, and did full backup from start to finish in 32 and 29 minuets respectively and then did the 32 minute one, using Decrypter and Shrink which took 1:31 minuets total time. Both set of products produced fine results. But, AnyDVD and CloneDVD2 finished up in 1/3 time on the clock.
AnyDVD (the Red FOX is their logo) is a ripper, which runs in the background. During installation, you must identify your DVD and DVD-burner; actually, just acknowledge what the program picked up. If you are backing up PAL DVD's there are some questions to answer. Accept all the defaults and it will work. Once installed, you will only see a popup information text box every time you insert a DVD in to your burner. You then press the Continue button, and move on and double click on CloneDVD2. AnyDVD will run quietly in the background and do its thing.
The SHEEP (logo of CloneDVD2)…the icon is Dolly, the first cloned Sheep! CloneDVD2 installation is a one-button job. Please note. CloneDVD2 will not copy copy-protected media; however if you have the Red FOX ( AnyDVD) running in the background, then CloneDVD2 will never know, and proceeds flawlessly. Sheep/Fox, go figure!
CloneDVD2 has five screens to assist you:
Welcome Screen requires your selecting want to do. Let's say, you wish to backup a commercial, two-layer, D9 format movie; the AnyDVD will be running and has already given you info and data about your movie; you double click the CloneDVD option button. You can also Copy DVD Titles and WRITE Existing Data[ DVD files or ISO files] If AnyDVD is not active, your process will be shutdown automatically by CloneDVD2.
Title Configuration - you need to identify the source to be cloned! A standard MS text box will let you id/select your source. Your selection will be loaded, a preview screen opens, and you will see the details of the source. There is limited help at the upper right of the screen (as on all screens) but more, if you are connected to the internet.
Audio and Subtitles selections are controlled on the next screen. I accept everything and move on…you will be impressed.
Output Method - assuming you are backing up the movie and have a DVD blank in your burner, we are ready to go. The OPTIONS, lower right section may be of interest, as you can identify where you want the Output written and if you wish to save the finish movie files or just burn a DVD.
Writing to Recordable Media – the last screen. Three information tabs/items all give info on process of the burn. You will get an audible cue when the burn is finished.
Simplicity is the manifestation of a miracle, I am told. These two products certainly are. And Slysoft is a perfect company name. Give them a run. If you decided you like this dynamic duo, you can purchase both for less than US$60. This is a lifetime registration. For more info, a 21-day FULL trial version and frequent updates, surf to www.SlySoft.com or fly to their HQ in St. John's, Antigua.
Robert DuVernay is a HAL-PC member and the chief instructor for both the CD and DVD Burning for Everyone classes. He can be reached at rpd@hal-pc.org.