Parental Control: Internet Filters/Blockers
by Charles W. Evans
Internet filtering and blocking software developers use one of a variety of methods to achieve and/or enhance this process.
Dynamic Keyword Analysis – based on keywords found withIN a web page.
Dynamic URL (web page) Analysis – based on keywords found withIN the web address
Managed URL (web page) List – List, maintained by the vender, of sites that are unacceptable and will be blocked
Suitable Filter Categories – for instance, pornography, violence, etc.
Black List – you can add specific web sites/pages to be blocked
White List – acceptable sites/pages that you can add to
User Profiles - ability to create and configure settings for different users – typically a part of one of the first six above.
What makes a good parental control solution?
A: I think that a truly effective parental control solution must have filtering/blocking and monitoring capabilities. Not only must you be able to protect children by restricting access to what they can access online, but you must also have the ability to monitor their online activities (who they are communicating with, what they are communicating about, are they being sexually solicited, what are they searching/looking for, etc.
What you can do.
Educate yourself first, then your child.Banning a child from certain sites may only motivate them to spend more time on them, whereas educating that child on how to keep safe will give them the tools they need to navigate their online world without being hurt.
Teach children the obvious identity rules.Tell your children NOT to put photos of themselves on the Internet or to give out their names, addresses, phone numbers, schools, or other personal information online.
Install an Internet filter or family safety software.Family safety software is becoming extremely advanced and an effective way to filter dangerous content.
Know the dangers associated with sites your children frequent.Whether it's MySpace, Facebook or another social networking site, by knowing what people are doing on your children's favorite sites that could put them in harm's way, parents can educate their children.
Manage your children's time on the Internet.Scheduling times when a child can be on the Internet and the amount they can be online ensures that you know when they are on the Internet and how long.
Set specific Internet guidelines for your children to live by and consistently enforce consequences.Giving your children specific guidelines to follow will ensure they know where they stand when it comes to how they use the Internet as well as the consequences when they breach the rules.
Keep computers in open areas, not the bedroom.With PCs in the open, children will be less inclined to view and access material that may not be acceptable. And, you have a visual monitor of their activity. Big brother? I think not.
Create a relationship with your children that is conducive to open communication.Open communication and trust is extremely valuable. By letting children know what is expected from them and that their safety is a top priority, they will feel that if something happens --whether they are approached by a cyber stranger or bully of receive an inappropriate e-mail - they can approach a parent to resolve the issue without feeling they are in trouble.
Understand Internet Privacy Policies as they apply to your child.According to the FTC (www.ftc.gov/bcp/conline/pubs/online/kidsprivacy.shtm), parents should be aware of the following as it pertains to protecting their children's' privacy on the web.
Preface.
There are a plethora of internet filter/blocking tools now available. Most fall into two broad categories. One is the effective to use, but simpler to setup and the other is a much more full featured (filter, block, monitor, etc.) for which there is typically an annual fee – the fee doesn't indicate the quality of the program.
As usual, when you install a program, immediately go to the vendors web site and download any and all updates, patches, etc.
FROM PERSONAL EXPERIENCE: Write your password and hint in half inch characters and hide in two different places – one of my neighbors uses the freezer! It is next to impossible to get tech support to tell you how to unlock a system for which you have lost the password. And that's a good thing.
Enjoy.
Charles W. Evans, Reviews Editor
CyberPatrol 7.6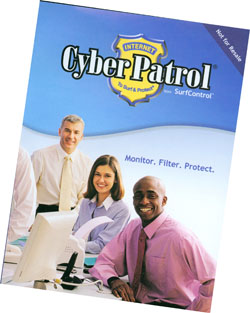 CyberPatrol is an excellent parental control product. The only weakness is the lack of monitoring capabilities. The web filtering appears to be rock solid. The program blocking and time management features are also useful. To take full advantage of this program, you'll need some time and read the docs and an advanced user to set it up.
It's main focus is filtering/blocking. While they include some limited monitoring functionality, they are clearly parental control software rather than a comprehensive monitoring application.
Cyber Patrol has been around for a while and has developed a loyal following of parents who want to protect their children from inappropriate content and school administrators who need to filter Internet content for the students in their classrooms.
This is definitely a product whose main strength is its filtering and blocking capabilities - not its ability to monitor communications. For this reason, we mostly recommend it for parents with very young children (seven years or less).
Once the software was successfully installed, it did a fairly good job of blocking URLs. A lot of newer websites with adult content slipped through while older websites were successfully blocked.
I found it extremely difficult to surf properly when Cyber Patrol was trying to filter the Internet. There were many sites that were blocked for no apparent reason. The web filtering is rock solid. The program blocking and time management features are also useful.
Website Filtering/Blocking: CyberPatrol uses category based keyword blocking and blacklists. They have about a dozen categories which you can select from and assign to different profiles. You can even select the filter strengths for each category. They also have a whitelist feature which allows you to add specific sites which might otherwise be blocked.
CP also has an immediate override feature which allows you to enter a password at the time of filtering, to temporarily override the filter.
CP allows you to limit and/or disable access to any program on your computer. You can also set times in which certain programs can be used, internet access limits and amount of time per day spent online. Chat filtering is handled by adding the chat program to the program list section and a newsgroup blocking feature.
CyberPatrol only monitors website URLs. URL history is logged and stored by date. There doesn't appear to be a way to monitor other activity such as chat, e-mail, keystrokes, screenshots, etc.
CyberPatrol allows you create multiple user profiles and configure filter settings and categories for each user. A useful feature they have is predefined profile types to assign to a profile such as child, teen, adult, etc.
From application blocking, stealth mode, time allowance and many more, CyberPatrol had the most features of most products. Although it was loaded with the right features, it was not the most intuitive to use.
You are then prompted to create a Headquarters password and password hint. This will be used to manage, uninstall, disable and override the product. Administrators are given the choice to filter on 14 different categories. Each category's sensitivity can be adjusted. CP comes with seven preconfigured categories, such as: Adult, Young Teen, Child, Custom and Yes List.
Accuracy: CP blocked less than 76% of the objectionable websites and over-blocked on only 11% of the "safe" websites tested. There is no easy way to logoff - CP work on this.
Concluding notes:
Installation easy and fast - no reboot; highly customizable; excellent web filtering; and, custom program blocking
Lacks important monitoring capabilities; limited reporting; and, confusing interface
Comprehensive on-line user guide and prompt e-mail based support plus forums. Operates on Microsoft Windows 98 through Vista. For more info, updates or to try the 14-day trial go to www.cyberpatrol.com.
New Net Nanny 5.6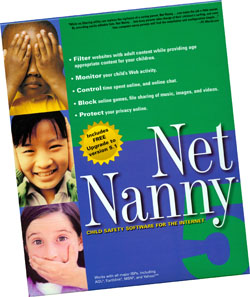 Net Nanny strength resides in website filtering capabilities. Net Nanny is effective, easy to use parental control software with many filter categories and additional blocking features such as the ability to disable chat programs, file sharing programs, and newsgroups. Unfortunately, the monitoring features are lacking in that you cannot record screenshots, keystrokes, or e-mail.


Net Nanny has more than 30 filter categories, each of which can each be enabled or disabled based on the user. A unique feature is that when a website is blocked, the user can request an override. This request will be stored in the program for the admin (parent) to review and allow or disallow as they see fit

Although Net Nanny cannot filter chat programs, it can disable access to it. Ditto for access to newsgroups. Net Nanny also has time management that will allow/disallow access to the internet at certain times of the day.
Net Nanny only monitors website URLs and chat sessions. I didn't find a way to monitor e-mail, keystrokes, screenshots, etc.
Net Nanny allows you create multiple user profiles and configure filter settings and categories for each user. You can send e-mail notifications when a site is blocked, overridden, or an override is requested. Net Nanny can display reports on internet and IM (chat) usage.

Net Nanny's real strength is the fact that it is one of the few parental control software programs that allows you to view the list of websites that are being blocked. By being able to see what sites are blocked, you can unblock those that you wish to be accessible.

They also offer a "white list" which is a great way for parents to always allow access to certain websites that they approve, ensuring that those sites never get blocked inadvertently.

Please be aware that NetNanny IS NOT INVISIBLE - It shows messages to the user that they are making a violation so it should not be used if invisible monitoring and blocking is your intention.

One thing to note, however, is that unlike most of the applications that we review, NetNanny bills on a yearly subscription rather than a one-time fee. So keep in mind that you will be paying every year for the life of the program, which potentially makes NetNanny the most expensive of the products that we reviewed.
Net Nanny 5.5 can be managed locally or remotely. Net Nanny also allows you to deny/allow specific websites as well as assign them to the filter categories. To manage your settings remotely you can do so by visiting manage.netnanny.com
Net Nanny 5.5 gives administrators the ability to create/customize multiple user profiles or if you choose to use default mode.
Administrators are given the choice to filter on 29 different categories. Each category can be set to Block, Warn, or Allow for each user. Net Nanny comes with eight preconfigured, blocked categories including: Pornography, Gambling, Intimate Apparel, Adult/Mature, Drugs/Alcohol, etc.

Accuracy: Blocked Correctly - 82% (web sites blocked that are inappropriate for kids and teens)
Over-blocked - 11% (web sites blocked that are safe for kids and teens)

Good and Bad: Poor internet game management, Windows user integration for automatic login, Restricting Access to undesirable websites, Monitoring and limiting the time spent online and
Popup and Cookie blocking.

Net Nanny bills itself as a tool for parents to filter objectionable content from the Internet and it does that quite well. However, it should only be considered for very young children (10 years or younger) whose only interest is in trying to block the "bad stuff" on the internet. It is very limited in its ability to monitor. Comprehensive user guide and sluggish e-mail support. ContentWatch Inc. acquired Net Nanny inFebruary 2007. There is an annual fee. For support, updates, forums and more info go to www.netnanny.com.

Charles W. Evans is a HAL-PC member and the Reviews Editor for its Magazine. He can be contacted at reviews@hal-pc.org.