The Latest Trumors, Beverly Rosenbaum
Podcasting: New Web Content Gains Popularity
Just two days after the release of iTunes version 4.9, Apple reported more than a million free podcast subscriptions.
What exactly is podcasting? While the true origin of the term "podcast" is unclear, many agree that it's probably the combination of "broadcast" and "iPod." Any MP3 player can play podcast content. Webopedia (www.webopedia.com) says that podcasting is similar in nature to RSS (one source says that acronym stands for Really Simple Syndication), allowing people to subscribe to a set of feeds to view syndicated Web content. With podcasting, however, you have a set of subscriptions that are checked regularly for updates, so instead of reading the news feeds on your computer screen, you can listen to the new content.
I suppose you could think of this new phenomenon as time-shifted audio, much like DVRs (Digital Video Recorders) allow us to shift the time and place that we watch video content. As retailers sell more iPods and MP3 players, the popularity of this concept is expected to grow. Jupiter Research (www.jupiterresearch.com) estimates that sales of portable audio devices will soar to 18.2 million this year. You'll be able to take the downloaded podcasts with you and listen to them when and wherever you like. But yyou don't even need an MP3 player to participate, you can listen to audio content on practically any subject on your personal computer if you have a set of speakers or a headset.
How can you try it?
Just download iTunes 4.9 for either PC or Mac from www.apple.com/itunes/download/. Install and launch the iTunes program, and click on the "Music Store" link in the left column to find a list of on-line content in the podcast section of Apple.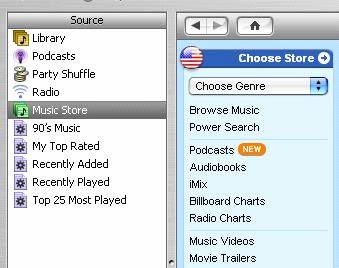 Then click on "Podcasts" to view and select a genre that interests you.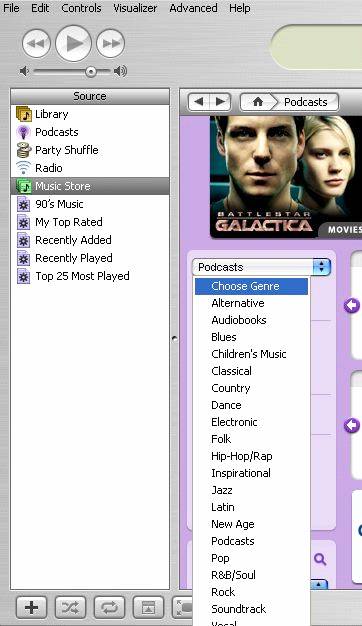 You could, for example, subscribe to free Ebert and Roeper movie reviews. Once you select that topic, you can click the "Subscribe" button to download weekly 20-minute podcasts.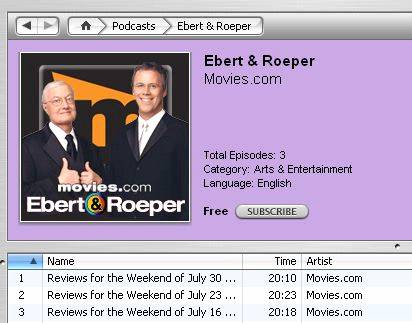 You'll see the following dialog box to confirm your subscription.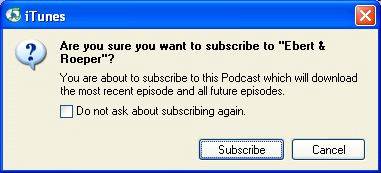 Then the downloads will appear in the "Podcasts" section of the iTunes library. I also found links to reviews of DVDs, discussions from ABC's Nightline, and more.

Another method of finding podcasts is to visit web sites like www.podcastshuffle.com/ , where I browsed the "AudioBook" category and found an entry for quite a few tales of Sherlock Holmes.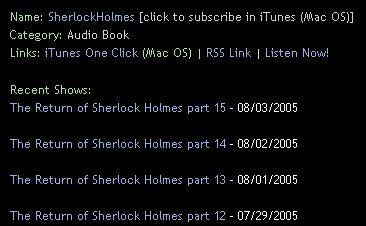 Another popular site is www.podcastalley.com/, where you can download software to make your own podcast, find a wide range of available content, or link to RSS feeds to find the rich content available on the Internet. In exactly the same way that various RSS newsfeeds were created to help readers find, subscribe to, and read blogs, similar services are being developed for listeners in the podcasting world. At Odeo, (www.odeo.com/) listeners can find and manage podcast content with relative ease, as well as www.podcastalley.com. The podcast feature in the latest release of iTunes has 4,500 entries, and the directory at www.podcast.net has more than 7,000 entries. The broad range of diversity is apparent as television networks use podcasts to build interest in their shows between episodes, while individuals are simply publishing their opinions. At podshow.com/, podcasts by Sirius Satellite Talk Radio's Adam Curry are featured. He's considered by many to be the originator of podcasting.
The simplicity with which podcasts can be shared from one person to another makes its infectious nature appealing. A recent entry at www.realtechnews.com/posts/1573 expressed concern that podcasts could become another automated way hackers can put viruses and spyware onto our computers if we're not careful. However, no such attacks have been reported, and the makers of media players themselves should release the necessary updates to secure any vulnerabilities that may occur in their programs.
Industry analysts say that the next great item of interest will likely be videocasting -- the quick, easy dissemination of video content across devices like PCs, cell phones, and personal video players. As wireless networks get faster and more powerful and devices become more multimedia-friendly, sending video content from one device to another will soon become more of a reality.
Beverly Rosenbaum, a HAL-PC member, is a 1999 and 2000 Houston Press Club "Excellence in Journalism" award winner. She can be reached at trumors@hal-pc.org.