HiRes, Value Priced, Versatile Scanner
by Franklin J. Tyler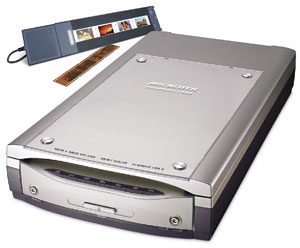 The Microtek ScanMaker s400 is the perfect combination of precision engineering and stylish design, bringing high-resolution scanning to both SOHO and home. Its high 9600 x 4800 dpi resolution lets you create film or photos with remarkable sharpness and detail previously only available in higher-priced scanners. With seven up front buttons you can automate most any task. Its USB2 connection and 48-bit color make a world of difference.
The seven quick-start buttons enable you to scan, copy, e-mail, OCR, scan-to-Web, make custom settings, and manage setup. Fortunately, the s400 is not just another pretty face. Its internal scanning hardware and accompanying software produce realistic scans from photo prints, paper documents, and film. In my on-screen and print tests, the s400 delivered lively color and sharp monochrome scans. The 3x5 inch color photo at its maximum resolution (4800 dpi) and maximum color depth (48 bits) featured accurate color (including skin tones), proper brightness and contrast, and fine details in shaded areas.
Restore faded color photos to their original exciting tones through the Automatic Color Restoration feature built into the Microtek ScanWizard scanning software. One-click operation makes this user friendly and easy to use. ColoRescue works with both prints and film for maximum versatility. The utility was able to boost the darkness and density of faded prints, but it did little to restore washed-out reds and yellows. It isn't perfect, but surprisingly accurate. However, it doesn't provide dust or scratch removal.
ScanWizard 5, Microtek's excellent scanning driver can switch between a simple or more sophisticated interface. The simple interface doesn't let you specify resolution; instead, it is automatically set by the output selected (ink jet printer, screen, e-mail, etc.). The advanced interface is comprehensive, providing most of the tools and functions advanced users need and want. Image quality is very good, with superb, accurate color and accurate skin tones.
In my speed tests the s400 was less impressive, with a mediocre rating. Using the USB 2, the s400 took about 42 seconds to scan a color magazine cover and nearly 29 seconds to scan a half-page B&W document, both at 300 dpi.
The s400 comes with an excellent software bundle that includes an exceptional comprehensive and versatile scanning driver (ScanWizard 5), an industry standard image editor (Adobe Photoshop Elements 2), an optical character recognition tool (Abbyy FineReader 5) and two image organizers (Ulead PhotoExplorer 8SE and Adobe Photoshop Album).
The scans are quite sharp, and it comes with a lid adapter for negative scans. When you scan 35mm media, the scanner scans ALL frames, regardless if it contains media. A 4800 dpi scan of a single image from a negative strip took nearly 9.5 minutes to scan. It was slow, but produced a very sharp and clean scan.

Three things I'd change:
The 35mm holder should have some way to stabilize it so it will not move on the glass while you are scanning. It has a lip that is placed over the edge of the scanner bed. This is subject to movement and considering the very small frame to be copied…well?
Make the USB2 cable a bit longer. As it is, the s400 occupies expensive desk, real estate.
The seven buttons are hard to view since they are under the lip of the lid.
The Optical Character Recognition (OCR) program by Abbyy FineReader sets the gold standard. You may not use it often, but when you do it can save hours of typing/editing. I used a standard test sheet with one large graphic, a few fonts, some columns, etc. Although it will highlight potential errors in yellow, I found few yellow indicators. My three tests yielded 96% accuracy. It goes directly into your word processor for final editing and disposition. I've used it for years and have the utmost respect for it.
The versatile Microtek ScanMaker s400 provides superb scans and generous software bundle, but you'll have to settle for average speed performance. For more info, software updates, and support go to:www.microtekusa.com.
Franklin J. Tyler is a HAL-PC member who is the staff archivist for a check processing firm.