Monthly Questions & Answers For Windows XP
Can I hide base icons from the Windows XP desktop?
Good Question! Yes. By base icons, I assume that you are talking about System Software icons like "My Computer", "My Network Places", etc. Application Software icons can be removed by manually deleting them or by uninstalling the program.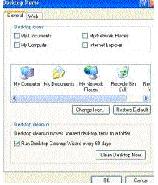 In the Windows ME or 98 versions, you could use various registry hacks or Microsoft's TweakUI utility to hide core icons. With XP, Microsoft provides an interface in the product that lets you accomplish the same task. To hide core icons:
From the Desktop Taskbar click on "Start" -> "Control Panel"
Click on "Appearance and Themes" -> "Change the desktop background"
Click on the "Desktop" tab.
Click the "Customize Desktop" button.
Click on the "General" tab.
Under the "Desktop icons" section, clear the check boxes next to any appropriate icons.
Click OK.
Microsoft still has TweakUI that is part of a freeware program called Microsoft PowerToys. Microsoft doesn't support this program, however it can be helpful and is available from Microsoft's website.
Can Windows XP Home edition be made to log onto a Windows NT Domain?
No. By now we all know that everything can be made to do anything if you are determined. I, however, am not going to get into hacking or recoding. There is a Security Identifier (SID) associated with each account. The SID for the domain user account is linked to the SID of the actual domain and stored in the SAM or Active Directory. The local account SID is specific only to the security database of the local machine. So while the user name and password may be the same, the actual security token used for things like authentication wouldn't match.
The primary difference between Windows XP Professional and Windows XP Home is that XP Professional was written to work on a Network and log onto a Domain. The XP Home edition was not made to log-on to a Domain and has been tweaked for gaming and multimedia. XP Professional has a suggest price of $100.00 higher than XP Home. If you need to log-on to a domain, I suggest spending the extra $100.00. Thanks for the question!
Can I Back Up The Computer Registry?
Yes. Super question! In fact there are many ways of doing it. Windows stores its configuration information in a database called the registry. Without the registry, your computer could not boot up or run any programs. Think of it as the table of contents for a book. Without the table of contents, you do not know what or where anything in the book is. With this fact in mind, be very careful when working with the registry. It is always good to create a Backup Point before any adjustment.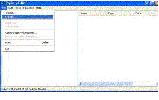 From the Desktop Taskbar click on "Start" -> "Run".
Type "regedit.exe" in the Open box, and then click "OK".
From the Registry Editor Window menu, click on "File" -> "Export".
On the Export Registry File Window, choose the appropriate location to save your registry backup file. I keep mine in the "My Documents" directory so it is easy for me to find.
Type in an appropriate file name. I usually name mine with the date (i.e.: REG03-01-03).
Under the bottom "Export Range" box, select "All" and then click "Save".
Exit out of the Registry. It is now backed up! Way to go.
Can I disable Dr. Watson in Windows XP? I hate it!
Yes. Dr. Watson detects information about system and program failures and records the information in a log file. In the event of a program error, Dr. Watson starts automatically. To open Dr. Watson, from the Desktop Taskbar click on "Start" -> "Run". In the "Open" box, type "drwtsn32". Dr. Watson cannot prevent errors from occurring, but the information recorded in the log file can be used by technical support personnel to diagnose the problem. Turning off Dr. Watson will not stop your PC problems from happening.
With that information said; to turn off Dr. Watson you need to make an adjustment in the Windows XP Registry. Microsoft does not support this action because one error in the Registry can cause your PC to crash. I do not suggest doing this option. If however you decide to, please back up your Registry before adjusting it. Be very careful!!!
From the Desktop Taskbar click on "Start" -> "Run".
Type "regedit.exe" in the Open box, and then click "OK".
Locate and click the following registry key: "HKEY_LOCAL_MACHINE\ Software\Microsoft\Windows NT\CurrentVersion\ AeDebug"
Click the "AeDebug" key, and then click "Export Registry File" on the Registry menu.
Enter a name and location for the saved registry file, and then click "Save". You should save this key where you will remember and be able to find it if you ever want to restore Dr. Watson.
Now delete the "AeDebug" key from the registry.
To Re-enable Dr. Watson:
At a command prompt, type "drwtsn32 -I" and then press the Enter key.
Double-click the .reg file you created in steps three and four above.
Does Windows XP Have A Zip Program Or Do I Need To Buy One?
Save Your Money. Yes, Windows XP has a zip program. One of Windows XP's new features is a built in zip program. With previous versions of Windows, if you received a file that was zipped to about half of its normal size or if you wanted to zip a file so that it would be smaller to mail or fit on a disk, you would have to purchase a program like WinZip or PKZip. With Windows XP, this is not necessary. Files that are zipped usually end with the three letter extension of "zip".
To unzip a zipped file:
Simply double click on the file and a Window will pop up showing the uncompressed file or files.
Handle the file as you would always do.
To zip a file:
Right mouse click on the file
Choose "Send To"
Choose "Compressed (zipped) Folder"
A new file will appear with the same title, however the last three letter extension will now be "zip"
You can also zip a group of files into one zip file for easily mailing. Just highlight the group of files and follow the steps above. Windows XP Zip is compatible with WinZip and PKZip. Thanks for a great question that hopefully will save you between 30 and 50 dollars.