Window on the Web
Beverly Rosenbaum
Holiday Gift Ideas
Looking on-line for computer-related gifts this year? There are lots to choose from, whether you want something whimsical or really practical.
Add Winter to any computer desktop with a glowing USB Snowman. It's 2.15" in diameter X 4.5" high and comes with a built-in LED that cycles through 4 different colors. The USB Snowman works with the USB port on any PC, MAC, SUN, set-top box or Playstation2. No software or battery is required; $12.99 from www.tomatochip.com.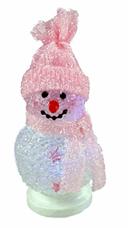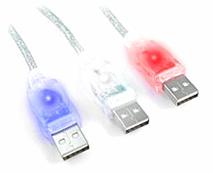 You can get high-speed data transfers between your PC and USB devices with illuminated USB 2.0 cables, available in a variety of colors to match any personal taste for $5.99 at www.thinkgeek.com.
A Flexiglow FX Game Pad will add color to the desktop with its built-in multi color LED light system and 7 color combinations. The 11" x 9" pad has a slick surface that works well with ball or optical mice, and receives power through a USB connection. Available at www.directron.com for $17.99.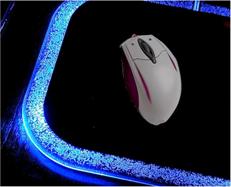 Here's a standard 104-key keyboard that rolls-up for easy storage and portability. The USB Flexi-Glow Illuminated Multimedia keyboard is Windows-compatible, dust and moisture proof, found at www.computergear.com for $29.99.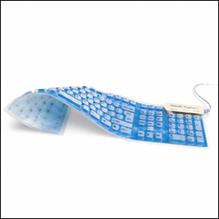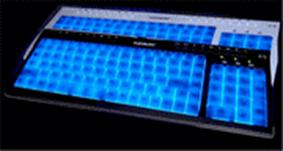 Or get a black Flexiglow Multi-Media Illuminated PS2 Keyboard with Translucent Keys (Part Number KB-MM-LIGHT-B) for $22.99 at www.directron.com.
Watches
This USB watch gives you the time as well as a way to carry valuable data, MP3 files or favorite images with you at all times. The USB Memory Watch has a built-in USB cable cleverly stored in the watchband. The watch is sleek and lightweight (1.5 ounces), water resistant, and can be password-protected or used as a boot disk. It's compatible with Windows 98, ME, 2000, XP, Linux 2.4 or higher, and Mac OS 8.6 or higher. It has a 3-year battery life, 2-year warranty, and comes in 128 MB, 256 MB or 512 MB models, $79.99 - $189.99 at www.thinkgeek.com.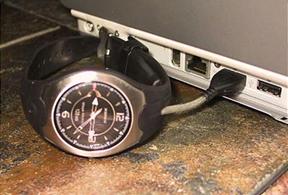 Or how about a watch with a built-in universal remote control? The Midas features a Seiko watch movement in a stainless steel case with a gray band. The remote can be programmed, using a 4 or 5 digit code, in approximately 30 seconds. The pre-programmed database of codes covers every make and model of TV and cable receiver imaginable. It has controls for Volume, Channel, Mute, and Power, and a range of 15 feet and 20 degree angle. It's $29.99 at www.thinkgeek.com, and comes with PDF manual of control codes.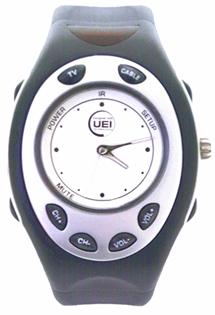 The redesigned Fossil Wrist Newatch ($199.00 at www.fossil.com) features an integrated leather adjustable strap, a new buckle, and slimmer profile. The watch includes an AC Adapter and charging cradle, and service with MSN Direct for free national news, Hi/Low temperature for your area, and monthly calendar.
Winner of the 2004 Consumer Electronics Association's Innovations Award, the ZVUE Portable MP3 & MP4 Video Player is $149.95 at www.hheld.com. It comes with ZFLICKS MP4 video-to-go software to convert digital videos to handheld profile, a 32MB MMC memory card, 4 AA batteries, matching earphones, and USB cable. It's an MP3 player, MP4 Video Player, and JPEG photo viewer in one device. It uses a Motorola Dragonball™ i.MXL 200MHz processor, supports SD (Secure Digital) and MMC (Multimedia Card) formats, and has a 6-8 hour battery life.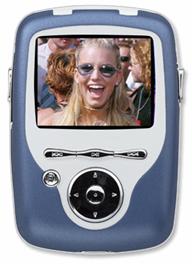 The Digital Photo Receiver does not need a computer to receive and display photos. Simply plug in the power cord and a phone line, and then push one button to receive up to 30 new pictures daily. Requires a monthly subscription (about $10) through www.ceiva.com to cover transmission, formatting and storage of online photo albums. The receiver looks like an 8" x 10" picture frame and holds a large, high-resolution LCD screen for easy viewing of 5" X 7" images. The owner simply plugs the receiver in nightly, and it automatically makes a short local call between midnight and 5 AM to collect the pictures. There are no long distance charges. It can also display information from the Weather Channel, lottery numbers, recipes, etc. This device can also receive photos directly from a camera-enabled cell phone. $149 at the Discovery Channel Store (shopping.discovery.com/).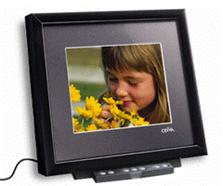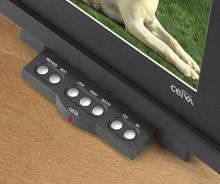 This USB Swiss Army knife pulls together four important tools (USB flash drive, LED light, Swiss Army knife, and ballpoint pen), integrated into a single gadget. There's also a Travel Version suitable for carrying through airport security (without the knife or scissors). Available with either 128MB or 64MB Flash Drive (detachable), it requires no external power supply. The LED blinks to indicate read/write activity and it works with Windows 98/SE/2000/ME/XP, MAC OS 9.x or above, or Linux 2.4 or above.
The flash drive supports USB 1.1/2.0 interface and comes with a 1-meter cable. $64.99-89.99 at www.thinkgeek.com or www.computergear.com.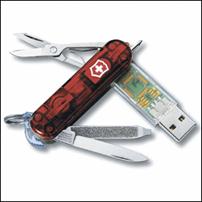 Novelty Items
Stick these Linux computer keys on your computer or anywhere else you need to be reminded of your favorite operating system. Each has a double-sided tape base that sticks to any surface. Sold as a set of 8; there are two Tux penguins and one each of some favorite Linux phrases. Made in USA, the Linux 8-key set is $19.99 at www.computerGear.com.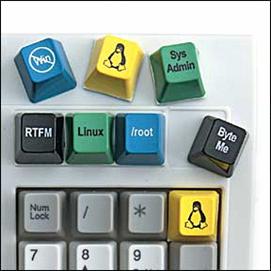 Lots of notepads are available, including this one shaped like a Palm PDA and it even includes a stylus (pencil) for writing. A set of 4 Paper Palm PDA Notepads is $24.99 at www.computergear.com.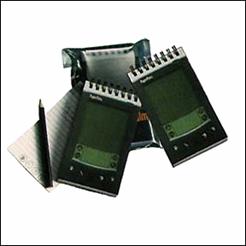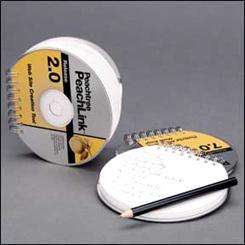 Other notepads are made from actual recycled CD-ROMs and contain approximately 60 blank pages. These are sold as a set of 3, but the pencil's not included. They're handmade in USA and can be customized with a name imprinted on them or a specific software release used as the CD! A set of 3 is $18.99- $24.99
Doormats
Wel.com your guests into your cubicle or home with a dot com doormat or a doormat with instructions. Both are made from durable indoor/outdoor carpet and measure approximately 18" x 27" for $19.99 each at www.computergear.com.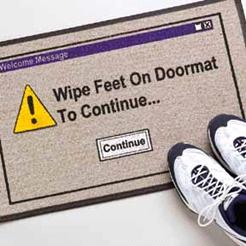 Don't get caught eating, surfing the web or e-mailing friends. See who's lurking behind you with a computer rearview mirror attached to the top right or left corner of your monitor. Sold as a set of two for $19.99, also at www.computergear.com.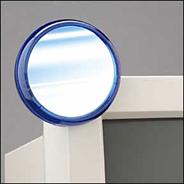 There's a Rat Race Clock at www.stupid.com/stat/RTCL.html, featuring a gray rat on an industrial treadmill. Once every minute, the mechanical rat begins to run. The wheel is connected to an intricate series of 12 gears, so when the rat wheel goes around, it moves the clock's minute hand forward one minute. The timing mechanism is inside the rat. It requires 4 D batteries and 2 AA batteries (not included), and there's also a hamster model (www.stupid.com/stat/HAMC.html), $24.99 each.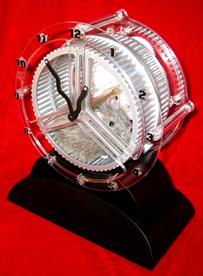 A USB-powered 2-speed personal cooling fan is $19.99 under "cool gadgets" at www.accessorygeeks.com. The fan may look small but it blows a nice breeze. The fan's safety blades are made of rubberized plastic.
Electronic Drum Sticks (Item No: 60227) are $16.98 at www.lighterside.com. This set of 2 electronic drumsticks creates a unique techno beat, crashing cymbal sounds, and a snare drum beat when tapped against any surface. The sticks have built-in speakers and a pre-recorded tune that plays with the press of a button. With every tap, a red LED illuminates the tip of each drumstick. Requires 4 "AA" batteries, not included; for ages 3 & up.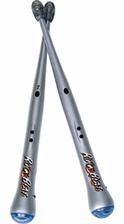 An assortment of CD holders, including animals and food designs, are $16.99 each at www.accessorygeeks.com. Shown below are turtle, baseball, hamburger, and pizza designs.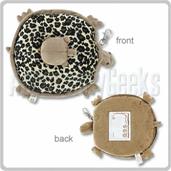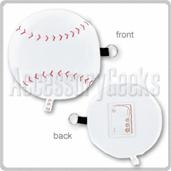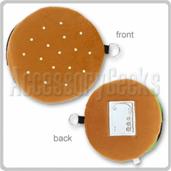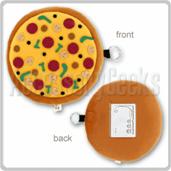 Computer pins and jewelry range from $4.95 to $25.95 at stores.yahoo.com/bytesngrins/jewelry.html,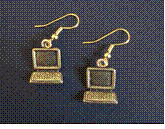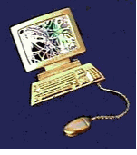 and a wide variety of Mouserugs are $18.98 at www.bitwisegifts.com.