XPress 4: Video Edit/Convert
by George Farmington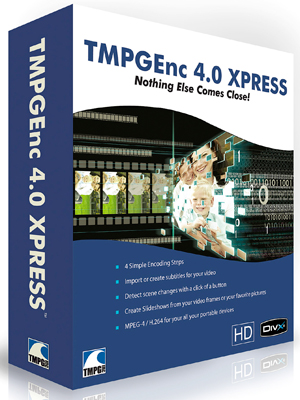 TMPGEnc 4.0 XPress gives you the freedom to convert almost any video file and encode it to your desired file format, including DivX, AVI, QuickTime, MPEG 4-ISO, H.264, DVD-Video, DVD-VR, HDV camcorder, Blu-ray Disc and more (see chart-graph following). This comprehensive program provides functions and features ranging from a simple cut-editor tool and file conversion to multiple powerful video filtering and effects. Now with nVidia CUDA support!
A high quality video encoder software to offer beginner and advanced users almost effortless production of quality. XPress natively supports source files in MPEG-1/2 - typical movie DVD file formats and DivX.
Convert Almost Any Video File to another format!
XPress excels at converting video from one format to another. Got a Media Center recording that you'd like to convert to DivX? Or maybe you have a DivX file you'd like to convert to DVD-compliant MPEG? XPress can do it all, and you'll have complete control over the output settings. You can even make your own custom output settings!
Just be cautioned that once you get to the encode (convert) menu, it may appear daunting – a great number of choices. You don't need to select from all of them. I did just fine in converting a DivX to DVD with six choices – very good quality output considering the DivX was about 712K and the resulting convert or encode was about 2.8 MB!
Add filters to correct color, crop the picture, resize, sharpen, de-interlace, reduce noise and more!
If you have an nVIDIA CUDA-compatible graphics card, you can unleash the power of the GPU's multiple cores to reduce the processing time for decoding and applying video filters! (Speed increases are dependent on your hardware environment.)
The popular AVCHD video format is now officially supported as an input source! Easily take your AVCHD footage and convert it to other video formats such as DVD-Video!
Xpress 4 has added a new output template for the Blu-ray Disc format! Convert your video into BDMV or BDAV compliant MPEG-2 video and maintain the quality of your high definition footage!
XPress gives you an easier way of encoding with 4 steps: Start, Input, Output, Encode, along with settings templates so you don't waste your time figuring out the spec settings.
2. Convenience
You can now open Windows XP Media Center files (DVR-MS) with XPress. It also accepts DVD video files, DVD-VR, along with support for High Definition Camcorders such as JVC.
3. Control your Color
XPress now includes a histogram with narrow and full range display options and also a simple vectorscope for easier color control. You can also correct color shift of YUV components using the Color Correction filter.
4. Create Slideshows using video frames
You can now create a slideshow with either your pictures or by utilizing separate individual frames from your video, captured to file with the Frame Capture feature.
5. Need Filters?
XPress includes 19 unique filters and allows you to apply 30 filters to your video and encode it once.
6. Extend the capacity of your DVD
TMPGEnc's exclusive XDVD (eXtended DVD) format allows you to fit up to 24 hours worth of video on a single double layer DVD. My test stopped at 17 hours and the quality was pretty good.
7. Video on the go!
After obtaining the specific settings for your mobile device, then output your videos from your PC to your PSP, iPod, and/or PDA. How nice is that?
8. Got HD?
XPress now supports the import/output of High Definition video MPEG-2 (1920×1080) files.
9. DivX support
Thanks to the native support of DivX you can import and output to and from DivX formats. This is an officially licensed DivX video software product.

10. Multiple cuts, single encode
Make multiple cuts to your footage and encode it once rather than multiple times. Saves a lot of time and energy. I used this consistently for tel-video broadcasts of new properties.
11. Custom filter menu
Use the same filters all the time? Now you can customize your filter menu for faster and easier editing.
12. MP3 input and output
Encode and decode MP3 audio. You can even extract MP3 audio from a DivX video file! Actually, I use this to create music CDs for the office.
13. Flash Video Input Support
You'll find practically all FLV files are processable by XPress. Input files encoded in Adobe Flash format or FLV! Change the characteristics.
14. Now Even Faster!
XPress has improved MPEG video decoding and 2D/3D Noise Reduction processing! Recent benchmark results:
HDV (1440 x 1080), 5 minutes (8992 Frames) – this is a typical time gain:
Noise Filter Off – 3min+22 minutes
Noise Filter On – 1h+43 minutes
Utilize nVidia CUDA for Filtering and Decoding
nVidia CUDA technology is now supported for processing the video filters and decoding. NOTE: Decoding benefits apply to MPEG-1/2 video only and may produce unexpected video output quality compared to regular CPU decoding.
XPress supports the Dolby Digital AC-3 audio Plug-in, which can be used to encode audio in 2-channel AC-3 format. Multi-channel AC-3 is not supported. Oh well, next version.
According to the Conversion Forum, XPress is a little slower than VirtualDub (reviewed next month, Ed). This software is doing all the filtering (crop, resize, de-interlace etc.) in one very simple to use application.
Xpress 4 is such a versatile program, I cannot say it is best of the novice or more experienced. It will take a bit of time to learn its many features. One drop down menu has more than 30 selections in setting up a conversion. But you don't really have to make selections. For the novice, use the defaults and make a few of the more obvious selections. This is an impressive program. For more info and updates go to tmpgenc.pegasys-inc.com/en/ where you'll also find a 15 day trial.
George Farmington is a HAL-PC member who is an independent videographer currently under contract to NASA.