WorldCard Color V6.4
by Sr. Marcus J. Plusher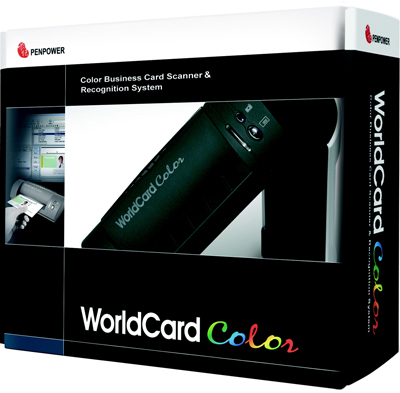 Although I'm headquartered in Costa Rico, most of business cards are in English or Spanish. No problem for this scanner. Just pulls the card through a nice, well-guided slot and into a digital database. Each Saturday I send the database to HQ in Houston. This part of an excellent contact information system. If one of my customers needs assistance from another region, help is just a mouse move away – thanks WorldCard!
At the end of the week I can end up with a bunch of business cards and this scanner makes me more productive. No more hours of manual, typed entries. Is the device really that good? Well, yes. Howsoever, it is not perfect. No OCR (OCR is specialized software that recognizes various printed text and converts it into digital form) program is, I'd venture to say, about 90%+ accurate. Each scan will require a little house keeping – no need for a full-time maid.
I especially appreciate it sending contact info directly into Outlook and not via a PST file. So far I've not used Help, but I trust it will be better than the on-screen prompts which have that sort of "English is my third language" feeling. Transfer info into: Lotus Notes, Palm, Pocket PC, ACT!, Goldmine, Salesforce.com and Windows Mobile.
Tech specs: high resolution scan – 600dpi and a USB connection. It's TWAIN compatible, so you can use any other TWAIN compatible scanning software with the scanner. It supports various data file types, such as Import/Export/Sync. It doesn't read cursive written info. It will make a valiant attempt at nicely, hand printed info.
I scanned two 3x5" color photos. They scanned at the same high resolution. I took them to the local photocopy store for some 8x10s – very nice, very impressive. But don't tell my boss.
The scans are very good with accuracy. As for Help on their web site, it is spotty and incredibly dated. One of the questions: Which O/S are you using? The drop down list is from, no kidding, Windows 3.1 to XP. The box it came in says Win 7. You'd think it would take less time to retrain a few electrons than print a box label. Come on Penpower – you can do better than that.
I appreciate the auto mode where I scan card after card. Also a nice feature is ability to review and cleanup each card before saving. The other nice feature lets me put the mouse cursor over the info and it shows you where it obtained it from the business card. It has some difficulty with pre- and suffixes and ditto for titles. Occasionally, I'll drag 'n drop from the scanned image to my e-mail. Oh yes, it can create a direct link to maps/directions. Useful for meetings.
It supports more languages than you'd think. Of course, there are the business languages of English, French, German, Spanish, Chinese, etc. And if there are more than one language on a card, it will display each one. For EC users, it is RoHS compliant.
The WorldCard comes with a comprehensive printed User Guide in which you will find many more helpful features, one of which I'll mention here. You can set up categories and fields within each. Almost all of the various features are searchable.
Why am I now an enthusiastic user of the Penpower WorldCard Color V 6.4? Simple. It does most of what I had done by hand, it organizes it and it allows me to find info quickly. You cannot beat that for a device smaller than a large cup of coffee. Available on Amazon for about USD90, but more accurate street price is closer to USD130. For more info, updates and help go to worldcard.penpowerinc.com.
Sr. Marcus J. Plusher is a special guest reviewer at an American company office in Costa Rico. If you have a question send it to the Reviews Editor – in English!