Window to the Web
Beverly Rosenbaum
A 2008 Gift Guide
The storage capacity of removable media has increased enormously, while their physical size and cost have plummeted.
Only eight years ago, the first commercial USB flash drives held only 8 MB of data. Current models now hold up to 64 GB, and are capable of containing an operating system that can boot a computer. These drives have literally replaced the once ubiquitous 3.5-inch floppy disk because they can easily hold thousands of times as much data. Even though Sony used a floppy disk in their early digital cameras, it wouldn't hold even a single image from today's higher resolution cameras.
USB flash drives have no moving parts, and they offer many advantages over other portable storage devices with their compact shape, faster operation, larger data storage, more durable design, and better reliability. Today's computers and laptops are delivered with USB ports instead of floppy disk drives.

Here are a just a few of the best USB flash drives available. Most items in this article (except where noted) can be ordered through Amazon.com, where every transaction initiated from the search box on our home page will earn money for HAL-PC.
The king of reliable USB drives is the Corsair Flash Survivor GT. It's very durable, water-resistant, and comes with a generous 10-year warranty. The package also includes a 25-inch USB extension cable, lanyard, and Corsair dog tag. It's available in several sizes: 8 GB, $36.61; 16 GB, $57.82; and 32 GB, $93.51.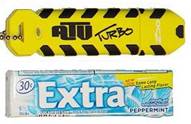 The Corsair is only surpassed in speed by the ATV Turbo from OCZ. This flash drive passed every endurance test possible, and it still worked after being frozen, boiled, washed, and baked. There are actually two models available, and they differ only in speed and color. If you need the performance boost, you'll want to buy the Turbo model (a 4GB ATV Turbo drive is $63.94), with write speeds that are double that of the regular ATV (2GB is $19.58).

The IronKey is loaded with features that make it the most secure flash drive, and also the most expensive. The hardware protection that the IronKey offers is unmatched for consumer use, so there is absolutely no way your data can be accessed if your IronKey falls into the wrong hands. This is not a drive to carry music and homework files, but those who need to protect financial information or other sensitive data will have to pay $79 for the 1GB drive, $109 for the 2GB, and $149 for the 4GB model.
The new Sandisk Cruzer Titanium uses the open-standard U3 platform, which allows users to take applications as well as data with them to any USB-equipped Windows PC and launch them with only two clicks. These drives are fast, durable, and ship with handy bundled applications for synchronizing files and emails; a 4GB drive is $18.92.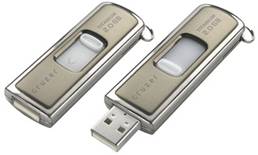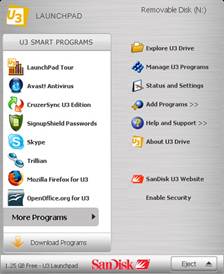 For those who just want something unique looking, there are designer Mimobots at www.mimoco.com/. Each one comes preloaded with animations, games, and the premiere issue of mimoco's mimoZine Digital Magazine. Only a limited number of each are made, and retired Mimobot images are posted at www.mimoco.com/content/page/retired-mimobot.



There are too many designs to enumerate, but as an example, the Core Series 2 is available in four capacities: 512MB, 1GB, 2GB, and 4GB, that sell for $39.95, $49.95, $69.95, and $109.95, respectively; keychain hoodies to fit them are $5.00. Some mimobots are also available on Amazon.com.
Other USB Devices
Novelty USB devices have always been included in our Holiday Gift Guides, and this year is no different. There were a pair of mini vacuums at WhateverWorks.com. You can use the 8-inch tall USB Desk Vacuum (below, left) to keep your desk and workstation dust- and crumb-free. It's brown and beige plastic with a movable handle and 45" cord. Item #: K7046, $19.99.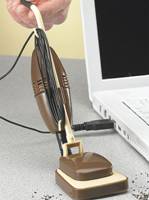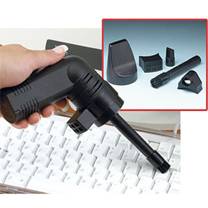 The powerful little Handy Vacuum Cleaner (Item #: K0785, above right) isn't USB, but it will probably do a better job, and only costs $12.99. It weighs half a pound, uses 4 AA batteries (not included), and comes with four attachments to remove dust and dirt from computer keyboards, camera parts, circuit boards, or stereo components.
You can order the Optiwind USB Optical Mouse for Sweaty Palms (below, left and center) from USBGeek.com. It has a built-in cooling fan and on/off switch, a maximum resolution of 800 dpi, and costs $17.00.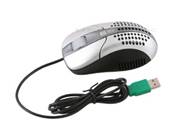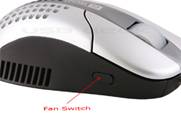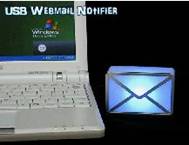 The USB Webmail Notifier (above, right) lets you know there's new email with a soft illuminated blue, red, or green indicator light and a sound. Supports Hotmail, Gmail, Yahoo Mail, Outlook, Outlook Express, and POP 3 mail on Windows only. Also $17.00 from USBGeek.com.
MP3 Players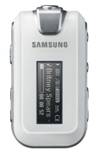 Several small and inexpensive MP3 players are available from Amazon.com.
Samsung's YP-F2X, a lightweight pendant-style digital audio player with 3-line LCD and 512 MB flash memory, holds 8 hours of MP3 and 16 hours of WMA audio. It also has an integrated voice recorder, FM tuner with 5 presets, and an internal rechargeable battery that lasts up to 12 hours, for $21.99
The iRiver LPlayer shown below is another new miniature portable media player, featuring a 2-inch color LCD screen (resolution 320x480), FM radio, and a microphone for voice recording. The rechargeable battery lasts up to 12 hours of non-stop audio playback, or 4 hours of video. Prices for the 4 and 8GB models are $69.99 and $116.99 respectively, and it's available in black, chocolate, pink or white. Earphones, cable, warranty, mini CD, quick start guide, and 12-15 hour battery life are included.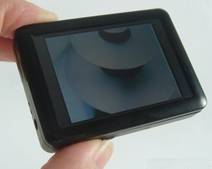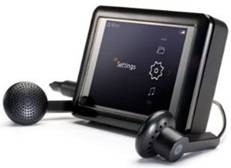 The SA2825/37 is a new miniature mp3 player from Philips. It features an OLED LCD screen with a resolution of 128 x 64 pixels capable of displaying 4 lines of text, an FM radio tuner, and a microphone for voice recording. The battery provides up to 20 hours of non-stop audio playback. $49.99.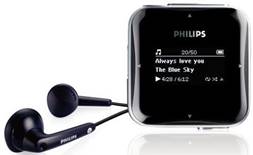 The Machspeed Trio digital audio player shown on the right has 512 MB of flash memory, an integrated microphone for voice recording (great for short reminders or capturing lectures), USB data storage capability (for backing up and transferring files from one PC to another), and a backlit LED screen for viewing song information. $79.99.


The iVO M600 portable digital media player, small enough to fit in the palm of your hand, has a 1 GB storage capacity and a bright 1.8-inch TFT screen. In addition to playing movies and MP3 music, it's also an FM radio, digital voice recorder, photo viewer, E-Book reader and a fast USB 2.0 flash disk. Buy it from Geeks.com, $16.99 or Amazon.com, $22.99.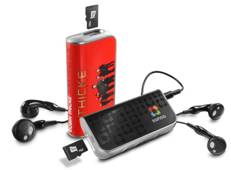 SanDisk's 3-inch long $19.99 Sansa SlotMusic player is designed to be used with preloaded albums on 1 GB MicroSD cards. The albums cost about the same as a CD ($14.95) and they're sold at Best Buy and Wal-Mart, but so far only about three dozen artists are available. It can also play self-loaded music on microSD cards up to 16 GB in MP3 or unprotected WMA formats, but doesn't store any music internally. Earphones and battery are included, otherwise it has only basic controls like the iPod Shuffle. Branded SlotMusic Players include an album in the package and cost $35.
Sunglasses with a 2GB MP3 Player are $46.28 with Free Shipping at www.lightinthebox.com. They have polarized lenses for protection from UV rays and glare, stereo earphones, and a built-in lithium battery for 4-hour playback.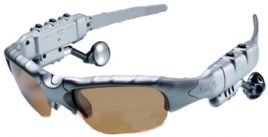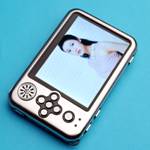 Another combination device from the same place is the MP3 Camera (Item #00040217). It has a built-in microphone, speaker, and a 2.4" LCD screen for games, movies, photo viewing, and e-book function. Shoppers who order two of these MP3 Cameras at $45 each will get the sunglasses/MP3 player for free.
The newest Sony NWZ-B135FBLK 2GB Walkman® MP3 player was launched in August, and can be found at Circuit City, Sony, Crutchfield, or Amazon for $59.95. The featherweight design holds up to 475 MP3 or WMA music files. There's a built-in FM tuner with 30 station presets and record functionality, battery life up to 16 hours, and an integrated microphone for voice recording of personal notes and memos.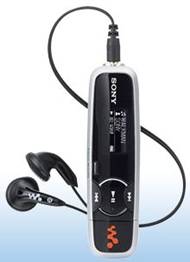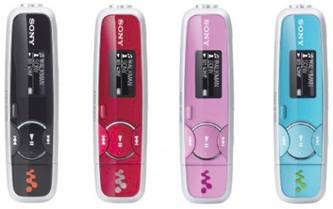 The Walkman also features USB Direct Connect (no cable is necessary), and it's available in four colors. A three-line color LCD display shows track, artist and album information. Other extras include a 5-band equalizer, a mega bass button, and power illuminator that flashes to the rhythm of the music.
USB Turntables
USB turntables probably only interest a small group of audiophiles and DJs, but they do provide digital audio converters and USB connections to transfer analog sound into portable digital files. Lots of people have collections of music on a variety of old media that they'd love to listen to again on their MP3 players. Older USB turntables from Ion have previously provided a path from vinyl LPs to MP3 format on the computer. But their newest LP2MP3 model includes an iPod dock, so for $259 you can now make the transfer directly, without the help of a computer. Other new Ion models shown below include LP2Flash and LP2CD as well.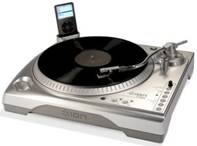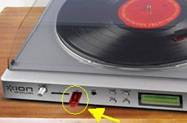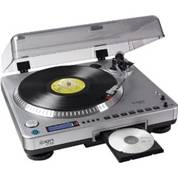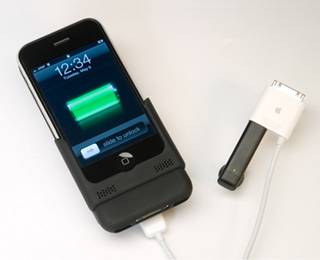 Sony entered the world of USB turntables too, with a consumer-focused belt-driven model PS-LX300USB for $149. While it doesn't compare to the quality of the $399 Stanton T.90, the Sony product does offer the same features as the $199 ION TTUSB10 for $50 less.
For Apple fans
A great new third-party accessory for iPhone users is the TruePower iV mobile battery charger, which is sold for $79.95 at fastmac.com/iv.php. This American-made product received the Macworld 2008 Best of Show Award. The iPhone has an internal battery that is not user-removable, and this external device can extend the battery life up to 3 times longer, for up to 24 hours of talk time, 72 hours of audio playback, 21 hours of video playback, and 30 days of standby time. It comes with a dock connector, built-in flash LED for emergency use and low light photos, and USB port to charge multiple USB 2.0 accessories like a Bluetooth headset, digital camera, iPod, or another phone.
Apple is offering free engraving and free shipping on any iPod purchase made on-line at store.apple.com/us/browse/home/shop_ipod. Messages engraved on iPod classic and iPod touch are limited to 2 lines of 27 characters each; on iPod nano, 2 lines of 23 characters each; and on iPod shuffle, a single line with 38 characters.
Unusual Gift Cards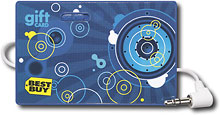 In an attempt to attract the business of undecided buyers, Best Buy and Target have each added a new twist to their gift card offerings.
Best Buy is selling gift cards in $15-$200 amounts with a built-in mini-headphone jack (one-eighth-inch), a connecting cable and speakers. So the recipient can plug any MP3 player into it. No fee, no expiration date.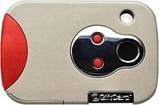 Target's gift cards, in amounts from $75-$1000, include a 1.2 MP digital camera and coupon for 40 free prints.
The cards can be used for merchandise at any Target Store or on Target.com. They can also be reloaded and there is no fee or expiration date, but there is a $1.95 shipping charge for each address. A personalized message and gift wrap can be added when ordering the gift cards on-line or at 1-800-5GIFTS5 (Catalog #: 11043182).
A recent article in the Houston Chronicle Business Section suggested that cash gifts or pre-paid credit cards from Visa or MasterCard would be preferred over gift cards from specific retailers, to avoid any potential loss due to bankruptcy; this may be shocking, but perhaps necessary in the current business climate.
Beverly Rosenbaum, a HAL-PC member, is a 1999 and 2000 Houston Press Club "Excellence in Journalism" award winner. Send her your comments about this column to webwindow@hal-pc.org.