Monthly Questions And Answers For Windows XP
How do I add a second user to the computer so that my son doesn't keep changing my settings?
I believe that you want to create a second profile for your computer. Then when you boot up, two different names will appear to log on. Each person can then make changes (wallpaper, etc.) to their own profile that will not affect the other profile.
Click "Start", "Control Panel", "User Accounts" and "Create A New Account".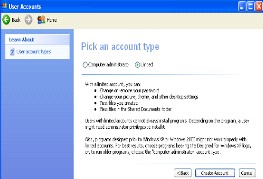 Type the name that you want to appear on the new profile and click "next".
You now have a choice to have the new account with full rights (change, delete, etc.) or limited rights. Because we are talking about your son and you probably do not want him to be able to delete your data, I would choose "Limited" and click on "Create Account".
Close out of the control panel and reboot your computer. The new user login will now appear.
What is profile?
Windows XP has a feature that Windows 9x never maximized, profiles. You can set up multiple profiles by using "Users Accounts" from within the "Control Panel". Each time a new user account is created, so is a new profile. If the account is "limited", then the user can not see or change the data created by another user. Each profile keeps their own settings as well. Each profile can have their own different wallpaper, icons, and programs. Profiles are stored in the "C:\Document and Settings" directory. I hope that this helps. Thanks for the question!
Is Windows XP faster than the Windows I am now using?
On an older machine with limited RAM and Processor speed, Windows 9x will be faster. XP seems to be significantly faster than Windows 9x however on new PCs and insignificantly faster than Windows 2000 Professional. Quality, not speed however, is the real strength here.
My buddy told me that there is a ZIP program in Windows XP. Is that the case? I have the WinZip program and was going to install it.
Don't bother installing WinZip unless you like one of its specific features. Yes, Windows XP does come with a ZIP program. It is kind of hidden so I am glad that you asked. If you click on a file with the ZIP extension, the file will open. If you need to ZIP a file or files, right mouse click on it and choose "Send To…", "Compressed (Zipped) Folder". A new file will now be created in the same directory with the ZIP extension. The new file will be 25% to 75% smaller than the original file.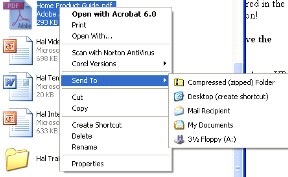 How do I start Windows XP in Safe Mode?
Turn the computer on. While it is starting, press the "F8" key continuously until an option screen appears. One of the options will be "Safe Mode".
Windows XP Helpful Websites:
If you have any Windows XP questions that you would like to see in this column, please email them to utmr@hal-pc.org. The top 5 most requested questions will appear in the Magazine each month along with new helpful Windows XP websites.