It is Tax Time Again - 2005
by Milton G. Gugenheim, Jr.
Preface.
Dear fellow taxpayer. Welcome to that time of year…again. I've only two comments this month.
One, if you've been reluctant to prepare your own taxes, this is the year to start. Programs are friendlier than usual. Two. If you have toddlers, the words "oops" or "uh oh" may follow a humorous event. Those words associated with your taxes don't elicit the same response from the IRS. So please update your program after installation.
Note to HALNet users: if you use an on-line tax preparation service remember to save often. HALNet will automatically disconnect you after fifteen minutes of inactivity.
Charles W. Evans, Reviews Editor and fellow taxpayer
Personal Tax Software
It's that time of year again when the tranquil sounds of spring, birds singing, lawnmowers, leaf blowers and children playing are muted by the heavy footfalls of the taxman.
Most of us seem to put the dreaded tax chore off till the last moment and then find ourselves faced with incomprehensible IRS forms, shoeboxes of receipts, check registers, antacids and headache pills.
Fortunately help is on the way in the form of a couple of good tax preparation programs.
Even if you think that you need the skills of an experienced CPA in the preparation of your return, either of these programs will help you to become better organized and possibly keep accountant fees to a minimum.
There are free tax preparation programs on the web. Go to a search engine and enter "free federal income tax programs". TaxAct is a good free program. The program is easy to use and includes forms most tax payers require. A paid version is also available for more complex returns.
Features
TurboTax Basic is the basic package needed to file all individual returns including professional or sole proprietor, and includes Internet Explorer 6.0 on the CD and one free e-file (after rebate). TurboTax Deluxe includes all the features of TurboTax Basic plus extra help for deductions (library resources, tax planner, on-screen references and IRS publications, video advice and a financial planner).
TaxCut Deluxe is almost identical to TurboTax. TaxCut Deluxe includes all the features of TurboTax Deluxe, tax tips, on-screen IRS instructions and publications.
All the programs will import financial data from most popular financial programs, and include details on preparing a return, reviewing a return, electronic filing (e-file) via a second party, planning for next year, plus help locations.
Manual
TurboTax and TaxCut includes a user's on-screen guide with typical screens of the described function. All the usual files, edit, forms, tools and help are in the tool bar.
General Overview
All of the packages have an easy step-by-step program to walk the taxpayer through the various steps required to do a return. The experienced taxpayer may prefer the forms method after completing a basic information page. The taxpayer selects the form and fills in the required information. Some have supplemental sheets for recording information, which is then transferred to the form. Help is available from any screen.
The return is then saved. Be sure to give the file a name. The programs may be used whether you are the organized type or the shoe box type. The shoebox type should organize the various types of entries first.
Summary
The Basic package of TurboTax or Deluxe of TaxCut is more than adequate for most users. The upgrade packages are great for users who like the "bells and whistles" that include lots of helpful literature, suggestions, etc.
Helpful Hints
I suggest the return be prepared in all caps since this is preferred by the IRS. All returns are mathematically corrected based on the input data. For your records, print the schedules and forms you used. Some of the programs and forms have detail sheets that are covered by other records, so I request each schedule or form individually. Most of programs have promotion tie-ins, such as a money program, anti-virus, etc. Read carefully the conditions before buying the program.
Individual Program Reviews
2005 TaxACT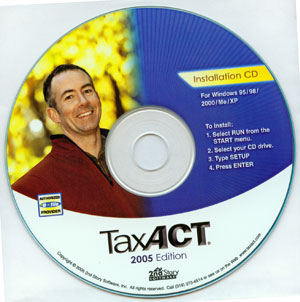 Don't let the word "simple" mislead you. TaxACT by 2nd Story Software has a simple, straightforward interface. You get finger-tip help from the J.K. Lasser Guide. Another "simple" feature is its helpful navigational and review tools. Expensive? No. In fact, it is free! TaxACT Online is exceptionally close to matching the basic tax-preparation tools by it's to better know siblings. Its comprehensive help tools and price make it well worth consideration, especially for people with simple returns.
How could it improve? Well, it lacks good FAQs within question-and-answer topics and hyperlink terms in Interview text. And, oh, it requires too many screens meant for related topics.
It tends to be less noticed because of the higher visibility of its two competitors, but it's a great program in its own right, and the best deal in the bunch.
You can't import W-2s or 1099s, but you can bring in data from last year's TaxACT and capital-gains transactions. The only other real downside is the excessive number of screens required to complete a topic. There are some good explanations in complex areas of its question-and-answer interview.
The searchable Help Center assembles all of the resources available in one place: topic explanations (usually fairly simple, but sometimes not as understandable as TurboTax's) and TaxACT's own library of tax hints and tips.
The Help Center also provides e-mail links and FAQs for technical support and customer service, a program tutorial and links to other resources. Live phone advice is available for a flat fee of $19.95 for up to 10 minutes.
Review tools are exceptional, including alerts to possible problems, summaries of depreciation and capital gains, comparisons to the previous year and to national averages, and tax tips for 2005. Better guidance and a more economical interface would make TaxACT Online more of a contender. As it is, it's a remarkable bargain. For more info, updates and FAQs go to www.taxact.com.
2005 TurboTax Deluxe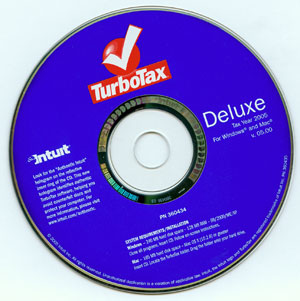 The already first-rate interface and navigational tools are even more effective, in part to the simplified language. This year the deduction-tracking application is included and a rewards program can include extra value. Response time for Live Tax Advice could be faster and $29.95 per advice topic is rather expensive.
Intuit has made the interface even smoother and more understandable. It abolished the rebate arrangement and eliminated the pricing uncertainty.
If you regularly track personal-finance information using products like Quicken, QuickBooks or others that export in TXF or if you access info from last year's tax program TurboTax helps you glide through the import process. You can enter financial information directly into TurboTax forms or use the guided tour.
A new navigation system makes going through your return simpler this year. You'll find content divided into four categories and each is further subdivided up to 16 subcategories. TurboTax walks you through your selected topic, providing hyperlinks for more thorough explanations.
If you're at all uncertain, just let the program walk you through everything - there'll be plenty of help along the way. A new Where Do I Enter button lets you scroll through the list of topics or enter a search phrase to go directly to the appropriate information-entry screen.
A Get Answers box takes you to multiple levels of help. An abbreviated tax summary displays your return as you progress. Links take you to Web-based support. For $29.95 per topic, Intuit offers live tax advice. My Tax Data lists every bit of information you've entered.
NOTE: When you've completed your return TurboTax takes you through a review process that checks your return for possible errors, omissions and deductions you may have missed.
Have a refund coming? Then you can spend some or all of it on an offer Intuit instituted this year: the $29.95 TurboTax Refund Bonus program, which lets you buy discounted gift cards from more than 50 retailers that include AMC Theatres, Borders, Starbucks, Lowes Home Improvements and J.C. Penney.
New, TurboTax Online includes:
1. Easy and seamless transfer from TurboTax desktop to TurboTax Online.
2. Ample Video and Audio Assistance from NPRs The Car Guys, making the complex simple to understand.
This version offers little for the small business or SOHO - no Schedule C for instance. That's in the Premier version. In overall usability, guidance and added value, TurboTax has improved more substantially than its competitors this year. For more info and updates go to www.intuit.com.
2005 TaxCUT Deluxe + State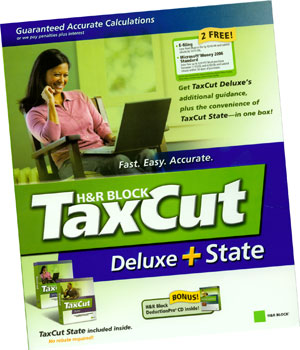 TaxCUT by H&R Block is among the lower priced programs. It covers tax issues from A to Z, with plenty of on-screen and behind-the-scenes guidance. This year it provides additional guidance for intricate situations like those involving rental property, investments, disasters and royalties. It's a smart, economical choice once again this year. Ask A Tax Advisor could be pricey. Navigational outline and other program areas should be updated.
TaxCUT is first-class as usual, covering the tax bases thoroughly using simple explanatory language and providing lots of guidance for both simple and complex topics.
You can import information from last year's TaxCUT or TurboTax (a report lets you view those entries), and from Microsoft Money, Quicken, or any program that supports the Tax Exchange Format (TXF).
Early on in the interview the software offers brief explanations of how events like a new mortgage or baby or job change may affect your bottom line. Screens within the interview use hyperlinks to explain more complex concepts. FAQs on the right side of the screen deal with commonly posed questions. The language is clear and understandable.
Links to main program topics sit at the top of the page, with subtopics such as Dependents, Income, Deductions, and Taxes below. Each is earmarked as To Do, May Need, In Progress, Done and Not Needed. (This is helpful, but needs to be modernized.)
TaxCUT provides tons of behind-the-scenes guidance. Click the Help button and a window displays context-sensitive tax tips, IRS instructions, program help, and customer-support information. You can search for a term or phrase and see where it occurs in TaxCUT.
TaxCUT has a ton of special offers this year, some of which are new. H&R Block DeductionPro ($10 value) comes with the boxed version of TaxCUT and is free, after rebate, for those who buy the downloadable version.
There's not much to disparage about TaxCUT, though I'd love to see an interface updated so that its individual parts more consistent. I'd recommend that past users of the product stick with TaxCUT for the 2005 tax year. For more info and updates go to www.taxcut.com.
Milton Gugenheim is a HAL-PC member and an ARRP Tax Aide Instructor and Local Coordinator for over twelve years. He may be contacted at mgug@hal-pc.org.