InAlbum 1.0 – Make Slide Shows, by Robert DuVernay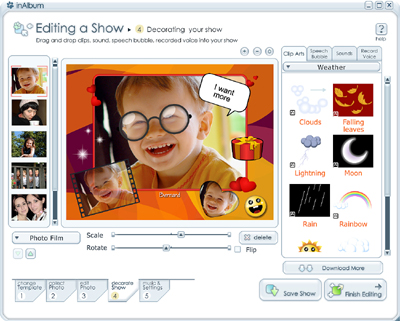 InAlbum, from INCREDITOOLS, is a Slide Show creator.
InAlbum will transform your digital photos into an interactive animated photo show in only a few mouse clicks. Starting with the neat animated demo, which will talk and walk you thru the basic of the ' how to' in InAlbum. The shareware version is a bit limited, 3 pictures in the slide show and will work for 15 days after install, but then the full version arrived and what a difference! This is a very impressive product.
The necessary steps to create a CD slide show are few; some basic edit features are provided, which allow you to rotate a photo, affect the contrast and do some cropping - just the basics. My first CD slide show was done in less than three minutes, and yes, I took all the defaults letting InAlbum do the rest. Worked beautifully.
I took a bunch (37 slides) and then prepared a VCD version, although it takes a lot longer to process. I couldn't get it to play on DVD player but it did play on the computer using a DVD player program. The simple CD version looked better than the VCD to me. The VCD/SVCD/AVI options all take some time to process. AVI edit was much better video quality than the other two, but requires significant processing time.
I attempted to e-mail a presentation, but that is not available in the shareware version. You must register through the InAlbum home site and I'm not willing to do that.
While the basic CD Slide Show works beautifully, it does demand a high-end video environment to operate flawlessly. You can change the music out to whatever you like, and it will replay automatically if necessary. You can have several individual slide show programs on the same CD. You can annotate your slides with AUDIO or captions. The recipient can select a slide and print a 4X6 picture from your show to a desktop printer.
InAlbum's basic Slide Show is a very smooth and nicely done product. I really do like the multiple Slide Shows on one CD. The registration key for InAlbum is $35 - enter a coupon name of "IDISCOUNT" without quotes when entering their credit card detail to get $5 discount. Give it a try, watch the demo and create an effortless slide show. You will be impressed with how easy it is to do. For the trial and updates go to www.inalbum.com.
Robert DuVernay is a HAL-PC member and does the CD Burning for Everyone and the DVD Burning for Everyone. He can be reached at rpd@hal-pc.org.