Systems Mechanic 4 Pro, by Marvin Kaiser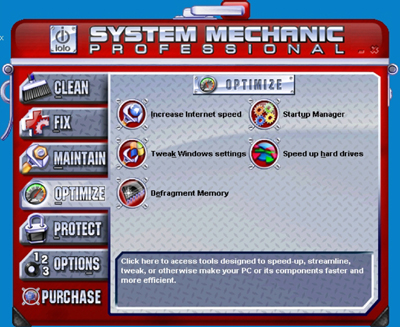 Taking the PC performance to a new level. It's not very often that I'm impressed with new software, but SM4 is changing my mind about some of the things in this program.
One thing that I do take exception to is the Optimize section. Iolo, the developer, claims to increase speed up to 300%. This big a jump has to be done through hardware changes. I just don't think software alone (defrag) can accomplish this much change. This may be because I'm a trained hardware person. I'm a firm believer that if you perform maintenance on a routine schedule (at least once a week) you won't have all the problems. Remember, clean cache, temp files, cookies, history, disk cleanup, scandisk, and defrag you will optimize your computer.
All of the other options are very good. First, the display on the screen is very easy to read and easy to navigate. Some of us might prefer a larger font on the Help screens.
The six functional areas are :
Clean Get rid of junk files
Clean up your tracks
Eliminate duplicate files
Eliminate web Popup
Fix Fix registry problems
Purge invalid uninstallers
Fix broken shortcuts
Recover deleted data
Maintain PC Maintenance Wizard
Utility Bar
Scheduled Maintenance
Optimize Tweak Windows settings
Defragment Memory
Startup Manager
Speed up hard drives
Protect Securely delete files
Eliminate Spyware
Block internet Threats
Clean deleted file data
System Snapshots
Virus Protection
Securely scrub drives
1,2,3 Options Tool logs
Download updates
General preferences
Product Help / Other information items
Carefully review the options and effects, which are associated with the various tools. SM4 Pro is not a toy, it deals with your operation system, use it carelessly you can do damage. There are reminders through out the application and abundant HELP functions, if you are in doubt about what you are about to do, then do not do it. Perhaps the first thing you should do with SM4 Pro is to learn how to backup and restore your registry files. Then move on to a review of the Start Up options; a clean up here will definitely improve the performance of your system. Basic maintenance includes Defragmenting your hard drive and clean out of various caches.
Several of these items are actual applications, which you may chose to turn on or off. The PANDA Anti-Virus, Fire Wall and Popup Blocker are full standalone applications. These three items virtually pay for SysMech4 Pro.
Spyware is becoming a more widespread problem; it's dangerous and rapidly growing. You see this as popup ads and also highjacking of home page and more. Your antivirus system will not stop the spy ware. Spyware usually is stopped by the firewall. Remember every time you go to a web site, that site is putting something on your computer. Cookies (spyware) are installed with out your knowledge Also the old saying if its to good to be true, it is. Somebody will pay for it; usually it will be you through spyware. SM4 Pro's includes PANDA firewall, this can and should be utilized. PANDA updates itself automatically every time you touch the internet. PANDA; it is rated near the top of all antivirus programs.
"SM4 from Iolo provides real competition for Symantec's venerable Norton System Works Professional. Both utilities suites are Swiss Army Knife packages designed to perform a variety of important functions on your window-based computer. Each covers a lot of the same territory, but they also offer their own specialties. In general, we found the SM4 tools to be more useful that those of Norton System works 2004 Pro. SM4 also offers superior, free product help and excellent on-line tools and tutorials. SM4 is a worthy challenger and offers advanced users more value."
For more info and updates for this shareware go to www.IOLO.com.
Marvin Kaiser is a HAL-PC member and senior tech in telephone support. He can be contacted atmllj@hal-pc.org.